If, like me, you've been searching for clever ways to recession-proof your makeup bag without compromising too much on the quality, I've got a treat in store for you today.
Nestled along the "this is not just any eyeshadow, this is M&S eyeshadow" (no, they're never getting away from that slogan) lurks a rather stunning, richly pigmented, smooth-applying taupe.
You know that I'm kinda crazy for my taupes and my purples.  If the world fell off its axis tomorrow and all other shades whizzed off into outer space, I wouldn't give a shiny shit and neither should you.  Because, at the risk of sounding a little controversial here… taupes and purples suit EVERYONE.  You just need to find the right ones.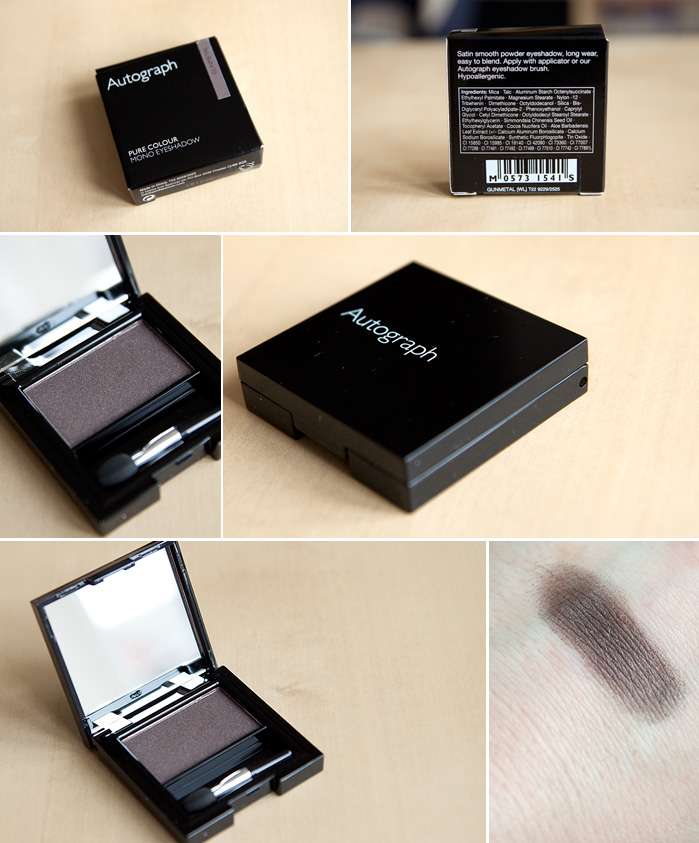 Despite what the box says, this ain't no "gunmetal", there's too much dusty moth-brown goodness in there for this to be a simple gunmetal *scoffs*.  Why, this is a full-on grown-up, grenache-drinking, interest only mortgage-paying taupe.  And not only that, but it's a rather nice one lacking in both the kind of uber-metallic sheeniness that crepes at forty paces, and chunky sparkle.
It comes complete with a mirror, and most shockingly… a not-too-useless eyeshadow applicator that actually makes a really decent job at smudging the powder along the lashlines if you just use the tip.
For your meagre monies, you get a generous amount (no weight listed) of BUAV (bunny) approved product.  And for those who find this important… it looks easily depottable also.  I doooo like a neat, square pan!
Interestingly, they also sell a "taupe"… don't get them confused… that one's a wimpy, slightly-sandy looking incarnation. Pff.
M&S Autograph Pure Colour Mono Eyeshadow in Gunmetal* is priced at £6.00, available instore and online at marksandspencer.com
* press sample