duh duh duh duh duh duh duh duh…. or something…
Facial Wipes… we know that we're not supposed to rely on them right?  I mean… they're convenient and all, but they don't really 'cleanse' your face effectively enough to be your go-to cleansing solution.  Though, I'm sure lots of people do use nothing but wipes night and morning.  Dirty gits 😉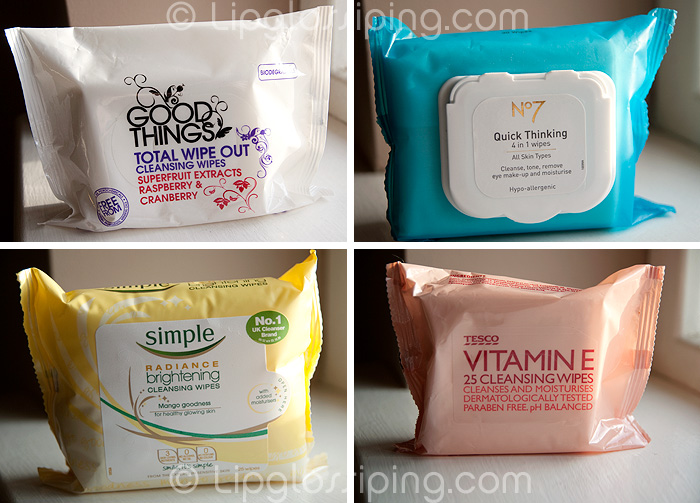 These are currently my favourites and I've forever got a little stock of them for cleaning swatches, tidying eyeliner mistakes and generally freshening up.
Clockwise from Top Left:
Good Things Total Wipe Out (£3.49/25)
Aimed at younger skin, these thick wipes make a really quick job of removing most makeup.  I love these for when I wear a smoky eye.  1 wipe makes it a much easier and quicker job once I get to the sink.
No7 Quick Thinking 4-in-1 wipes (£6.75/30)
Firstly, I'd never pay nearly £7 for a pack of wipes… frankly, I have better things to spend £7 on.  I stockpile these like they're going out of fashion when the £5 off Boots No7 vouchers appear in store.  £1.75 for 30 lovely and effective wipes is not a price to be sniffed at!  These leave my skin feeling super soft and at £1.75 I don't feel guilty carrying a pack in Leila's nappy bag for messy fingers!
Simple Radiance Brightening Cleansing Wipes (£3.94/25)
I love the material of these (yes, I know… get a life) but these have a great stretch and subtle smell of mango.  Non-greasy and refreshing, these are the ones I keep in the glovebox throughout the Summer.  Instant freshener round the back of the neck.  Mr. L steals these regularly (though he'll deny it).
Tesco Vitamin E Cleansing Wipes (£0.48/25)
Ridiculously cheap but effective.  They're ALWAYS out of stock at my local Tesco whenever I try to pick these up, so when I DO see them – I grab as many as my basket can hold.  Well, alright… about 5 packs.  I remember when they used to be about 30p a pack… Tesco must have cottoned on!
I don't really use these on my face but they're great for cleaning up swatches and eyeliner brushes.  I hope they never get discontinued.
.
What do you use wipes for and which ones do you swear by?