This month sees some new additions to the home-scenting range from Jo Malone.  Flanking the ever-popular candles, the British brand have introduced Scent Surround diffusers, room sprays, and limited edition drawer liners and sachets.  Playing nicely on the layering theory when it comes to fragrance, you can now treat your home environment to the same luxuries as you do your skin.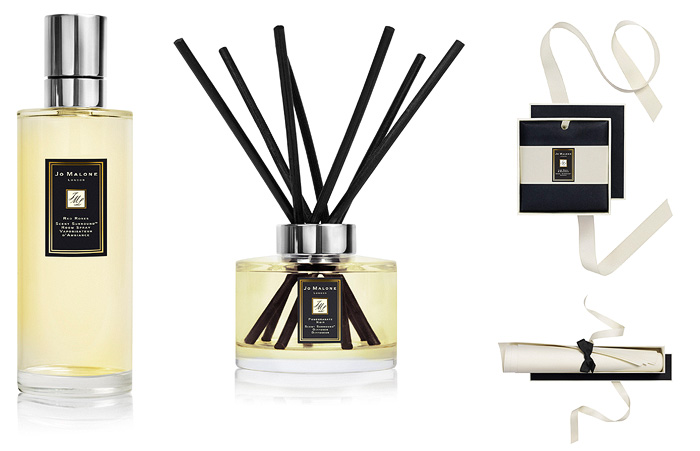 The diffusers and room sprays are available in three iconic Jo Malone fragrances: Red Roses, Lime Basil & Mandarin, and Pomegranate Noir whilst the limited edition items are available in Lime Basil & Mandarin only.
As for the 'negative' I mention in the post title… well, take a look at the new packaging for the Home Collection…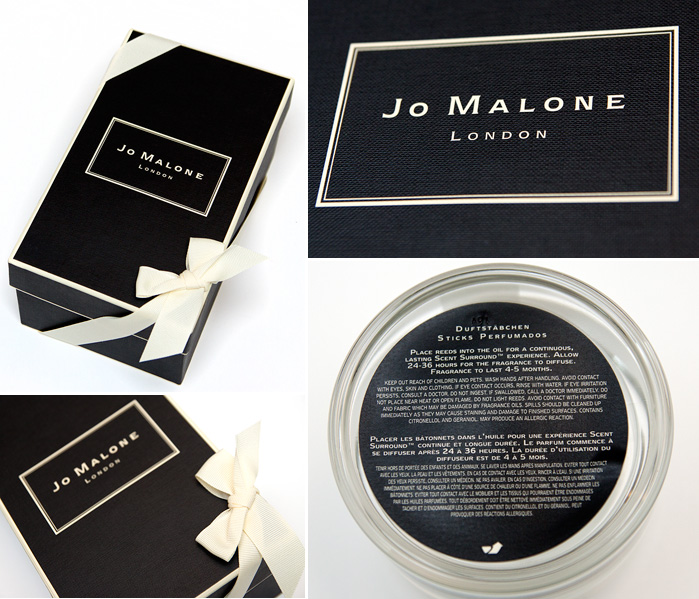 Cheekily reversing the traditional Jo Malone style from cream boxes with black ribbon, to black boxes with cream ribbon… talk about double negatives, and we all know what they make?  A positive! *groan*
The idea behind a reed diffuser* is that it will continually fragrance an area of your home for upto 5 months, it's perfect for families with small children or pets that are liable to knock candles over.  The Red Roses scent smells exactly like the skin perfume, and hasn't been 'dumbed down' into an inferior home scent.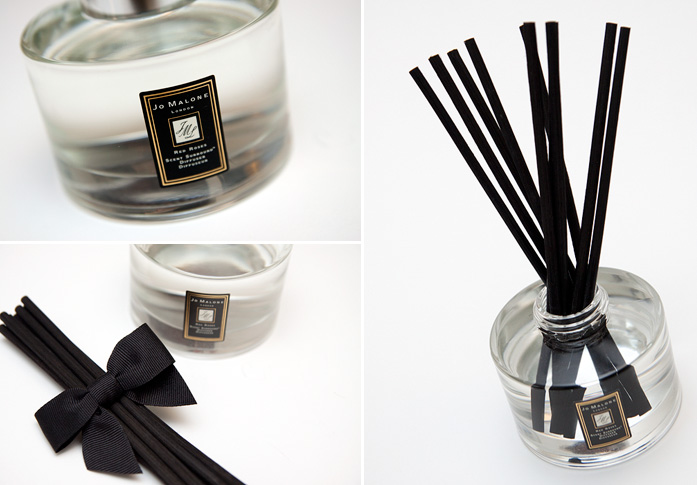 I'd recommend this scent for the more communal areas of your home: the sitting room, hallways and landings would particularly benefit from this delicate fragrance.  I've had mine sitting on a shelf in the hallway for almost a month and it still 'catches' me with a great first impression everytime I walk through the door.  Shame about the untidiness that greets me visually!
I'm a huge fan of scented sachets, and have friends who laugh at me because I physically get a little bit excited when I'm out shopping and discover one!  I love them because they're a fairly inexpensive way of creating a sweet-smelling atmosphere!  When Leila was a baby, almost everyone used to comment on how beautiful she always smelled – the secret? yep, delicately-scented sachets scattered amongst her babygros!  They're also great for putting in foisty suitcases that you've dragged down from the loft.  Anyway, I'm completely digressing but I think drawer liners and sachets get a bad rap as a bit of a granny product!
Scent Surround™  Diffusers 165ml £45 / €60
Scent Surround™  Room Sprays 175ml £34 / €45
Limited Edition Scent Surround™ Sachets 3 pieces £20 / €25
Limited Edition Scent Surround™ Drawer Liners 5 pieces £30 / €40
Check out the Jo Malone Home Collection online at www.jomalone.com
* press sample