Building upon her inexpensively-priced-but-well-crafted brush empire, Samantha Chapman of Pixiwoo fame has released another set of brushes to sit alongside her core collections, albeit for a limited time only.  The Real Techniques Duo-Fiber Brush Collection* was launched last month and began to hit our shores a few weeks ago.
Reviews have been almost overwhelmingly positive for this trio of brushes and I was keen to cast my eye over the set to appease my own curiosity of whether they were worth the hype.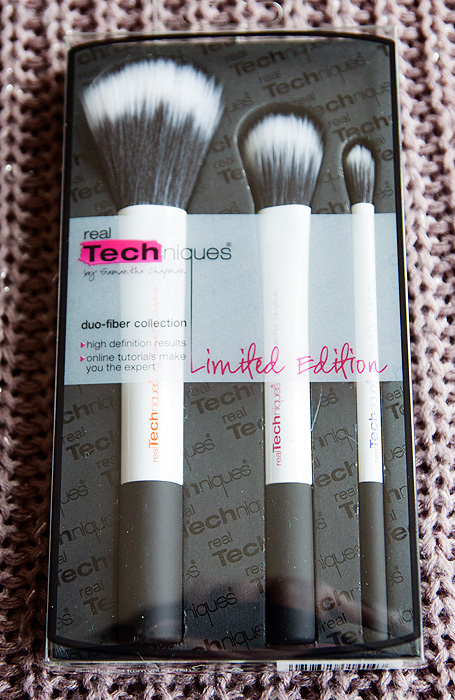 The brushes, as the name might suggest, are dual-fibred.  Both fibres used in the construction are taklon, therefore synthetic and 100% cruelty-free.  There are three brushes in the collection and each is labelled along the handle, clearly describing its purpose.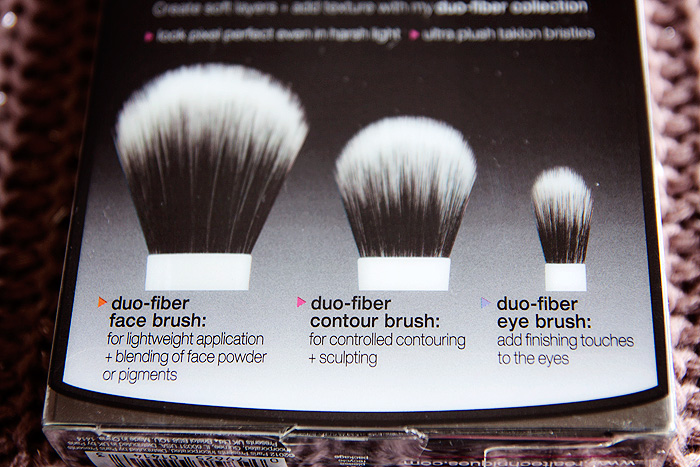 The largest of the three brushes is the Duo-Fiber Face Brush.  Of the three, this is the most flexible and feels the least densely-packed (relative to size).  The layering of fibres in such a loose manner means that this brush is ideal for a light-coating of powder to set your makeup.  You'd be hard-pushed to pack on the product with this tool in your hand and for this purpose, it's pretty much perfect.
Although the website states that all brushes can be used with cream and liquid products… I don't think there would be much point in using this brush for anything other than powder products.  It would be like buying a pair of nail scissors and using them to cut your fringe.  Technically, you could do it… but why would you want to waste the engineering?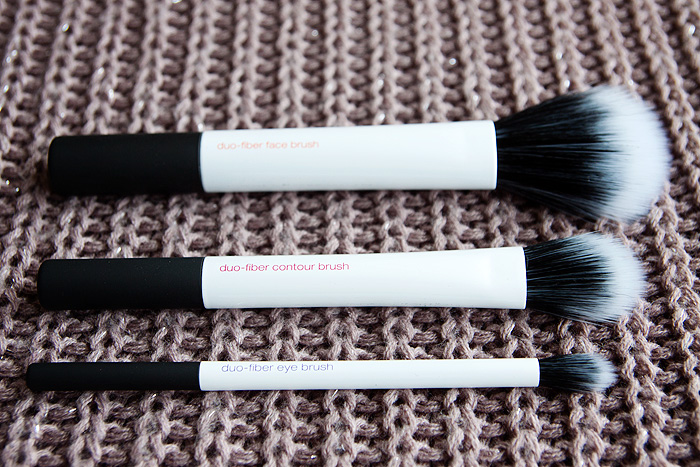 The second brush in the set, the Duo-Fiber Contour Brush is slightly more rigid than the face brush.  The fibres feel a little springier, with more resistance under pressure.  This gives the brush a little more strength to direct the product being applied and additional control when it comes to blending for a seamless finish.  Ultimately, this is the brush you'll want to be using this Summer for applying your bronzer and contour shades.  A little more precision but applied with an equally light hand.
Despite being somewhat stiffer than the face brush, I'm still not sold on using it for cream products… I just have other brushes (even from this line) that I prefer to use with liquids and creams.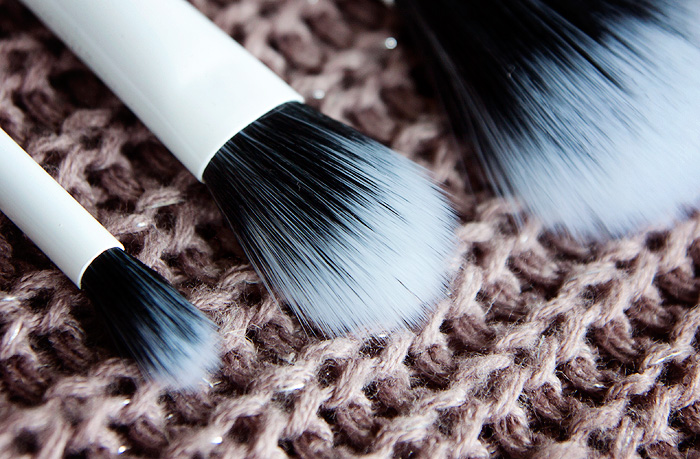 The smallest brush in the set is the Duo-Fiber Eye Brush, and for me, this one is an outright disappointment.  I simply do not find the brush comfortable to use in the delicate eye-area.  The fibres are sharp, scratchy and even with the lightest of touches, too harsh for blending out colour across my eye socket.  At a push, it works ok for under-eye concealer but ultimately, I will pass over this brush daily in favour of a softer brush.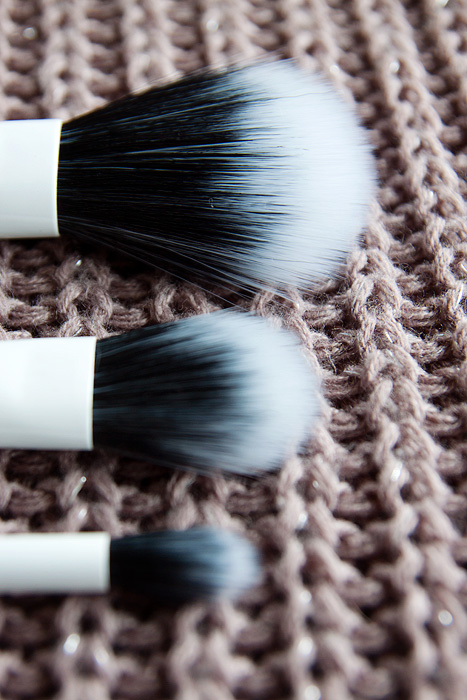 If you use a lot of powder products, I'd say that you would benefit greatly from purchasing this collection… the Face brush is unlike any other I own for creating a ultra-light finish.  I prefer to use cream products on my cheeks when it comes to blush and bronzer so I'm a little torn on the contour brush… at the bargainous price that this set retails for, I'd lean toward saying that it wouldn't hurt to own it.
The eye brush isn't worth the space in my brush holder (imo).  Not that there is any space.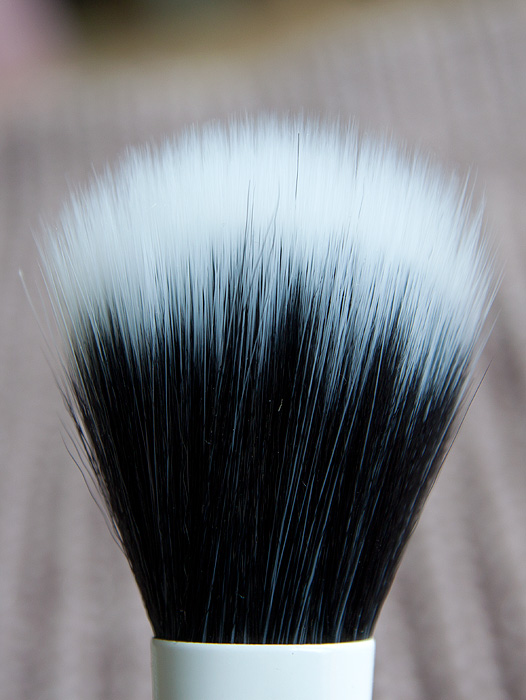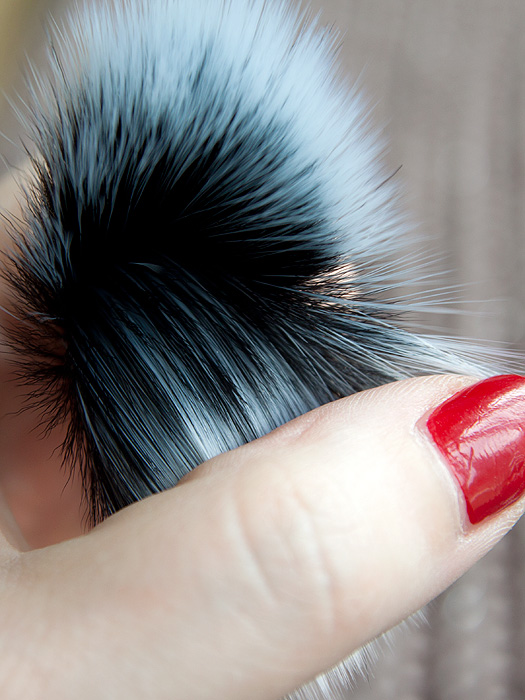 The set hasn't blown me away.  Not in the same way that the Core Collection did back in 2011 (I still use the Buffing Brush daily) and please don't assume that just because they're dual-fibre brushes, you'll get something comparable to MAC's legendary 187 at a cheaper price point… these aren't a set of stippling brushes, they're far more specific in their use helping you to create softly layered-looks and hone your application skills with a lighter-touch.
For a more multi-purpose duo-fibre brush you'd need something like the Real Techniques highly-regarded Stippling Brush instead.
As far as craftsmanship goes, other than my issue with the scratchiness of the eye brush… overall, the quality is great.  There's no horrible chemical stink to the fibres, the ferrules are solidly formed and the taklon appears to be well-clamped into the handles.  Although the bottoms of the brushes are flat, they don't offer the greatest stability on their ends… something to remember if you have a white carpet.
The Real Techniques Limited Edition Duo-Fiber Brush Collection is available to buy online from Cloud10Beauty.com or instore at Boots, priced at £23.99
* press sample