If you've been assuming that the most magical thing about train stations is Platform 9 3/4, you've been looking in the wrong place.  Head around the corner to St Pancras International and feast your eyes upon a thing of real beauty, the station's new pop-up spa: Ainhoa City Spa.
A spa?  In a train station?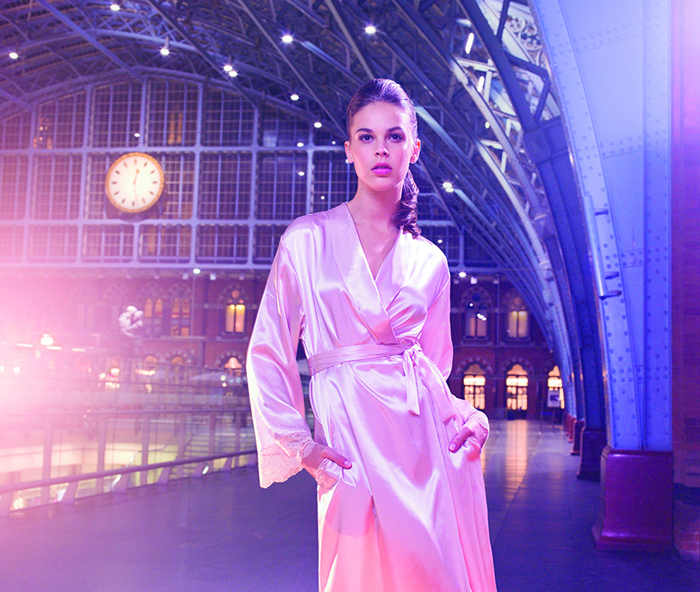 Let's face it, any kind of transit hub has the potential to be the most stressful part of our day, especially at this time of year.  Whether you're mid-journey, putting the finishing touches to your Christmas shopping, or just out on the razz with some friends – you won't be far from some dedicated pampering to keep your wheels firmly on the rails.
Ainhoa City Spa will be open throughout the festive season until the end of January, offering free express treatments to customers every day and selling Ainhoa luxury skincare products and other spa services, the first time the award-winning Spanish skincare has been available to directly purchase in the UK.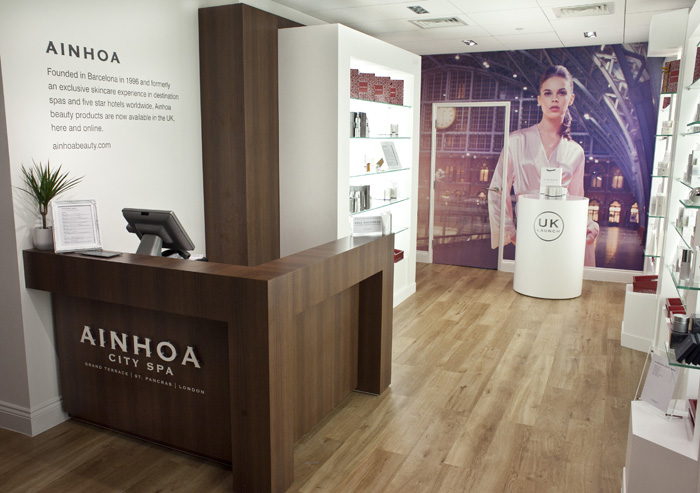 Treatment Menu
Women
NAME: Hydrating
SKIN TYPE: Dry/Dehydrated
DESCRIPTION: Luxurious Caviar & Gold combine with gentle Hyaluronic Acid to leave your skin feeling perfectly hydrated, renewed and lifted.
NAME: Hydrating
SKIN TYPE: Mixed/Combination
DESCRIPTION: The hydrating & nourishing properties of Caviar combine with Hyaluronic Acid to gently refresh & replenish your skin, leaving it hydrated & rejuvenated.
NAME: Repairing
SKIN TYPE: Ageing
DESCRIPTION: Plant Stem Cells and Hyaluronic acid will gently hydrate, regenerate and repair your complexion. A wonderfully luxurious and rejuvenating treatment.
NAME: Lifting
SKIN TYPE: Mixed/Combination
DESCRIPTION: A luxurious mineral treatment that will drape your skin in diamonds, designed to combat premature ageing by helping to lift and smooth fine expression lines.
NAME: Relaxing
SKIN TYPE: Tired
DESCRIPTION: Ease away life's stresses and strains with this balancing and hydrating anti-oxidant facial. A perfect winter treat.
NAME: Regulating
SKIN TYPE: Oily
DESCRIPTION: Gently cleansing and antiseptic treatment to address excess oil production. Wonderfully balancing, leaving your skin feeling decongested yet hydrated.
Men
NAME: Refresh
SKIN TYPE: Mixed/Combination
DESCRIPTION: Cleanse, rebalance, rehydrate. A decongesting, cleansing treatment to leave your skin feeling smooth, revitalised and protected.
NAME: Repair
SKIN TYPE: Ageing
DESCRIPTION: Rehydrate, invigorate, protect. Reclaim your skin's natural elasticity and ease the appearance of fine lines with this firming, anti-ageing treatment.
I'd advise phoning ahead (020 7843 7683) to reserve your free express treatment, I foresee the offer becoming a little bit popular.
Just the ticket to stop you running out of steam this Christmas 😉