I'm bringing out the cheesy post titles!
I was recently sent a bottle of Victoria's Secret Dream Angels Heavenly Angel Touch Lotion… awww, doesn't that name just make you want to bring up your lunch?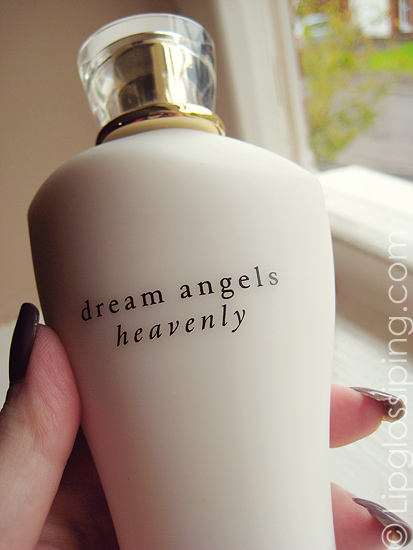 Apparently, this is America's #1 fragrance (according to Victoria's Secret of course) but I have to say, it is rather lovely.
With long-lasting notes of vanilla, freesia and white musk, there's nothing extraordinary to be found here – but my husband adores the way it makes my skin smell and that's good enough for me if it means I get a back-cwtch in bed before sleep.
The lotion itself is light and non-greasy.  It glides on smoothly and sinks in almost instantly leaving absolutely no residue or stickiness behind.  You could literally apply this minutes before bed without having to peel yourself off the bed sheets every time you want to turn over.
It leaves my skin feeling soft and moisturised though I'd suggest that it may not be rich enough for more dry-skinned types.
If you're a fan, the Dream Angels Heavenly scent can be found in many Victoria's Secret products, I just with the same could be said for locating the brand in the UK.
They've recently announced that they'll be opening a flagship store in London in 2012, but quite frankly… that's just not quick enough is it?
Until then, we'll have to make the most of the Victoria's Secret counters available when flying out of Heathrow.  You can pick up a variety of the VS Beauty line from the World Duty Free stores located at the airport.
Are you a Victoria's Secret fan?  What are your favourite products from the brand?