The Background
I have been looking forward to this for months!
I booked my fish pedicure from Wahanda because they were offering a great mobdeal on a 25 minute pedicure.  Infact, I booked 2… one for myself and one for my husband who instantly announced that he'd rather sit through a game of cricket than go for a fish pedicure.  I took that as a hint and invited my cousin to come with me instead.
The night before I made sure to exfoliate my feet with a sugar scrub in preparation… I didn't want those little suckers to get an easy ride!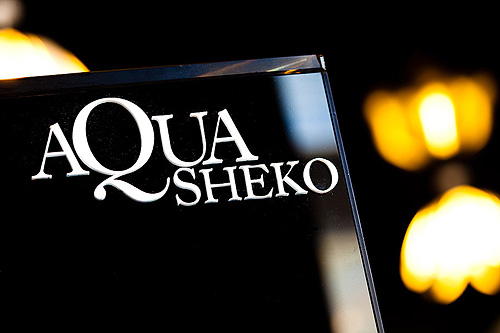 The Salon
Aqua Sheko is fairly easy to find, just off Kensington Church St in London.  The interior didn't seem quite as plush and swanky as the website photos would have you believe.  It's quite a cramped and utilitarian space… and the decor just kept making me think of the Tron Light Cycle scene!
The Washing
First things first… a very softly-spoken and gentle male therapist washed my feet… I would have become quite caught up in the moment if it weren't for the fact that the water felt practically sub-zero!  He apologised for this, but my goodness – must it be that cold?  You can see the reaction on my cousin's face as her feet are washed (mind, she is a total wimp!)
Once my feet were clean and dried, the therapist carefully inspected them for cuts and sores.  I had two insect bites on my ankle which were covered with a plaster before I was shown to the tank.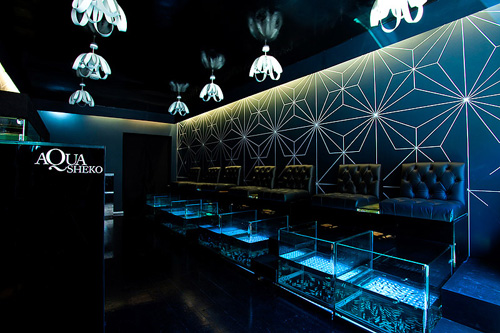 The Fish
I was brave.  I didn't even flinch!  I did giggle though.  Lots.
What I didn't realise was that you're supposed to put both feet in the tank together at the same time… it makes sense right?  Idiot.  I plunged one foot in and they all rushed to greet it!  Realising the error of my ways sharpish, it wasn't long before I had both feet dangling into the water.
It tickles.  It feels like a jacuzzi but with a bit of gentle suction in places – especially if you get a couple of big 'uns in your tank!  It's not unbearable… but if you are VERY ticklish, you may not enjoy it.
Me?  I kinda loved it… I giggled A LOT and made little to no verbal sense.  I found it an uplifting experience and became quite fond of my little tank dwellers by the end of the session!
My cousin?  Not so much… she's very pleased that she did it and wants to take a friend back as a birthday treat, but it's more for the unusual experience than any therapeutic benefit.  It was just too ticklish for her – she said she probably wouldn't do it again.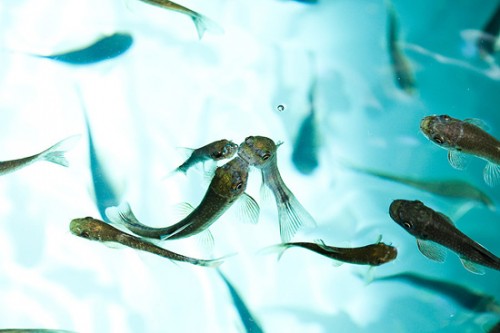 The Massage
Not included in the Wahanda deal, we paid extra on the day to get a 15 minute foot massage after our 25 minute dip.  It was a great way to finish off and having never had a foot massage before – I was amazed by just how good it made me feel!
My therapist spent a few minutes working on my big toes (she said that she could feel I had stiffness in my neck!) and oddly enough a few days earlier, I had woken up with a terrible crick in my neck!  It was only when we left the salon that we were able to really appreciate the benefits, both of us commenting that it felt as though we were walking on air.
The Conclusion
Post pedicure, my feet are much softer and smoother though I don't think it's as effective as a professionally-performed pedicure.
There's a bizarre sense of camaraderie at Aqua Sheko.  The staff are well-used to people who are reluctant to take the plunge (har har!), they even keep an iPad on site to distract nervous fish botherers!  Patrons were happily chatting amongst one another, keen to reassure any newcomers that it wasn't as scary as it may seem.
Would I do it again though?  You bet!  What a fun way to spend an hour.
The Video
It's a terrible video… but I'm no You Tube Guru and it's the best I've got – sorry!
Here fishy fishy from lipglossiping on Vimeo.
.