So, I'm an old married… and my husband doesn't buy me Valentine's gifts.  Instead, he makes me a minimum of three cups of tea a day, fills the car with petrol when I can't be arsed, sounds semi-enthusiastic when I regale him with tales of my shopping bargains, and always knows my current favourite chocolate bar.
But it wasn't always this way and back when we were all shiny and new, falling out because he laughed at a pair of BIG girl's pants in M&S that looked scarily like a pair of mine, Valentine's Day was kind of a big deal.
In all honesty Valentine's Day is about as much for married people as it is for single people, i.e. it's not.  It's for sickeningly saccharine types enjoying the first, what — maybe two years of a new relationship?  Which ultimately means that the rest of us should treat V-day as nothing but a big excuse to buy ourselves a present of LOVE.  Because afterall, no one understands how much love (read " new stuff") we need better than we do.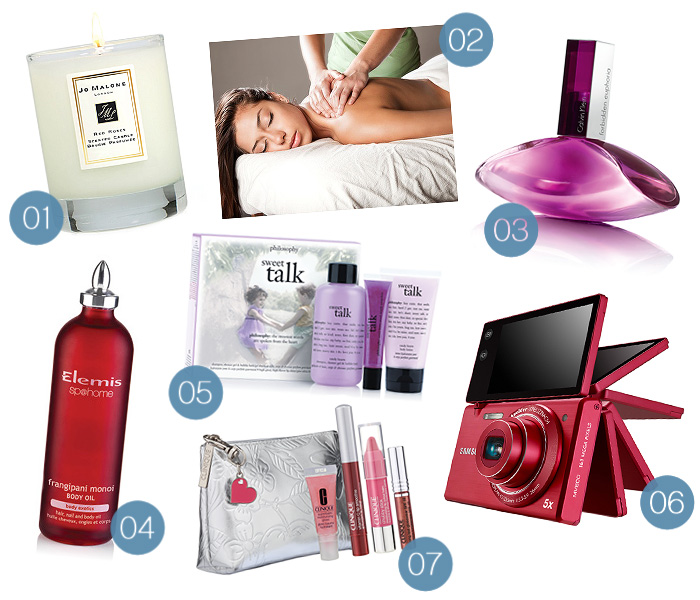 01: Jo Malone Red Roses Travel Candle* – The problem with fresh roses is that nine times out of ten, the other half has bought them from the Esso garage.  Go for something a little longer lasting with Jo Malone's Red Roses Travel Candle.  Burn, enjoy, extinguish – repeat ad. infinitum until you've surrounded yourself with the luxurious atmosphere afforded by a blend of seven of the world's most exquisite roses.  Priced at £22.00 and packaged in the inimitable "Jo Malone way", it'll be considerably more affordable and better-presented to boot!
02: Wahanda Valentine Treats – Treat yourself to a Wahanda treat in time for Valentine's Day.  From £11 mini manicures (and a glass of wine!) at Coco Nail Bar to a £200 overnighter at the chinese-inspired Chuan Spa at The Langham – there's something to suit every taste and every budget.  Just be ready to bat away the incoming offers from those potential suitors who've heard about your bargain!
03: Calvin Klein Forbidden Euphoria – Unashamedly pink and most definitely girly, this new release from Calvin Klein ticks all the right boxes for those who like their fragrances on the fruity side.  Dedicated to the 'independent woman', there's no better way to announce your fabulous presence than with a blend of forbidden fruit including mandarin, passion fruit and touches of iced raspberry.  Priced from £32.50.
04: Elemis Frangipani Monoi Body Oil – Smell delicious from top to toe with this nourishing body oil from Elemis.  This multi-tasker can be drizzled in a hot bath for a relaxing scent-sensation, smoothed onto dry skin to replenish and moisturise, rubbed into cuticles to nourish, and even massaged into your hair to scent and soften.  Worthy of its cult-status, the Elemis Frangipani Monoi Body Oil makes for a great Valentine's night treat – just keep it to yourself eh?
05: Philosophy Sweet Talk Set – This latest body-pampering set from Philosophy combines the brand's three-in-one shower gel, body lotion and pink-tinted lip shine in the Candy Hearts flavour: a sweet (with a hint of tart) scent which will capture the hearts of girls across the nation.  Limited edition and priced at £22.00
06: Samsung MultiView MV800 Camera – For girls that have been very good this year comes the latest compact camera offering from Samsung.  Small enough to slip in your handbag with a 3.0″ wide (every inch counts right?) touch-screen which flips a full 180 degrees to ensure you capture spot-on self-portraits every time without getting a crick in your neck.  16.1 megapixels, HD video recording and 5x optical zoom will ensure your Facebook photos are the best on the block.  Just leave out the duck-face yes?  Comes in a range of snazzy colours (it's gotta be red though right?) and is priced at £249. Unless you're clever and go to Amazon!
07: Clinique Limited Edition Kiss it Better Kissable Lip Set –  Spread the love with a purchase of Clinique's charity lip set and help raise money to fund research into the causes and treatment of childhood cancer.  In collaboration with the Great Ormond Street Hospital, 50% of the RRP price will be going directly to the KISS IT BETTER appeal. The set of covetable minis includes: a Vitamin C Lip Smoothie, Superbalm Moisturizing Gloss, Chubby Stick Moisturizing Lip Colour Balm, and a mini Long Last Glosswear.  Available instore at House of Fraser, priced at £25.
Love yourselves.  The end.
* press sample