My enjoyment at admiring my latest Body Shop haul was short lived when…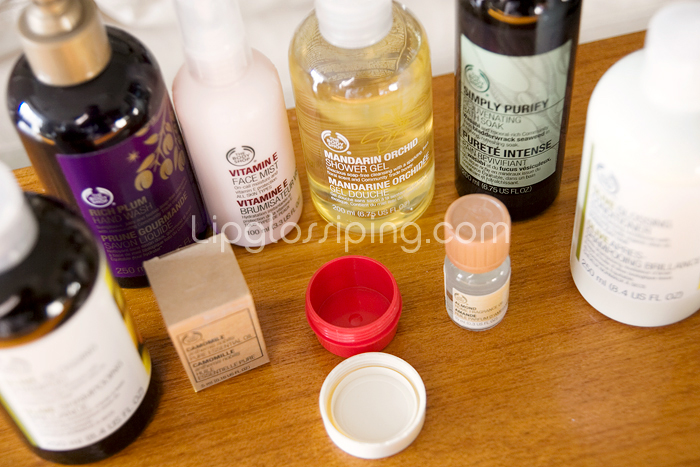 …to my horror, I opened up my Oui, Oui, Oui lip butter only to discover that the lip butter goblin had swiped the lot.
The greedy little bastard had even somehow managed to get the plastic wrap back on the pot ensuring it was hygenically resealed (just to mess with my mind some more you understand).
Um, do you think The Body Shop will believe me?  Or will they think I'm some kind of sick desperado who goes around buying Oui, Oui, Oui lip butters… painstakingly scraping out the contents, washing up the pots and returning them for a new one?
I wouldn't mind SO much, but sods law dictates that I didn't haul from my local Body Shop… oh no, I had to get this from the store 15 miles away didn't I.
Anyway, onto the rest of my haul…
Olive Glossing Shampoo & Conditioner: Have heard such good things about this.  My scalp is a mess at the minute, I always suffer from soreness this time of year so I'm hoping something a little more natural than my usual products will help.
Mandarin Orchid Shower Gel: Love my bathing products to smell fruity or tropical and citrusy scents are at the top of my list!
Vitamin E Face Mist: Replacing my last bottle which I find essential for giving my mineral foundation a more dewy appearance.
Rich Plum handwash: This was in the sale, and now that I'm a full time nappy changer – I'm always washing my hands, so thought I'd indulge in something a little more luxurious than Carex!
Almond Home Fragrance Oil: I already own this one (I collect them), but it's one of my favs so grabbed another bottle while I saw it.
Chamomile Essential Oil: My super bargain of the day, I usually drip a little of this into some milk and add to the bath, it's normally over £11 a bottle, this was reduced to £1.75 – very happy!
Simply Purify Rejuvenating Bath Soak: Another sale item, contains wasabi extract… love wasabi!
Was sorely tempted by the Coconut Body Scrub too, but I've still got a Nirvana Spa one I bought at The Vitality Show to use up.
What are your Body Shop favs?