The last installment, here's hoping you get lucky!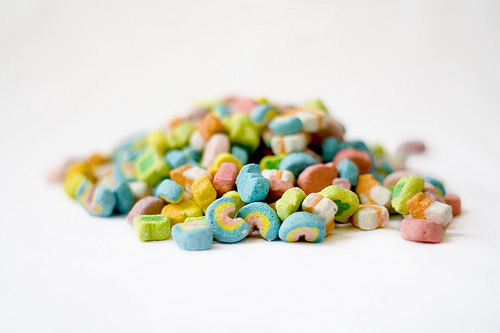 Um, they're Lucky Charms incase you're not familliar with the breakfast cereal favoured by millions of 7yr olds all over the US.  Healthy-looking aren't they?
Anyway…. the winners are:
17th: Dv (Elizabeth Arden Hydrating Cream Cleanser)
18th: witoxicity (Nails Inc Nail Polishes – London Nights & Motcomb St)
19th: Rosa (Urban Decay Ink for Eyes in Binge)
20th: kelliegonzo (ASDA £5 Gift Card or 3 George at Asda Polishes)
21st: Rae (Guerlain KissKiss Lipstick in #542 Peche Frivole)
22nd: Maggie (Shu Uemura Rouge Unlimited BG945)
23rd: Louise (Jessica Nails Care Set)
24th: pfefi (Paper Soap and Hair Velcro)
and finally..
25th: Louise (Helena Rubinstein Beauty Shows Palette) – 2 prizes… you lucky thing, quick – get the lottery on!
Yay winners! Do the happy dance! And then email me your deets so I can get your prize in the post to you.
If I don't hear from you in a week, I'll try and find your email in the myriad of comments and if I still don't hear from you after that, your prize will go to someone else.
That concludes my Advent Giveaway Extravaganza!!  Thank you all for taking part and getting into the spirit of it.  Sorry if you were unlucky this time 🙁  I have more giveaways coming up… the prizes are backing up in my spare room as I type!
Lots o' love, me xx