It's Sunday, which in my world means Cake day… I haven't decided what I'm making this week but seeing as I haven't yet become bored of my new found love for the kitchen, I know I'm gonna enjoy making it.
Last week we had loads of leftover cherries thanks to Leila deciding that she wasn't going to like cherries anymore.  Those things are expensive and I couldn't take watching them slowly grow fur in the fridge.  I googled for some recipes and came across one for a tasty sounding Hungarian Sour Cherry Cake.
Now, I have no idea if my cherries were sour or not, they tasted pretty ropey so I thought they'd probably do.
1 8″ cake tin (greased and floured)

225g unsalted butter (please do use proper butter, I risked it with baking type butter and it had a distinct marg taste)
1⅓ cup caster sugar
3 eggs
1 teaspoon vanilla extract or 1 tablespoon rum
2½ cups sifted plain flour
2 teaspoons baking powder
2 tablespoons sifted icing sugar to decorate

2 cups fresh cherries (take the stones out)
1 teaspoon cinnamon
1 tablespoon granulated sugar
1. Cream the butter and caster sugar together until pale and fluffy.  Add the eggs and combine well.
2. Add the vanilla or rum.
3. Fold the flour and baking powder into the wet mixture.
4. Pour the thick batter into the prepared cake tin and smooth the surface.
5. Press the cherries into the batter evenly.  Just keep pushing the cherries further into the mixture until you've used them all up.
6. Combine the cinnamon and granulated sugar and sprinkle evenly over the cherries.
7. Place the tin in the lower middle of a preheated 170C oven (fan oven) and bake for 1hr, or until a cake tester inserted in the middle comes out clean.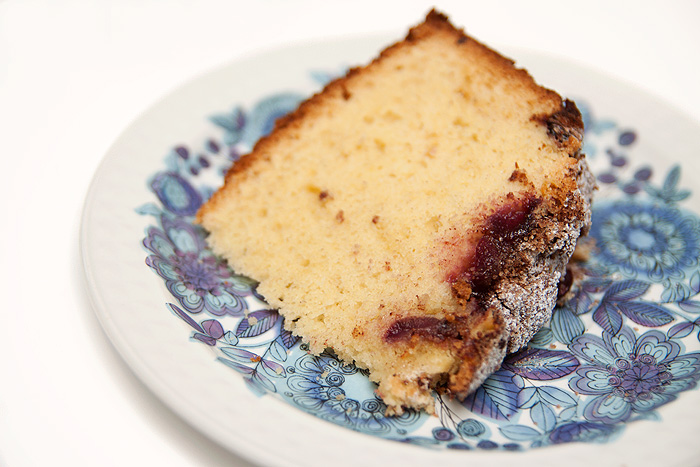 It needed more cherries… I only had 1 cup.  I ended up spreading the slices with cherry jam.  Decadent!
Have a lovely, restful Sunday!