Back in the days of stumpgate, the wonderful Sirvinya kindly offered to send me a spare pack of her Nailene false nails that she'd received for review purposes.
I was tragically distraught at the state of my tips and would have ripped the packet out of her hands given half the chance.  Living a good many miles away from her she was saved that fate and I had to sit on my nails instead, waiting (impatiently) until the postman dropped them through my letterbox.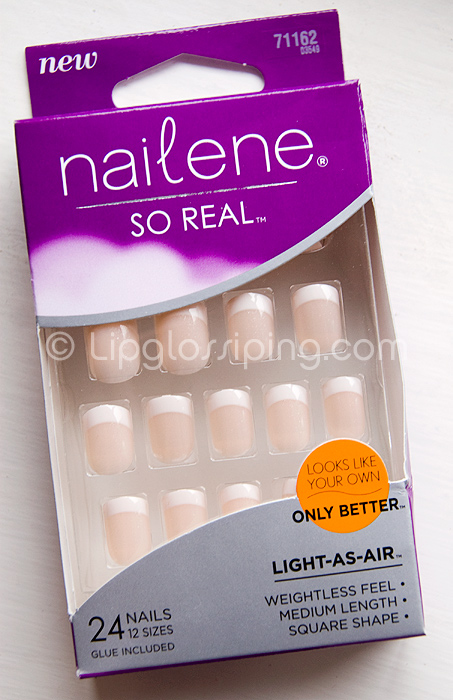 I'm not used to false nails, I can count on one hand the number of times I've donned a set of these.  I remember one occasion, I'd not long met my soon-to-be husband… we were young and cavalier back then.  He lived over 300 miles away from me and we'd sneak weekends together whenever we got the chance.  My 19yr old self obviously wanted to look my best, and I invested in a set of falsies (nails not tits) from Superdrug.  I remember they were red. *roarrrr*
They kept falling off.  Before my coach had even arrived in County Durham, I'd re-stuck them on about 50 times.  The weekend was wonderful… we laughed, played Super Mario, drunk Lambrini and ate many slices of Salami pizza (you'll be pleased to hear I've retained my classiness).  I was demure, elegant and altogether rather swishy.  That is until his mother told me a few years later that she'd found at least 6 of my stick-on red nails tangled in his bed sheets and thought her son had developed a "thing" for ladies of the night.
So, that was my very short lived affair with false nails… it was over as quickly as it had begun and I haven't even considered them since.  Until now.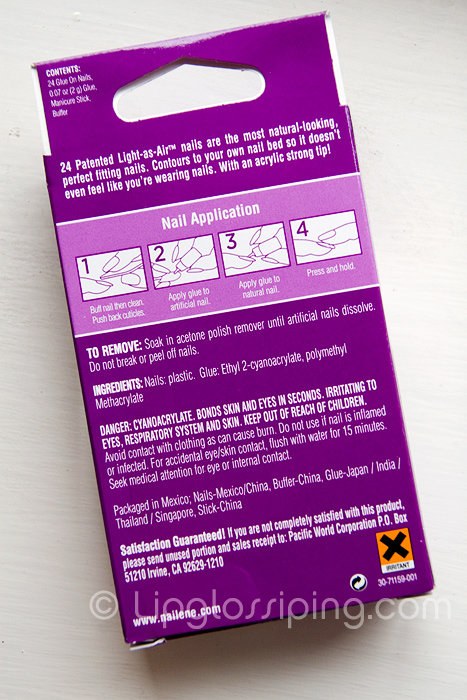 These sounded as if they'd be easy to apply… but judging from the instructions, I could tell that removal was gonna be a pain in the backside.
I was right on both counts!  I had no problems with application, no air bubbles, no visible glue, and boy do these buggers stick!  I couldn't resist doing that thing before removing them… yano, the 'lifting' thing.. seeing how much strain I could put on them, waiting for that satisying popping sound as they broke free from my nail bed.  In hindsight, I'm freaking grateful it never came.  I mean, what the hell was I thinking?  It's like spot-picking… you know you shouldn't, but that doesn't stop you.
Here they are in action: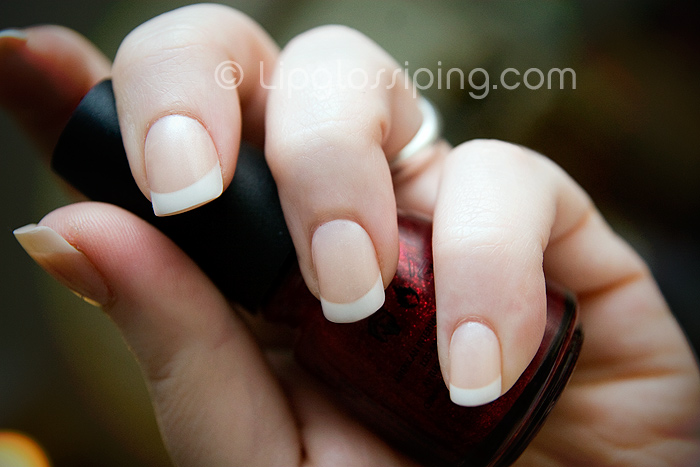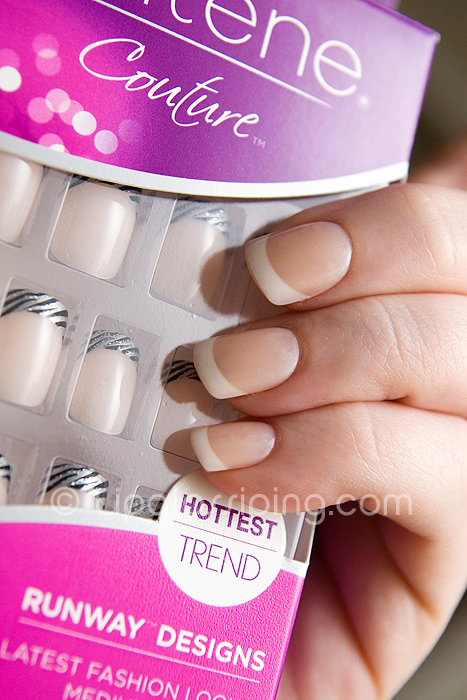 They look… false, don't they? Mannequin hands…  I didn't like how they looked on me.  I have quite narrow nails, and these made my hands look pretty chunky and squat.  Sizing was the issue, I couldn't find one narrow enough to fit my index fingers properly.  Can you tell?  In the first picture I think it's obvious that the index fingernail is too big.  Not only that, but although it seemed to just about fit on the nail bed, I noticed that it started to hurt the cuticles about 12hrs later, so it was definitely too large.
Removal was… tedious.  Worse than tedious.  I soaked as instructed.  What I failed to realise was that my Sally Hansen Nail Polish Remover was coloured blue.  10 minutes of soaking later, I emerged from my dip bowl with blue fingers up the knuckles.  And they stayed that way for a couple of days.  I think I preferred stumpgate.
What can you take away from this review other than the fact that I'm an idiot who was once mistaken for a prostitute?
Well, the nails are fine… if you like the look of them.  They're easy to apply, a bitch to remove and might not suit you if you have narrow nails.  Look… I could have just saved myself about 3204 words right there.
Nailene So Real False Nails are available… actually, I'm not sure where they're available in the UK… Boots? Superdrug? If you've seen 'em let me know so I can update!