Clinique are introducing three NEW products to their popular Redness Solutions lineup.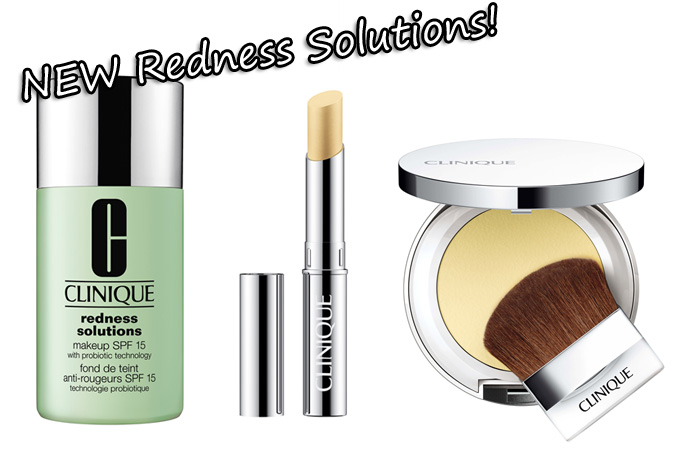 Clinique Redness Solutions Makeup SPF 15 – £20

Now this is exciting!  The first premium-brand to offer a foundation that not only promises to give redness specific coverage but also offer treatment benefits for mild to moderate facial redness.
Well, that's me… I'm very curious to see if this makes any real difference in camouflaging compared to my normal foundations.  I'm not convinced on the SPF 15 though, I think that a foundation specifically aimed at sensitized skins would have benefited from a slightly higher protection rating.
Clinique Redness Solutions Corrector – £15
A yellow-toned stick concealer that promises to neutralise and conceal areas of redness.  I'm wary of these… in the past I've tried Benefit's You're Bluffing yellow-toned stick concealer and it just didn't do much for me.  I won't discount this one yet… but it's not something I'd buy without being shown exactly how to use it for best effect on counter.
Redness Solutions Instant Relief Mineral Pressed Powder – £24
This powder can be used alone, under or over makeup and claims to make visible redness and broken capillaries virtually disappear.
If this is anything like Clinique's loose mineral powders… it's gonna be gorgeous.  I find them to be super-fine and invisible whilst doing the job they're designed for.
.
The new redness solutions additions will be available on counter from the 15th October.  I for one, will be checking them out!