I work from home and my workspace has been stupidly crowded for as long as I can remember.  You know the scene, papers piled high, things 'filed' under other things…
I finally got a new desk and have been able to get my priorities straight and move all my makeup RIGHT NEXT TO ME! OMG!
You have no idea how little proper work I've gotten done since I moved my makeup within playing distance.  Mr. Lipglossiping is wondering when the book-keeping is gonna get done.  Right after I finish playing with this lipstick dear…. (or like, NEVER! – mwuahahaha!!)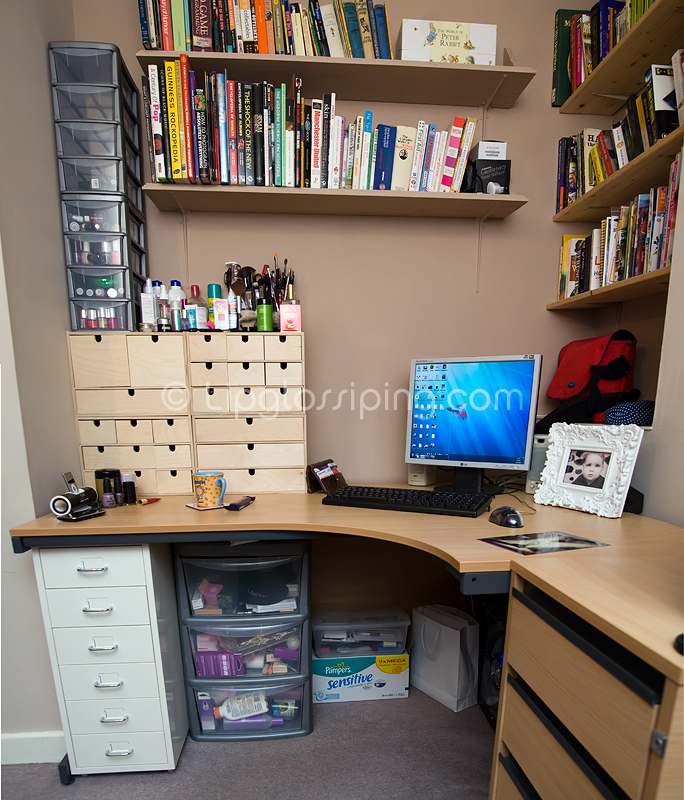 Ain't it spacious? *spreads self across desk*
Those drawers on the right.  That's proper grown up pay the bills work stuff.  The rest? MAKEUP and SKINCARE and NAIL POLISH and HAIR STUFF and all the other important things.  I better do some work, I can feel a *side eye* from Mr. L. burning a hole in the back of my skull.