Firstly, I want to say a massive thank you for all the ideas and inspiration that you left on my last veggie post, I'm slowly working through the comments and I'll let you know how I get on with your recipes!  Day 3 should have been the Brussels Sprouts, but I wimped out in favour of the bean variety!  It's going well so far, partly because I'm really enjoying the "will I/won't I like it" anticipation that comes just before tucking in!  I know it's not exactly life-changing when it comes to dietary habits but I'm hoping that it inspires me (and maybe a couple of you!) to think about making veggies the focus of a few meals a week.
I will say one thing though, thank GOD I'm not a vegetarian… as much as I'm enjoying the green stuff, a majority of vegetables on your plate has the side-effect of making the meaty accompaniment taste even better ha!
Anyway, here's days 3 & 4 for your delight/disgust. I'm having pancakes today because it would be sacrilege not to observe the religious festival of Jif Lemon Day 😉  Oh and incase you're feeling nostalgic, here's a post in celebration of today from 2 years ago.
Happy pancake-ing!
Day 3: Beansprouts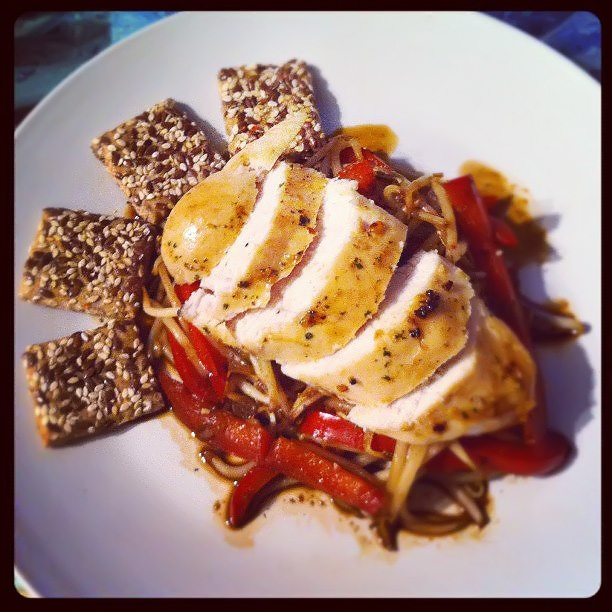 Chilli Chicken with Beansprouts and Sesame Crackers – 390kcal
A beansprout-based meal bothered me.  Should I eat them cold or stir fry them?  I'd been doing a lot of stir-frys but I wimped out of the beansprout salad option and met the idea half-way.  I cooked the beansprouts a little earlier in the day and then chilled them, it was delicious.  Possibly my favourite meal so far.  Who knew the humble beansprout could be so awesome?
200g Beansprouts
2 Spring Onioins (sliced)
1/2 Red Pepper
1 Chicken Breast
1 tsp Chicken Seasoning (I used a chilli/garlic mill)
10g Sunflower Seeds
1tbsp Light Soy Sauce
1/4 tsp Garlic Powder
4 Sesame Crackers to serve (Tesco do Poppy and Sesame 'thins' that are ideal)
Spray the chicken breast with cooking oil (the 1kcal stuff – you only need a couple of sprays) and season before placing it on a baking sheet in a pre-heated oven (180 degrees fan) for around 20/25 minutes until cooked.  Slice your red pepper and spring onions before lightly stir-frying them for a couple of minutes.  Add the beansprouts, garlic powder (you could use fresh but I only wanted a tiny hint of flavour), soy sauce and sunflower seeds.  Cook for a couple more minutes before setting aside to cool.  Serve with sesame crackers.
How easy is that one?!
Day 4: Brussels Sprouts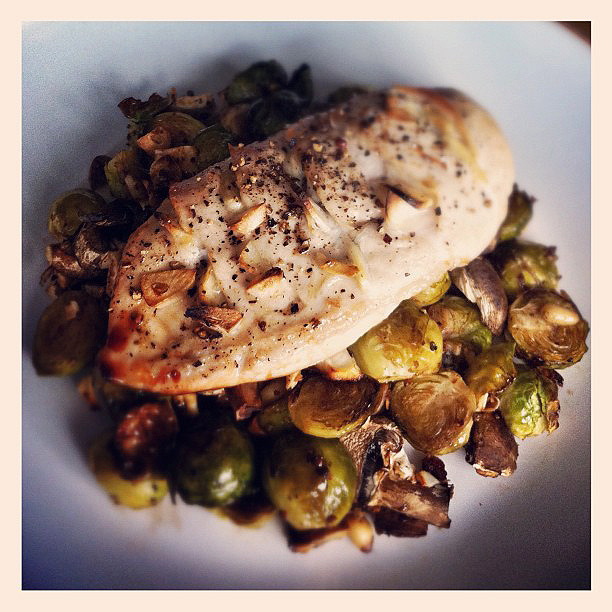 Garlic Chicken with Roasted Brussels Sprouts – 470kcal
If you don't like garlic, this recipe won't be for you.  The combination of sprouts AND garlic will ensure you never hear from that first date again so please only opt for this one on a day that you're either very, very alone or very, very married.
1 Chicken Breast
3 cloves Garlic (thinly sliced)
150g Brussels Sprouts (destalked and halved)
4 Mushrooms (quartered)
1 tsp Olive Oil
10g Pine Nuts
30g Parmesan Cheese
1 tsp Balsamic Vinegar
Black Pepper to taste
This one is really quick to prepare and cook as well.
Trim the ends of the sprouts and slice them in halves, ensuring that the cut transverses the stalky bit before thinly slicing the garlic.  Into a small bowl: add the olive oil, pine nuts, balsamic vinegar, sprouts, mushrooms, and garlic and mix with your fingers to ensure a good coating of oil covers the sprouts.  Lightly spray your ovenware (I use an enamel pie plate) with 1kcal cooking oil spray and arrange your sprouts on it in a single layer.  Score the chicken breast to make 'pockets' along its length and pop a couple of garlic slices into each pocket before lightly spraying with your 1kcal cooking oil spray.  Place both dishes into a pre-heated oven at 180 degrees (fan) for around 25 minutes or until the chicken is cooked.  Keep an eye on the sprouts, you want them to caramelise but not dry out.  As you're using less oil than normal, they may dry out more quickly.  Sprinkle with Parmesan a couple of minutes before taking them out of the oven.
.
This one wasn't my greatest success.  For one, I didn't have any parmesan and substituted feta cheese – who knew that feta doesn't like being cooked in the oven?  (Everyone except me probably).  My sprouts also dried out a little… not too much but as I was eating them, I was thinking… "could do with a glaze on these".   The lovely Jules suggested to me on twitter that I might try cooking them in a hot pan next time, I think I might just try that and see if I can retain the roasty flavour without killing the texture.
As for the sprouts being… well, brussel (yukky) sprouty?  I can honestly say that they were improved by well over 300% when compared to boiled sprouts.  I had a couple of "slow chew" moments when I wasn't adoring them BUT combined with the chicken, they were FINE.  Tasty if not magnificent!
What do you think of today's recipes and are you having pancakes tonight?  Lemon and sugar or something a little more decadent?