I couldn't resist posting this press release that landed in my inbox yesterday… check it out…
The London College of Beauty Therapy are undertaking a Guiness World Record on Thursday 13th May and in order to achieve it, they need YOUR help!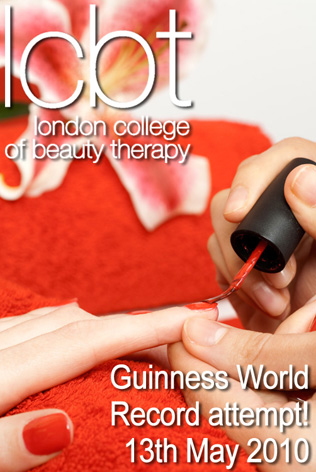 They're hoping to break The Guinness World Record for the highest number of File and Varnishes to be carried out in eight hours!  That means over 2000 files and polishes!
The London College of Beauty Therapy is staging the event to support the charity Wellbeing of Women which funds medical research into all women's health issues.
Men and Women are invited to come along on the day to receive a free file and varnish (or file and buff) performed by a highly trained therapist.
Speaking about the reasons behind the event, Eileen Cavalier, OBE, Founder and CEO of London College of Beauty Therapy said: "This is a fun way of helping to raise concerns about women's health issues. Although we plan to carry out at least two thousand nail treatments, a daunting challenge, we are, nevertheless, confident that each recipient will receive an excellent and enjoyable treatment."
The Guinness World Record File and Varnish event will take place between 11am and 7pm on Thursday May 13th at London College of Beauty Therapy, 47 Great Marlborough Street, London W1. The college is located close to Oxford Circus Underground Station.
If you'd like to volunteer your tips for a good cause, email the bods behind the challenge to book your slot at helpusnailit@lcbt.co.uk