This is SO overdue and I completed it aaaages ago, but just haven't gotten around to writing up my experiences of my week long Beauty Blender trial.
Beauty Blender trial? I hear you ask…
Well, I set myself the silly little task of using nothing but a Beauty Blender to apply my foundation.  I wasn't allowed to touch my foundation brushes for a full week.  I wanted to see if the Beauty Blender was anything more than just a passing novelty.
I'll show you a 'step by step' from my first day and how I use the Beauty Blender and I'll leave you with some observations I made from this daft little exercise.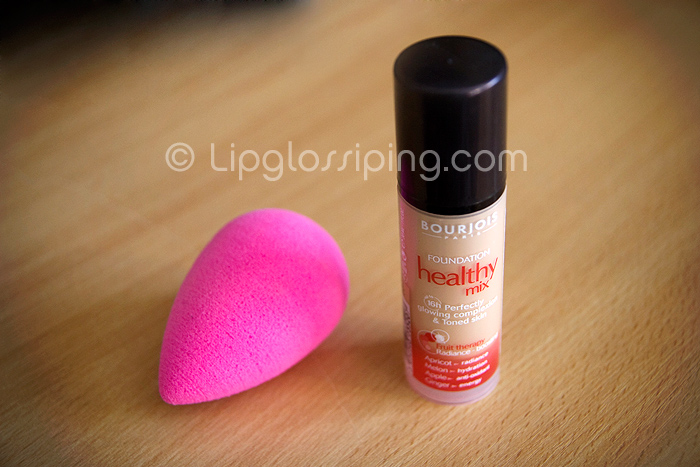 The cast of characters…. The Beauty Blender and Bourjois Healthy Mix Foundation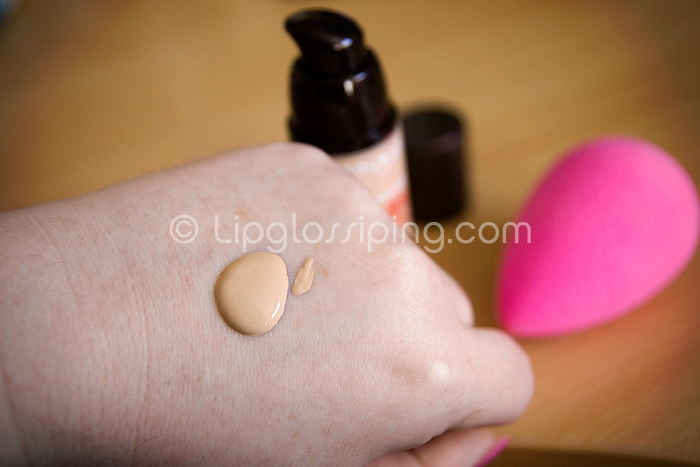 Dispense the usual amount of product onto the back of your hand and wet your Beauty Blender until it swells in size.  Once thoroughly soaked, gently squeeze excess liquid from the sponge until it feels damp, but not wet.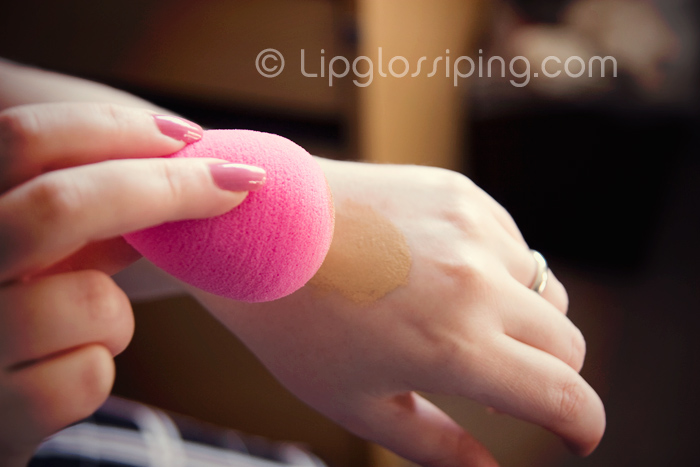 Taking the round end of the blender, "bounce" the sponge into your foundation… coating it in product.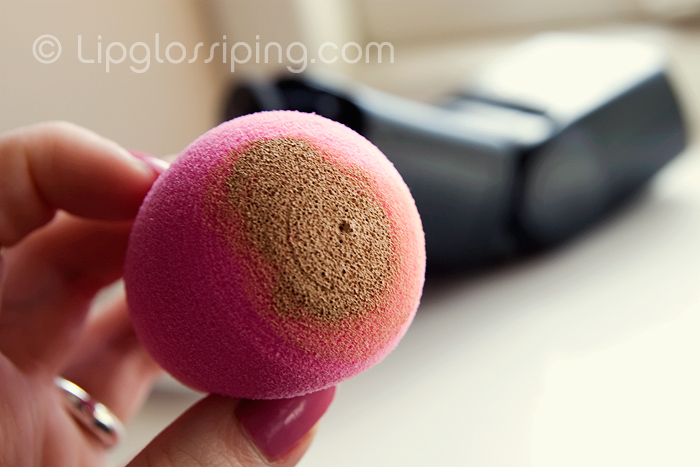 It doesn't matter if it's not *that* evenly coated…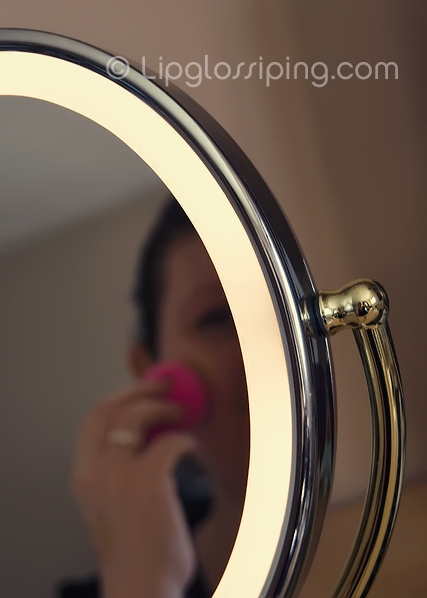 Taking the blender, "bounce" the sponge on your face… a constant patting/bouncing type action all over… don't swipe or circle… just bounce!  To get the foundation into nooks and crannys like the inner corner of your eye socket, use the pointed end of the sponge.
I found the whole process quite slow-going at first…. it took me about 4 days to get my speed up.  The first couple of goes I was a bit "what's the point… this is taking me double the time a #187 would take".  But as I persevered, I really started to hone my technique.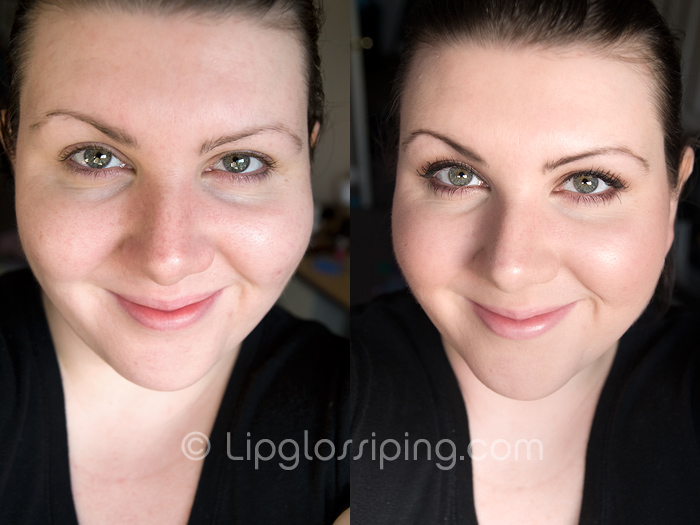 The obligatory before/after foundation shot!  (Bourjois Healthy Mix is a great looking foundation btw – although the lightest shade is a touch too dark for me).
Here's a horrible close up… but it always helps to be able to see the finish properly right?  Click the image to SUPERSIZE MAH FACE!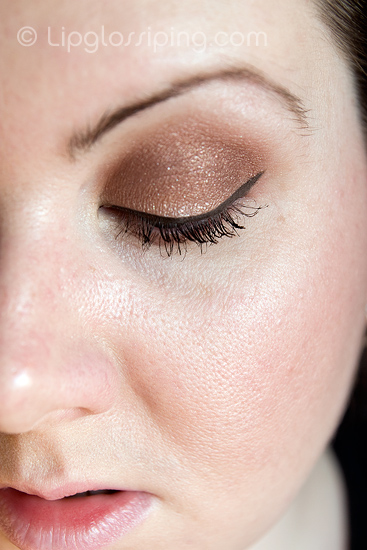 Please note, this was before powder… shine city!
So there we go, that's how I use my Beauty Blender… it still takes me a bit longer than a stippling brush so I don't reach for it if I'm in a hurry.
I do love the finish it gives me… but I think I use a bit more product in the application thanks to the sponge (despite being damp) soaking up a fair amount of foundation.
I need to tell you something though…
I bought Makeup Forever HD foundation at IMATS… and I haven't liked it at all.  I simply could not see what the fuss was about.  Overrated.
Until I used it in conjunction with the Beauty Blender.  Oh Em Gee.  It's turned blog sale fodder into a wonderful foundation for me.  I've also done a complete 360 on my Clinique Superfit since applying it with the Beauty Blender.
Don't ask me what the Beauty Blender does that my normal application methods obviously don't.  I couldn't tell you.
I also prefer the Beauty Blender over a standard cosmetic sponge, the Beauty Blender is softer, bouncier and just feels far more luxe on my skin.  Don't bother with those expensive special Beauty Blender cleansers though… I use a bit of Leila's shampoo and it works great!  Oh and be careful of putting nicks in the sponge when squeezing… it's delicate!
Back to my original question… could I really throw away all my brushes in favour of the BB?
No… I like having the choice, I like the speed a stippling brush gives me.  But I'll be forever grateful to the Beauty Blender for making me fall in love with some foundations that I thought I'd wasted nearly £50 on.  It's already paid for itself twice over.
In the UK, you can purchase the Beauty Blender from Just Beauty Direct, priced at £14.50 each.  I was lucky enough to nab mine from a blog sale woo!