The problem with being a total beauty nut is that I find myself noticing flaws in my appearance that I'm sure wouldn't really bother the average woman my age.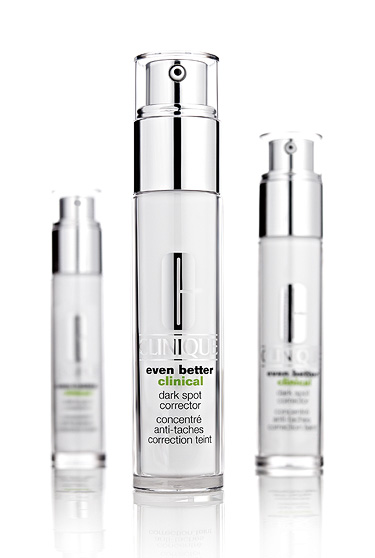 My mother has always suffered with hyperpigmentation and dark spots but she's also about 3/4 foundation shades darker than me, so I've always assumed that it's not something I would have to worry about as a paler skinned lady.
Well, maybe it's NOT something I should worry about, heaven knows there's enough "stuff" queueing up ready to be worried about in our day to day lives anyway… but regardless, I have noticed in recent months that my skin tone is looking less even.  I've always suffered from broken capilliaries on my cheeks and nose… but I'm also noticing a couple of little patches that I initially dismissed as new freckles.
Freckles all of a sudden? At 28? What… I think I'm Lindsay Lohan or something?  I guess it just sounds better than sun damage right?
Anyway, I've read lots about the Paul and Joe Whitening Serum that seems to get decent reviews for it's ability to fade dark spots and even out skin tone… but my interest has been piqued by this new release from Clinique.
Clinique's Even Better Clinical Dark Spot Corrector claims to hold the power to even skin tone with results equal to a leading prescription ingredient.  Not only that but…
…this "damage eraser" is gentle and non-irritating and ideal for skins that cannot tolerate other skin brightening treatments.
It goes on to baffle me with science but regardless, if you've got skin that's prone to a little bit of redness… you'll know that the last thing you wanna do is slap product on that's gonna accentuate that… a false economy right?
At £37.50 for 30ml, it's not an inexpensive solution… but in general, these type of whitening/brightening products seem to offer good visible results when you compare them to anti-wrinkle creams.  The Clinique Even Better Clinical Dark Spot Corrector is available from today on counters nationwide.  I'm interested, but I'll be keeping my eyes open for some reviews before putting my hands in my pocket.
Have you tried whitening creams before?  What do you think?