Try saying that after half a bottle of Shiraz.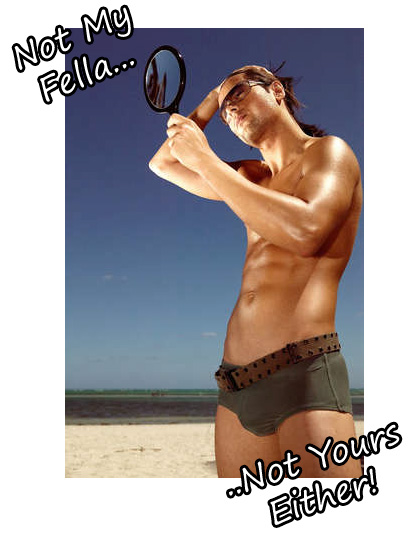 Does this picture need a NSFW warning?
Tough…. it's Monday morning, don't even try and pretend you're not struggling to read THE WORDS in this post.  Words?  Are there even words in this post?
Anyway… where was I? *distracted*.
Oh yeah…  So, hardened beauty addicts… what I want to know, is this….
With a bulging (sorry) beauty cupboard and a crammed bathroom cabinet, does your better half/significant other/tea maker ever indulge in your products, and are you happy about it?
Mine doesn't.  It saddens me…
I have a lovely man doll, but he won't let me play.
I have gorgeous masks and scrubs that I wanna put all over his face and I bet he'd look Johnny Depp-esque with just a hint of guyliner but he's not having any of it.
He's not all "Urgh gerrof me with that girl crap!" or any of that unsensitive macho crap… it's just…
He couldn't care less about 'beauty' products.
They're not on his radar.  He's all about HTC Desires and Flash CS5, a little bit of PES and a lot of Opal Fru Starburst
I could even present something to him in the latest 'man packaging' and his lack of interest wouldn't waver.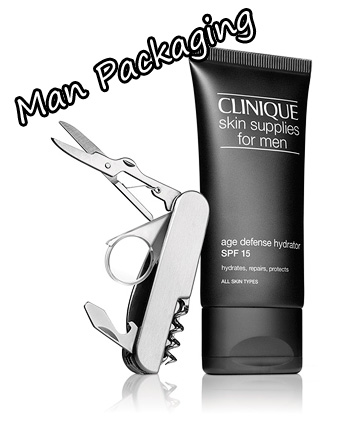 He gets up, splashes his face with water, shaves with Imperial Leather and a BIC and then wonders why he gets a sore chin.  He doesn't even differentiate between shampoo and shower gel.
When I first got married, I had visions of changing all this.
Maybe this is a bit of a weird confession, but I've always thought there's something very sexy about a man shaving.  Especially if it's done "the old fashioned way".
I've tried many times to persuade him to buy one of those posh safety razor sets with a huge domed badger-hair shaving brush and a musky sandalwood-scented soap in a dish…
… of course, this is more for my (slightly pervy) benefit than his, but a man should make these sacrifices for their one true love.
Part of me is relieved that he doesn't hog the bathroom, it's not really big enough for two beauty aficionados.  However, another little bit of me thinks that this is the reason behind him simply not understanding my love for all things frivolous, pretty and rose-scented.
So tell me ladies….
Does your fella know his eye serum from his athlete's foot cream?   And are you pleased he shares your passion?