Elizabeth Arden's famous 8hr franchise has taken a new turn for the Summer.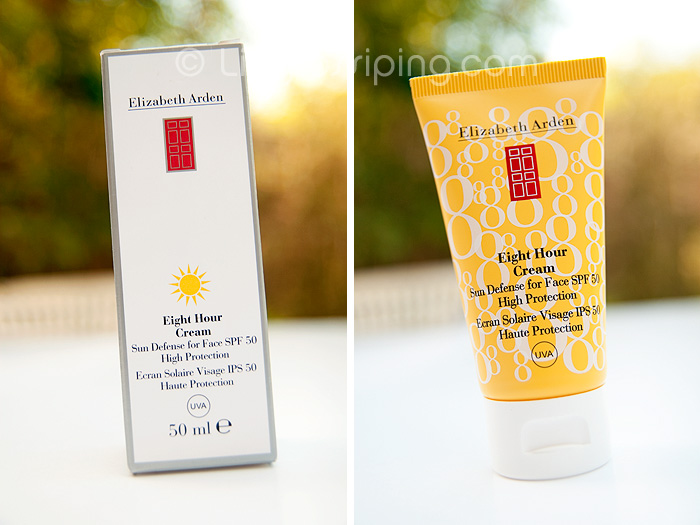 Introducing Elizabeth Arden Eight Hour Cream Sun Defense for the Face (£22).  Boasting a potent SPF50 and a combination of both chemical and mineral sunscreens to offer intense sun protection.
I was given a sample to put to the test and wanted to share my thoughts with you.
When I first heard that Elizabeth Arden's 8hr franchise would be introducing a suncream, my reaction wasn't positive.
If you're familiar with the original cream, you'll know that it's thickly textured, medicinal smelling and very, very heavy.  I own and use the Eight Hour Skin Protectant Cream for a very specific purpose.  After I've had a cold, it clears up those horrible nose flakes like nothing else.  But using it daily?  All-over my face?  No freaking way.
When I first squeezed the tube… my doubts were semi-justified… the original scent is still there, and it's pretty full-on.  I'd say the scent is about 2/3rds of the strength of the original cream… but it's unmistakeable.  If you're not a fan of the medicinal scent… don't even entertain the thought of buying this.
Otherwise, let me tell you that this is actually one of the lightest-feeling suncreams I've ever used.  As a general rule, the higher the SPF, the heavier the cream.  In that respect, this stuff is pretty awesome.  It sinks right in, leaving no visible ashiness or even that greasy feeling that suncreams often leave behind.
The scent takes a good 15 minutes to fade, but once it has I'm thoroughly enjoying all the other benefits of a quality sun protectant.  I am torn…  I'm really not a fan of the smell, but it's a fabulous facial suncream that doesn't interfere with further makeup application.
Available from Boots instore or online.
***
As a very quick follow up to my poll earlier in the week.  30% of you aren't replacing your sunscreen often enough according to current guidelines.