…catchy title I know.  Don't steal it.
Anyway, here's some stuffs that have been turning the head of this hardened beauty addict recently.  Are they any good?  Dunno, but I'm gonna make it my business to find out!
"No you're not." <– (Mr. Lipglossiping woz 'ere)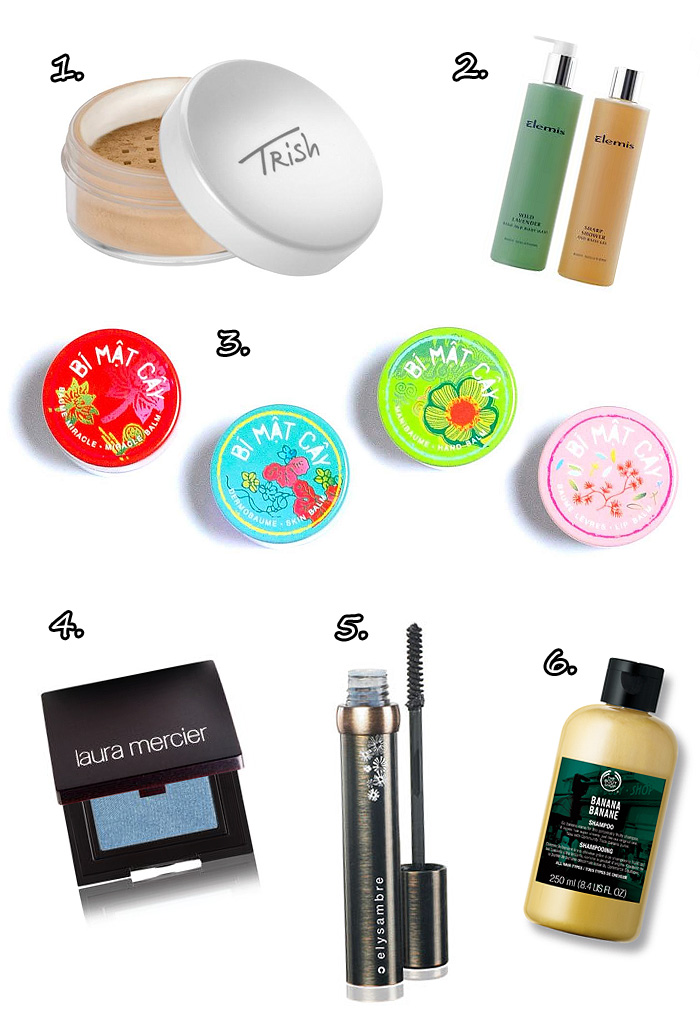 1). Trish McEvoy Correct and brighten Loose Mineral Powder SPF 15 – £28

Seeing as I'm having lasery type treatment at the moment, I couldn't fail but have my curiosity piqued by a product whose/who's (help me grammar nazis!) description begins:
Originally designed to soothe and neutralize redness post laser treatments at the Dr. Ronald Sherman/Trish McEvoy Skin Care Centre, devotees begged to take home Trish's wonder powder because of how remarkably bright and even-toned it rendered the overall look of their skin…. Blah, blah, blah whatever… you had me at even-toned.
2). Elemis Bath and Shower Treats – £27
Not only are Elemis super-sizing their Pro Collagen Marine Cream this month, but I found this mega multi-use pairing on the website.  A total 600ml of product would see me through to Christmas!
3). BI MAT CAY Holistic Balms – £24
Inspired by ancient Vietnamese beauty recipes, but made in France and new at Space NK, this little set of beautifully-packaged balms promise to fulfill life's needs for on-the-go calming and healing.  The set includes: Miracle Balm, Skin Balm, Hand Balm and Lip Balm.

I like the idea of the set presented in a little coffret… it would make a lovely gift without breaking the bank.
4.). Laura Mercier Luster Eye Colour in Marina – £18
From the new Sun Drenched collection, this beautiful blue is my pick of the bunch.  I swatched it the other day and it's the perfect mid-toned summery shade that would work beautifully as an accent to a neutral eye.  Lemming.
5). Elysambre Long Lash Natural Mascara – £12.99 + £4.99 for the case
I'll be honest, it's the case that's pulling me in rather than the mascara.  The copper casing can be refilled with the mascara units which are sold seperately at a cost of £12.99 each.  What a fabulous idea no?
6).  The Body Shop Banana Shampoo – £2.79 (on offer)
What is it with The Body Shop atm?  I can't go on the website without buying something, anything!  They're spoiling us with discounts and I'm struggling to resist stocking up on essentials (and luxuries!) each time I log on.  The Banana Shampoo from yesteryear is the only one from the "bring it back" range I've yet to try… better fix that sharpish!
.
What's on your radar this week?