My posts on the launch have been a touch hiccoughy – so here's a little recap 'cos I know there's a lot of interest out there.
~ Launch Announcment & Thoughts
~ Review and lip swatches of Countessa Fluorescent, No She Didn't & My Beautiful Rocket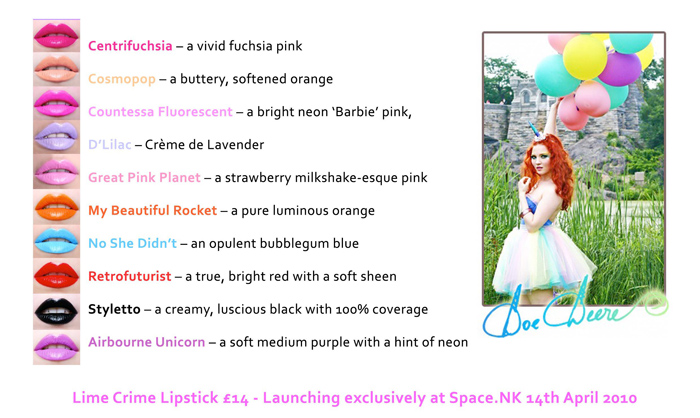 Fully launched now, you should be able to find the Lime Crime lipsticks in your local store…. if you do go and have a play with some of the colours, please come back and share your thoughts with me (and everyone else!).
It would be great to get lots of varied feedback because judging by some emails I've received… I'm beginning to get the impression that some of you are really interested and excited by the lipsticks but hesitant to display your excitement for fear of 'going against the tide of opinion'.
That saddens me.
Getting excited about super-bright lipsticks is your prerogative and we should all be excited about beautiful colours and new launches!
The majority of you who come here aren't beauty bloggers and don't leave me comments and are infact interested in one thing and one thing only:  "…are they any good 'cos I don't wanna waste £14 on a crappy lipstick".
I say… read my review and then go and try a few shades!  While you're at it, please come back and let me know what Airborne Unicorn is like 'cos my nearest Space NK is a shocking 25 miles away.  Yep… feel for me.
And that (you'll be pleased to hear) is probably my last word on it.