Now that I've had some time to play with the products I chose to bring home with me from the Une Natural Beauty blogger unveiling, I thought I'd share my thoughts on some of the pieces and a little FOTD with them.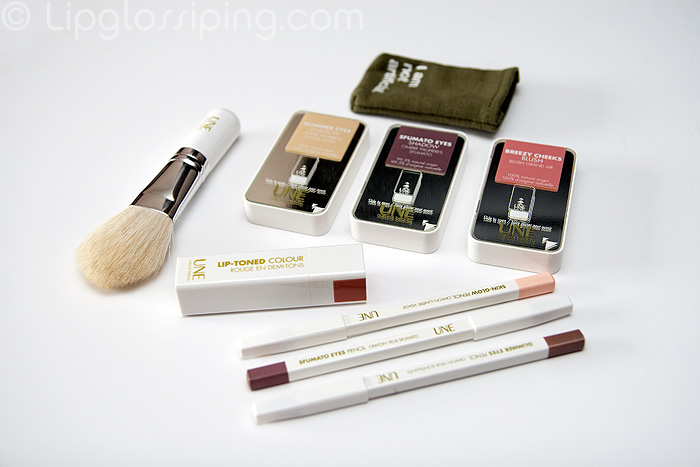 Une Natural Beauty is a new brand with "natural formulas for a natural result, for a natural style".  It boats impressive eco-credentials and with prices ranging from £4.99 – £13.99, it's accessible to all.  This is all well and good, but how do the products perform?
I chose 2 eyeshadows, a creme blush, a lipstick, 2 eye pencils, a brush and a concealer.
I didn't like the shade selections for the base products, so I left those alone.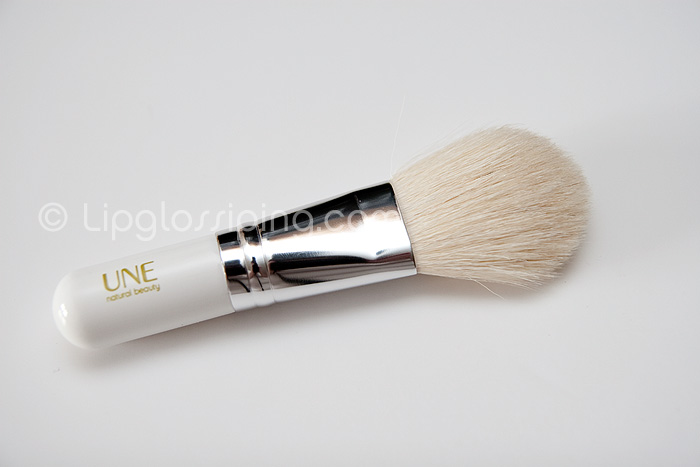 Let's start with the Une Multipurpose Brush.  It's goat hair, and a little scratchy.  It's densely packed and the most perfect shape for sweeping blush onto the apple of the cheeks and outwards.  It just fits my cheeks brilliantly and totally stops me from applying too low or too high.  I've also experienced only one or two shed hairs.  Priced at £7.99, I'm pleased with it.  I'd love it to be a little softer, but hey, it's less than a tenner.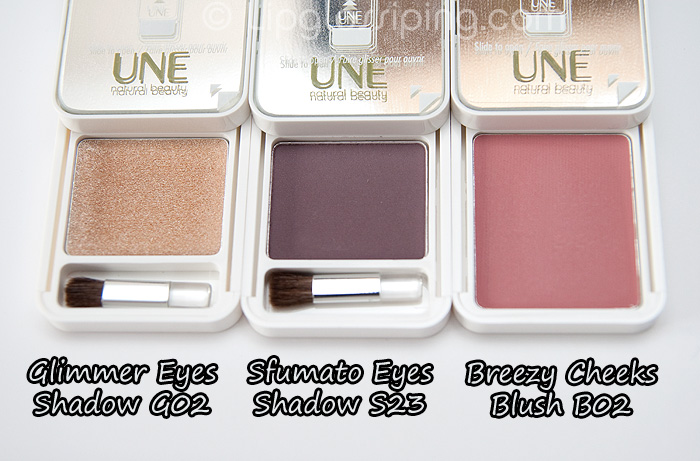 Glimmer Eyes Shadow G02 is a neutral cream shadow with shimmer.  It feels greasy and although the shimmer is indeed beautiful, it invariably ends up in the socket line less than an hour after applying.  I've tried with UDPP underneath and setting with eye shadow ontop.  I've decided that the best way to work with this is to pat a tiny amount near the tear duct for a subtle sparkle and resign yourself to a bit of creasing.  I'm cool with that, but I just can't work with this as an allover lid shade.
Sdumato Eyes Shadow S23 is a matte aubergine.  It's quite… powdery and kicks up a lot of dust when picking up the product with a brush.  It's not the best matte I've worked with in terms of pigmentation but it's buildable and the texture is pretty soft.  Lasting power over a slick of eye primer is fair.
Overall, I think the eye shadows that I've tried here are overpriced at £8.99 each.  That's a lot for a high-street mono eyeshadow, at least £2 too much in this case.  Though you do get a fairly generous 1.8g of product, they just haven't blown me away.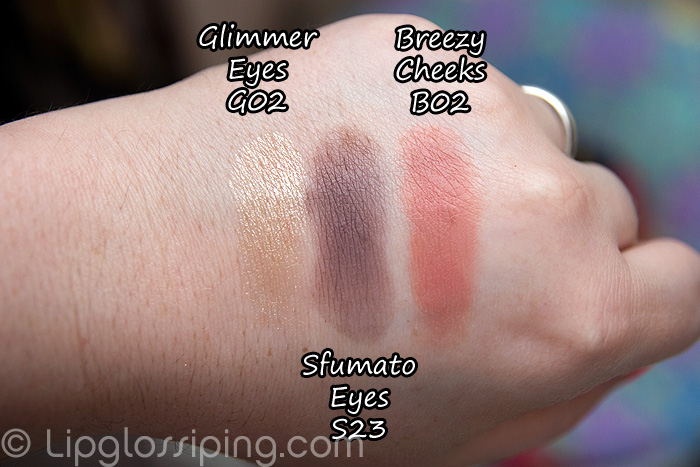 Une Natural Beauty's Breezy Cheeks blush in B02 (£8.99) on the other hand, has.  It's a beautiful mid-toned pink (leaning towards mauve) cream blush to powder formula.  Applies like a dream with my fingertips and blends beautifully, leaving a subtle colour that is pink without being too flushed.  It doesn't have the most amazing staying power, but I can get through most of the day without needing to reapply.  I'd absolutely repurchase this product.
A quick note about the packaging…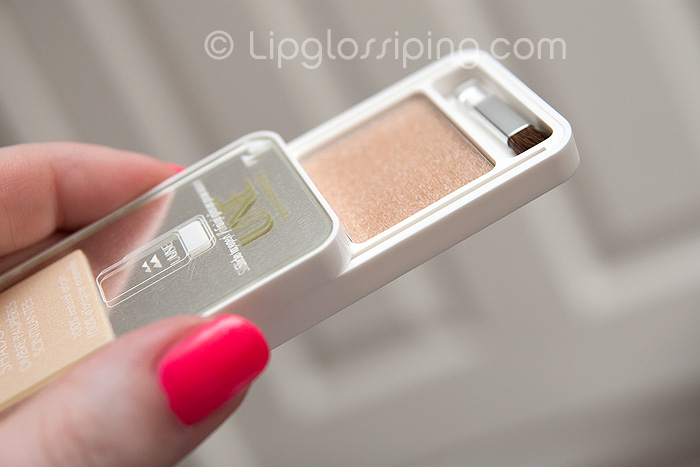 Slidey mobile phone of 3 years ago-esque.  I reckon it's a brave choice… love it or hate it, it does what it's designed to do which is be easily recyclable.  It's a little chunky, but not particularly cumbersome.  I'm a fan.  It has that slidey satisfaction thing too… yano when you close a drawer?  And the last couple of cms glide to a satisfying stop?  This does that.  By the way, I've left the peel-off stickers on… underneath, the surface is mirrored… generously so!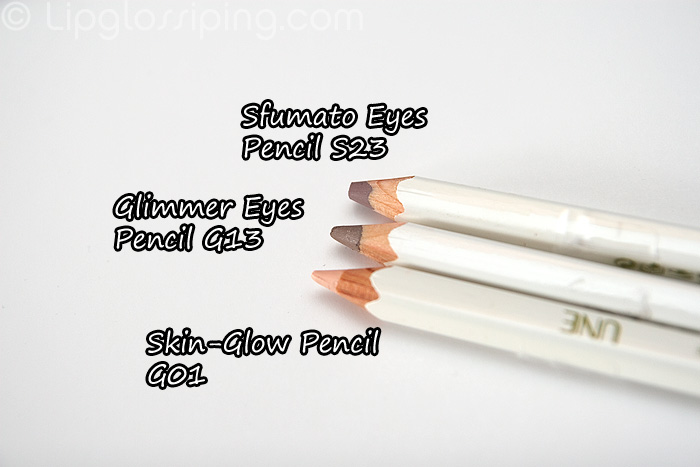 All the eye pencils from the range are reasonably priced at £4.99 each.
The Sfumato Eyes Pencil in S23 is a color match to the Sfumato Eye Shadow I mentioned earlier.  An earthy aubergine shade.  One thing that I adore about the Une Natural Beauty range is the colour selection.  I'm all for creating a collection based solely on natural and muted colours, and I think that this has been done exceptionally well here.
However, some of the formulas, just don't work for me.  I understand that a lot of the products are sheer in support of the natural beauty ethos, and I commend that.  Infact, I'm often a fan of more sheer products (especially in darker shades) as I can be heavy handed and prefer the option to build colour rather than desperately try to remove it once overdone!
Unfortunately, I'm finding the Sfumato Eyes Pencil is just too hard and sheer.  It drags across my lashline and doesn't deposit enough colour to make the uncomfortable application worthwhile.
The Glimmer Eyes Pencil in G13 is sadly even harder.  Such a shame as it contains the most beautiful and fine-particled glitter… I adore how it looks.  Infact, once on… it's more comfortable than my NARS glitter eye pencils, but what a total drag it is to apply.  Pun intended.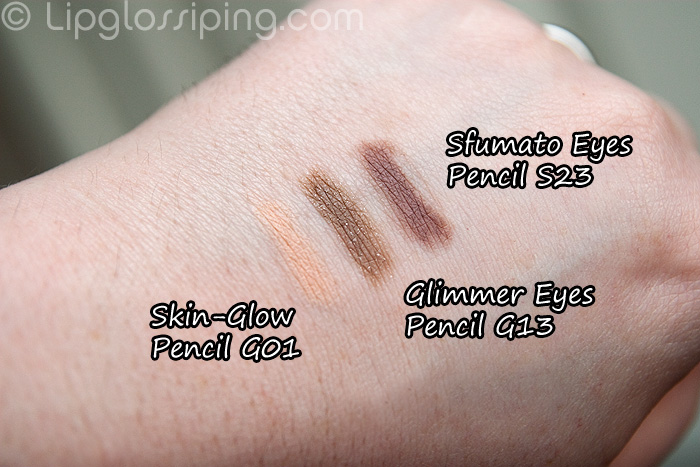 The Skin Glow Pencil in G01 is slightly more expensive at £6.99 and is the most perfect colour match concealer for pale cool-toned ladies I've seen on the high street.  It's creamy and soft and applies really nicely.  I've been using this around my nose and in the corner of my eyes to highlight and lift areas where I'm naturally more shadowed.  It's a great pencil that fills a void in my collection.
My only wish is that it were chunky.  I've only used it twice and already it needs sharpening.  I'm literally gonna go through one of these every few weeks if I use it daily.  Bigger please!  More product for the same amount of money, thank you!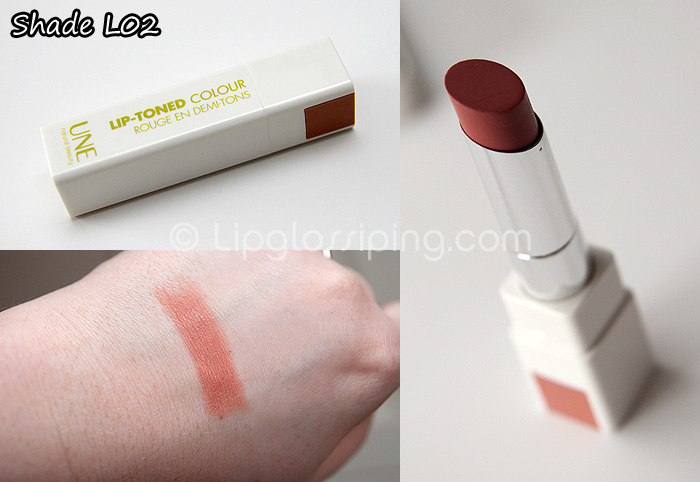 Finally the lipstick, Une Lip-Toned Colour in L02.  Love it.  It's a beautiful nude… a proper nude, not one of your concealer-lip nudes.  It's creamy and glossy without being too sheer.  No hint of frost, just proper 'my lips but better' goodness.  A makeup bag staple done well.  Priced at £7.99, it's what I'd expect to pay.  Another definite repurchase!
Finally (are you still with me?!), my Une Natural Beauty FOTD.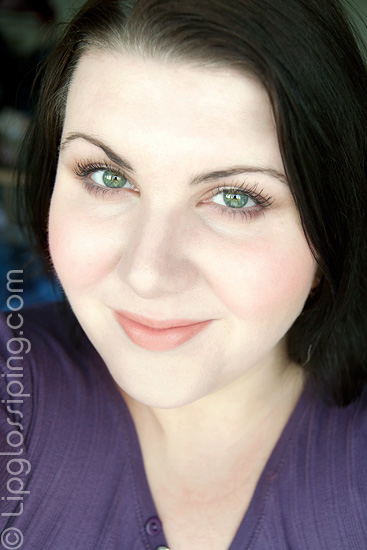 Eyes
~ Une Natural Beauty Sfumato Eyes Shadow in S23
~ Une Natural Beauty Glimmer Eyes Shadow in G02
~ Une Natural Beauty Sfumato Eyes Pencil in S23
~ Avon Super Shock Mascara in Black
Face
Une Natural Beauty Breezy Cheeks Blush in B02
Lips
Une Natural Beauty Lip-Tined Lip Colour in L02
.
Une Natural Beauty is a huge brand launch and I've only delved into a tiny percentage of the 25 new products and 148 shades.  It's a varied review with a couple of stand outs and a couple of disappointments with one or two "OMG this could be awesome if only they…" thrown in.
Une Natural Beauty is available in the UK online and in selected stores at Boots.  It should be rolling out into Superdrug from September 2010 and launching in Irealand sometime in August.
Let me know if you've tried anything from the range yet!