…totally random, unorganised and perhaps just a touch lame.
But I'm having a good makeup week.  Does anyone else go through periods of delight in discovering and more importantly re-discovering fabulous products?
Here's my fabulous products of the week: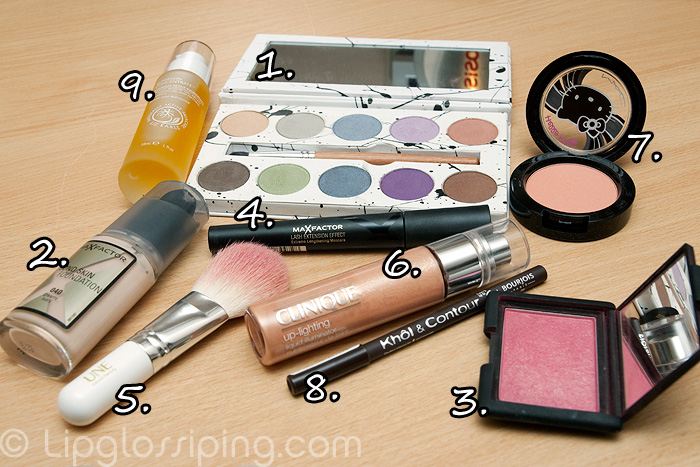 1. Smashbox Muse Palette – just the prettiest selection of soft, wearable shades housed in a (sturdy) cardboard casing.  I'll do a proper review on the palette next week 'cos I've spotted it on sale and a few swatches may be useful.
2. Max Factor Second Skin Foundation – Wonderful if you've got skin that doesn't need too much concealing.  This foundation seems to give me an overall more even appearance without blanking out my natural skin texture.  It feels light and fluid for the summer, but lasts a really decent length of time for a high street foundation.  Big thumbs up this week!
3. NARS Crazed – I can't believe I had this in my blog sale the other week.  Let me just say, it won't ever be going in another.  I've FINALLY worked out how to apply it with a light enough hand to stop short of looking like Aunt Sally.  It's taken me a year, but I've done it!  A lovely rosey flush is now mine.
4. Max Factor Lash Extension Effect – I've already reviewed this in the last few days, so I won't go into detail… but this is making it into daily use for me.
5. Une Cosmetics Multipurpose Brush – I've said it before… it's scratchy… but it's made me fall in love with my NARS Crazed blush, and for that… I'll be forever grateful.  I simply touch the flat surface to the blush pan… that's it, no tricks nothing… it just picks up the perfect amount of colour.
6. Clinique Up-Lighting Liquid Illuminator in Natural – It looks scary orange in the tube, but blends away to a lovely nude shimmer.  I've been wearing this all over my face under my foundation and it gives me a nice glow.  To be honest, in this weather… I don't really need any kind of glow product.  But regardless, I've rediscovered it in my stash and it's staying in the fabulosity list!
7. MAC Fun & Games – From the discontinued Hello Kitty collection, MAC Fun & Games is a beautiful peach blush that's sheer enough for my cool-toned skin to wear.  Shimmery without being too glittery, it's a nuder alternative to rosey pink cheeks.
8. Bourjois Khol & Contour Eye Pencil in Brun Design – Soft and deeply pigmented, I've been blending this along my lower lashline to give my lashes some extra definition.  Lasting power is great (though kinda crummy on the waterline) it's real strength lies in it's soft smudginess.  Hate a pencil that drags, don't you?
9. Liz Earle Superskin Concentrate – Last but not least, I've been switching out my evening moisturiser a couple of times a week for this lovely oil and I'm noticing that my dry patches are softening up nicely.  I hate nothing more than dry flakies that foundation just loves to hunt down and accentuate.  Not 100% sure if this is the reason or if the humidity is playing a part… either way, I'm loving the smell and appreciating the feeling that a little facial massage brings during application.