Congratulations to Clumps of Mascara, Vampy Varnish and Nouveau Cheap for being featured on the new Wet n Wild Cosmetics "Beauty Ambassador Favorites" display, coming soon to a Walgreens near you! (Click the links above for pics of the display.)
Question of the Week: – Can you remember your first lipstick love?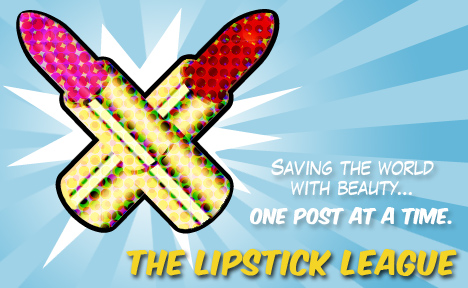 Answer:- Yes! It was a long since discontinued Boots No7 lipstick called Morello Cherry (or something like that), really a bit too vampy for someone so young to wear BUT in my defence, I used to blot it on with my finger rather than go for the full-on vixen effect!
Beauty Junkies Unite – I'm pretty sure you'll like this set of mini Amazonian Clay 12-Hour Blushes in tarte's new 'Fantastic Foursome' Blush Enthusiast Set for the holidays as much as I do!
Clumps of Mascara – is battling stretch marks with her growing baby bump. Is it a waste of time or will these products actually help combat them?
Lipglossiping – is definitely feeling the pull when it comes to Illamasqua's lipstick in Magnetism!
Gouldylox Reviews – Have you started planning your gift lists already? Check out these lust-worthy gift ideas and stock up before they are gone!
Nouveau Cheap – Do you remember the brand Styli-Style, famous for their long-wear eyeliners? Well they're back and under new ownership with lots of fun new products, as well as some old favorites.
Pink Sith – Confesses her love for a blush from Rouge Bunny Rouge.
Prime Beauty – takes a look at two highly giftable must-haves from  Tarte's Holiday Baby It's Bold Outside.
Phyrra – shows you how to get that perfect glow with Too Faced Candlelight Glow Highlighting Powder Duo.
Vampy Varnish – thinks you are going to love at least half of the new OPI Skyfall Collection for Holiday 2012.
we heart this – We've deemed this the best long-wearing lip product we have EVER used. Find out what it is!
Guest Post of the Week, as chosen by Beauty Junkies Unite – Gel manicures are a little pricey—-but my fave fashionista, Sydne Summer of Sydne Style shows you two cute ways you can extend the life of your costly mani, DIY-style!
Can you remember your first lipstick love?