I'm so freaking excited to see Marrow put in an appearance!  It was custom mixed for Vena Cava back in February and here it is, hitting the main stage!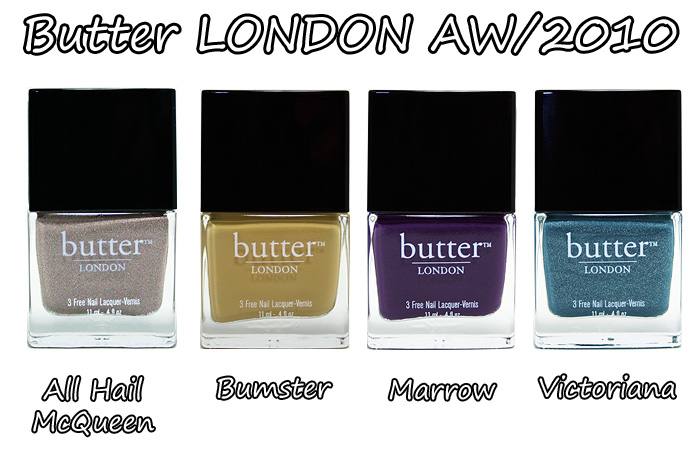 Four striking new shades to challenge and tempt our purses, a real mix with something to please everyone.
About the AW/2010 collection:
"Buzzwords in nail trend for Fall 2010 are texture, depth, and layering, says Creme. "At Alexander Wang we created a textured beige nail that was modern and sophisticated. Then the press went wild when I custom mixed Marrow at Vena Cava.  It's a deep, murky purple that suits any skin tone."

Of the rest of the collection Creme says, "I've had the idea for Bumster for ages. It's an amazing twist on a neutral colour, and this ochre yellow looks INCREDIBLE on!" And finally, "Victoriana" is a deep, twinkling vintage blue that reminds me of all the wonderful historical interiors in London.  I'm having a nostalgic moment!"
.
All Hail McQueen – An opaque, holographic beige.
Bumster – An opaque, ochre yellow.
Marrow – A dark, flat, murky & mysterious purple.
Victoriana – A textured, twinkling vintage blue.
.
Ugh… Frankly, I'm drooling at the description of All Hail McQueen too… this collection is gonna be a sell out.  I can see Bumster looking particularly amazing on dark skin tones and twinkling vintage blue…. vintage blue? *dies*.