Hmmm… that makes this post sound far more dramatic and exciting than it actually is.
Perhaps if myself and VexintheCity hadn't been gently chaperoned to the exit when it was time to go home, I'd have had the opportunity to 'lose myself' and run around QVC HQ in a style akin to Mission Impossible… camera flailing… whilst being chased by 3 burly security guards and papping Dale, (the 'Housewive's Choice') secretly devouring all the biscuits in the QVC kitchen.
Not that it wasn't exciting or interesting… It was!  But the one thing that struck me above all else was simply how quiet and relaxed the place was.  Now, I know we arrived after 'home time' for most, so the offices were understandably peaceful… but the live studios were also incredibly relaxed, almost serene.
Anyway, let's have a look around…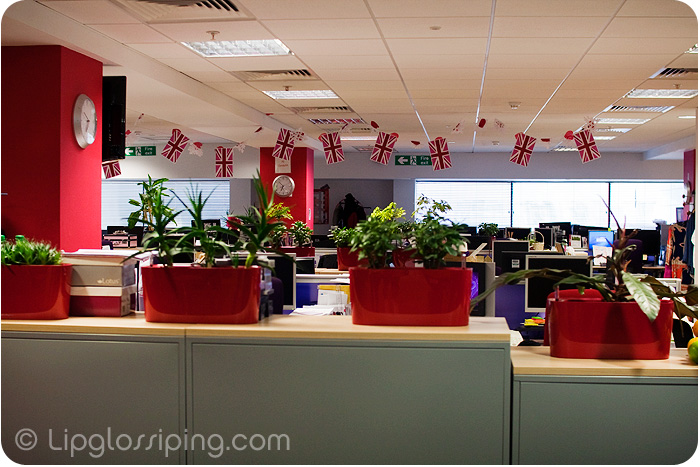 The offices… where all the model booking, show planning, product organising and general adminy stuff takes place.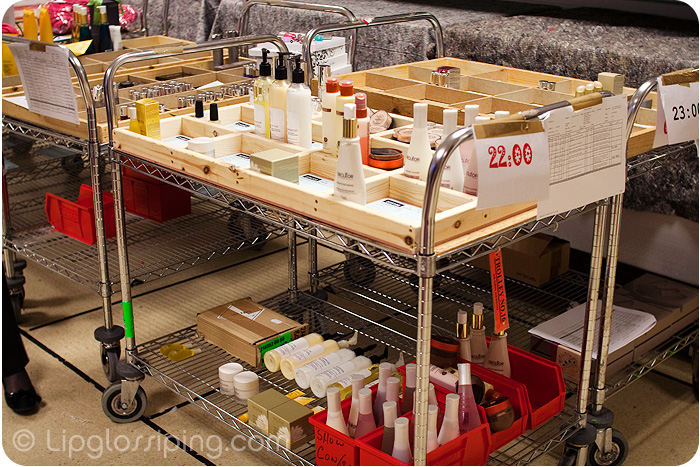 The prep room!  Like a well-oiled machine… all the trolleys get stacked with products relevant to the show they're destined to appear in.  This is the beauty trolley for that evening's 10 o'clock airing.  I spy Decleor, Nails Inc, Bare Escentuals and other lovely things.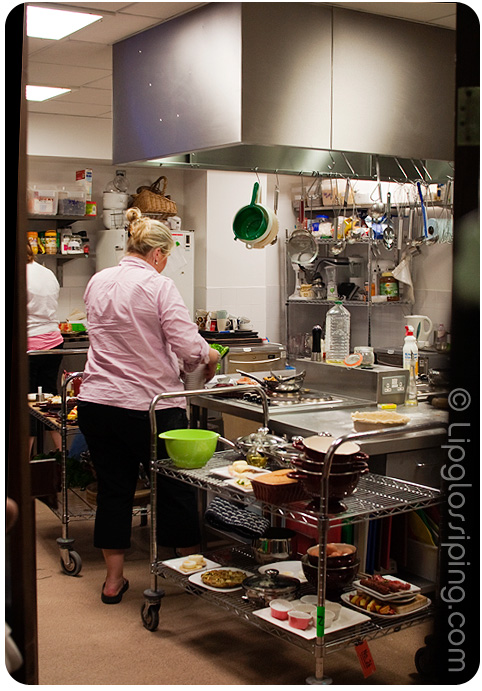 The prep Kitchen!  They were showcasing utensils and a range of cookware.  Gotta have some food to put in 'em right?  It was HOT in there, but the gorgeous foodie aromas that were wafting down the corridor were immense!

Check me out, I done a panoramamama!  What a geek! (Click the picture to see it LARGE)
This is one of the studios (I forget which number – there's 6 in total I think).  QVC headquarters and studios will be relocating in the next couple of years to Chiswick.  Their current location was never supposed to be permanent, though they've been there 17 yrs now!
The building they're in wasn't designed to house studios.  Natural light floods in from the atrium above and needs to be blacked out and checked before they go live each time, which obviously isn't ideal.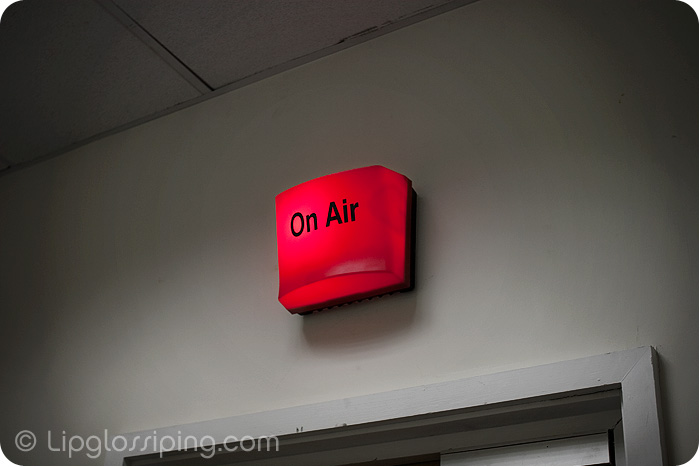 Oh, oh, oh!  We got to stand behind the cameras whilst a show was going out live!  Mobile phones OFF and super quiet creeping about was the order of the day.  At one point, I had to physically restrain VexintheCity who admitted an overwhelming urge to run infront of the camera waving her arms about like some day-release.  I would have TOTALLY pretended not to know her.
As I said earlier, the studios were really quiet…. even the live ones.  Imagine it… big room, two presenters, 1 floor manager (have I made that job title up?) and 1 camera man.  That's it.  Eerie!  It was pure QVC cheese too… I loved it.  Jilly Halliday was demonstrating some funky *cough* clothing, whilst Dale Franklin was asserting his charm over the nation's ladies, encouraging us to part with our cash for some of the latest and greatest jewellery on display.  Flippin' fabulous!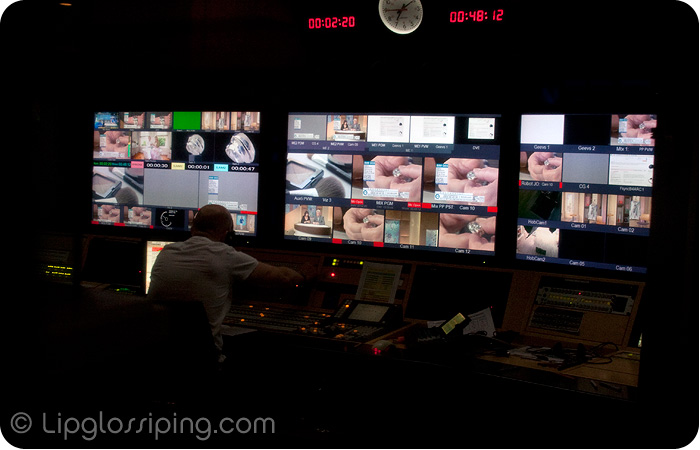 Control Room/Production-y bit…. Like the bridge of the Starship Enterprise!  Lots of buttons…. wanted to dive forward and press a couple.  Accidentally slip and sit on about 20 at once, you know the score.  I behaved myself.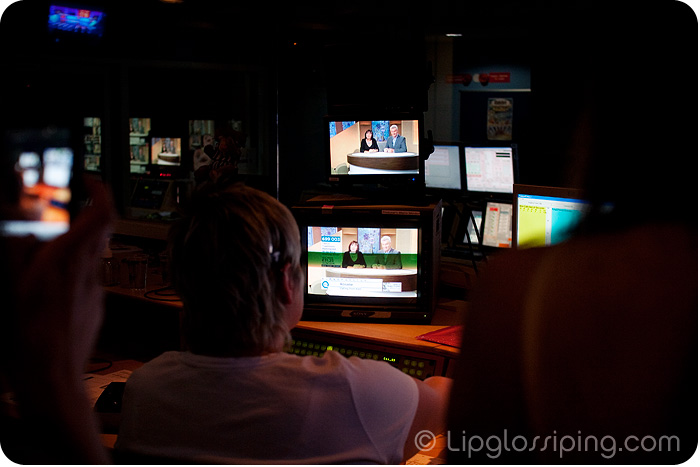 This lady was watching Dale do the jewellery presentation… she was nice.  Are you still with me?  Hello?  Hellooo?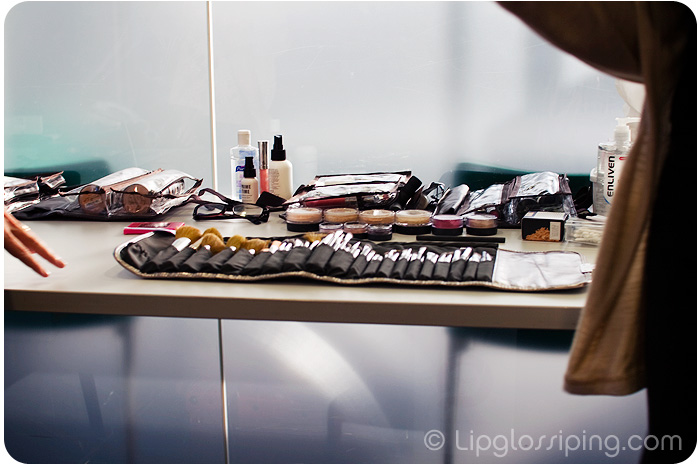 After all that tour excitement, we retired upstairs to where Bare Escentuals had set up a little room to give us a sneak preview of their new (to the UK) matte foundation.  I'd had the pleasure of meeting their national makeup artist SJ previously but it was good to see her work her magic again.
Bare Escentuals Matte is due for release on QVC on the 10th July… we were given a sample, but I've already got a pot (in a better colour match) that I scored in a blog sale a month ago.  I promise to review it before it releases over here (tick tock).  It's a great alternative for those among us who like the idea of mineral makeup but dislike the dewy finish that minerals tend to give.  I predict it's gonna be a big seller throughout the Summer.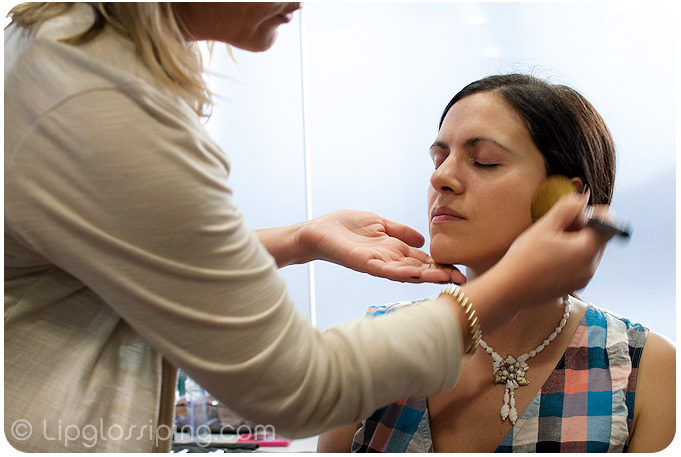 SJ getting to work on the beautiful Keren who's currently guest blogging for Lindsey at Beauty Mecca.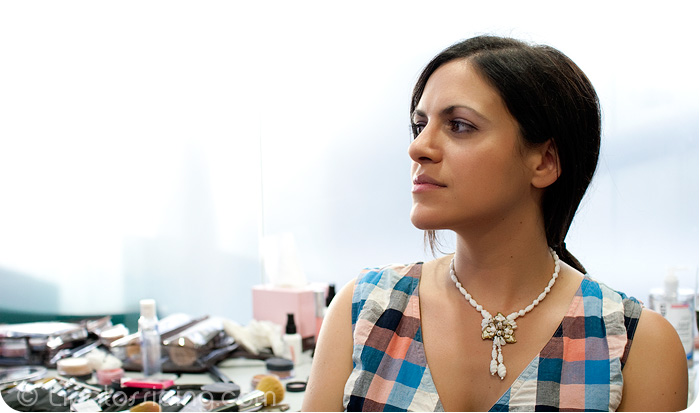 And the finished result.  Subtle but flawless.
.
It was a fabulously fun evening and a real change from the norm for me.  I hope you enjoyed a little sneak peek behind the scenes.  Don't forget, it's beauty month at QVC… there's lots of tempting TSVs coming up and check out the Bare Escentuals big Matte launch day on the 10th July.
.
For more info on what you can expect from QVC's Beauty Month, watch this video with Alison Young below: