Stepping away from the dark-side for a wee while, Illamasqua have brought their own version of Spring/Summer to the table.  And as you might imagine, all is not quite as it seems…
The 17-piece collection comprises of pastels, neutrals and vivid neons… but with a few curveballs thrown in for good measure!  Let's have some piccies…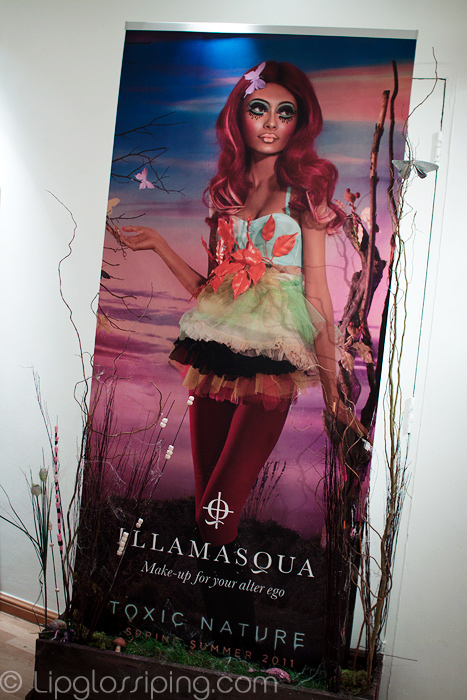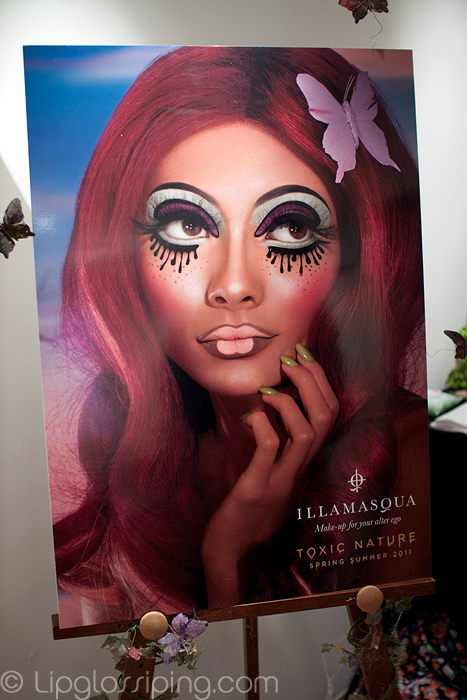 The campaign imagery depicts a surreal, unpredictable world inspired by a natural world that is retaliating against the mankind that has distorted it.  Those feelings are demonstrated by shades that conflict, revel in their hybrid nature and tease with now-you-see-me, now-you-don't pearl and glister.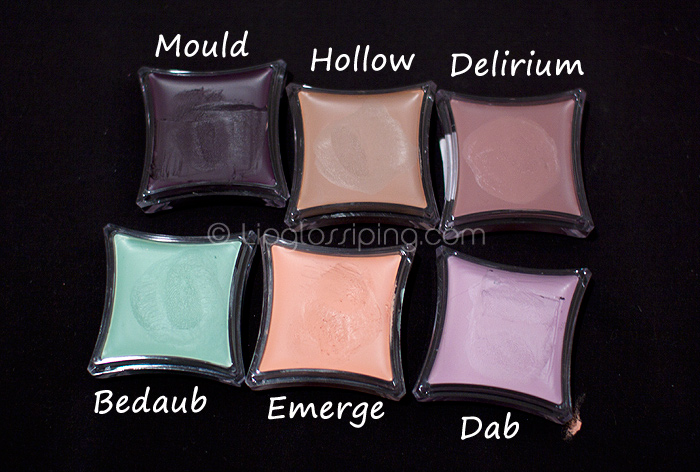 6 New Cream Pigments (£17.00) that promise to be more crease-resistant than Illamasqua's current cream eyeshadows and suitable for use all over the body.
Mould (Grape) / Hollow (Toffee) / Delirium – EU Only (Rose Taupe) / Bedaub (Mint) / Emerge – EU Only (Peach) / Dab (Lilac)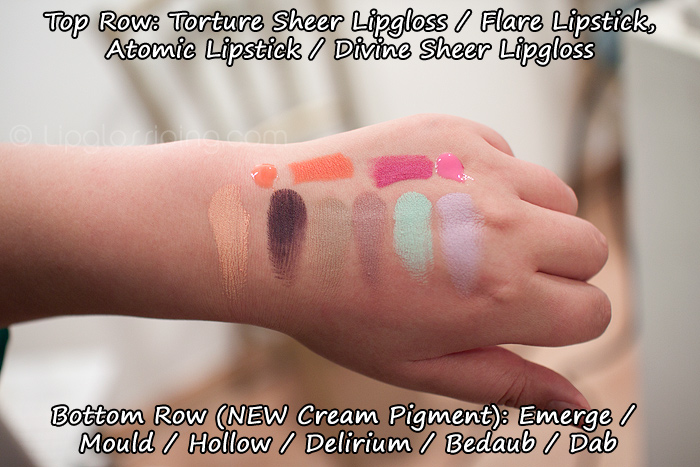 Thanks for lending me your swatching arm Rowena!
Did you spot those lip colours in the top row of the last picture?
Not ashamed to admit they might be my favourite thing about this collection.  Well, one of my favourite things… here's my personal picks from the Illamasqua Toxic Nature Collection: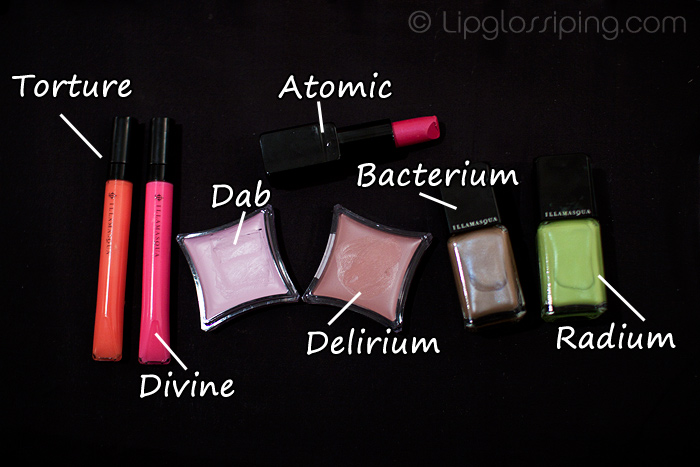 Torture and Divine are the new Illamasqua Sheer Lipglosses (£13.00) for this collection.  Just beautiful for Summer.
Dab and Delirium are my picks from the new Cream Pigment range… lovely, wearable shades.
Atomic is a hot non-hooker pink lipstick (£15.50) that I was excited to receive in my event bag… I'll bring you a proper lip swatch v. soon.  The other lipstick, Flare is a vivid matte orange, canyousayontrend?
and for the nail polishes… Bacterium was going down a storm with nearly everyone.  The metallic putty shade flashes with pearlescent blue to give it an edge and Radium is just retina-searingly awesome!
Swatches of my picks of the collection…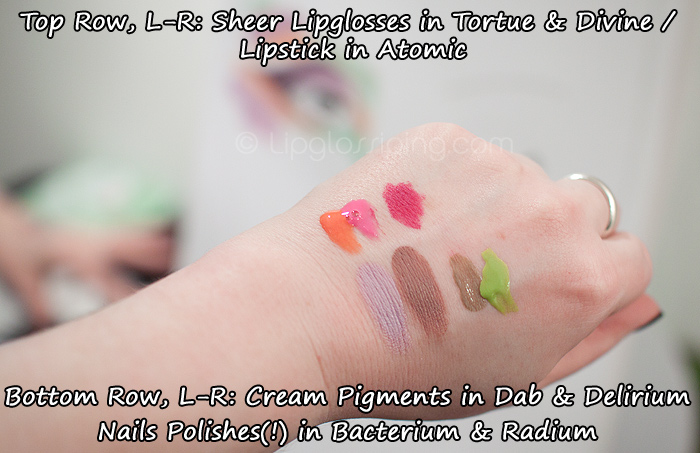 Now, one thing that WOULD have also made my pick were it not for the fact that I DIDN'T NOTICE IT in it's unassuming black housing is this little marvel…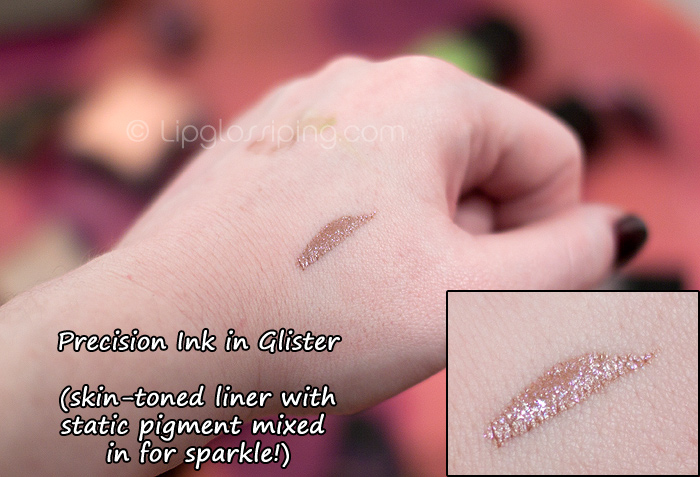 Illamasqua's NEW Precision Ink (£17.00) in Glister is a skin-toned (obv depending on whose skin!) liner packed full of purple/pink glitter pigment (v. finely milled) that's bears more than a passing resemblance to their Static Pure Pigment that was such a hit in 2009.
The thing about this liner is that unlike most… to my eye, it gets better with age!  The more rubbed-down and worn it becomes, the more that beautiful pigment shows through… glistening… just like its namesake!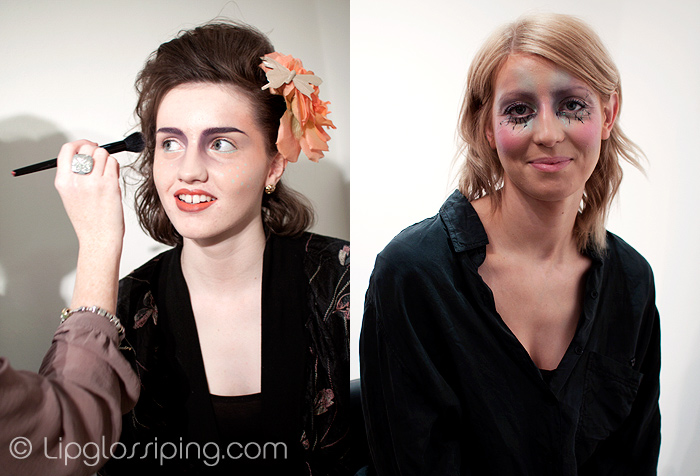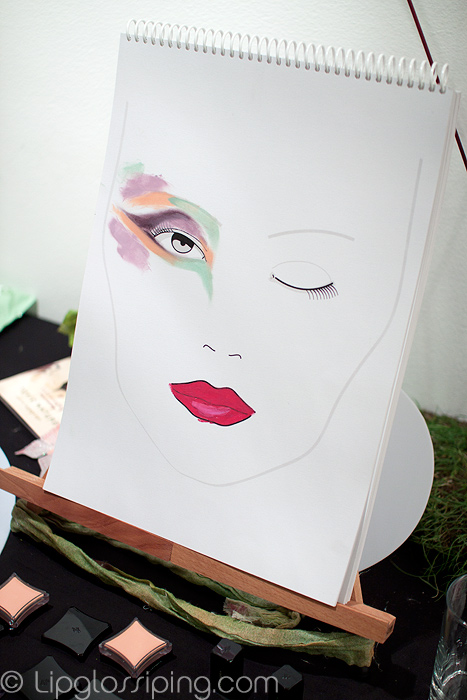 Let's finish off with some nails…
Here's The Claw (£35.00).  The Toxic Claw!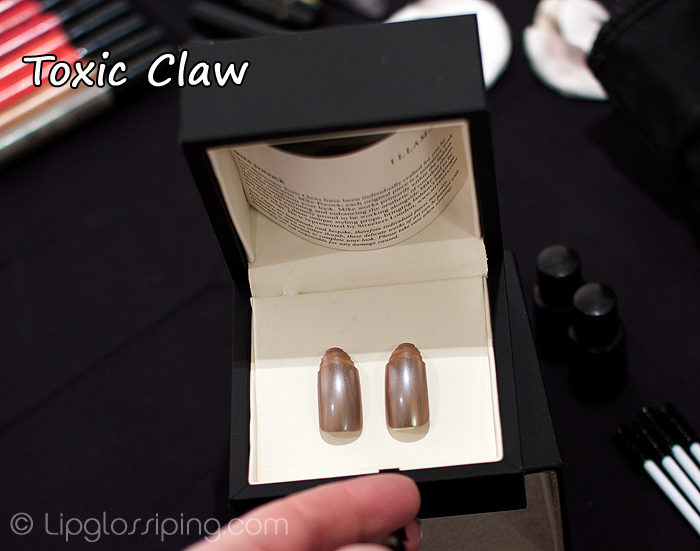 Terrible camera angle there which I appreciate means you can't see the tips!  The Toxic Claw is a play on the original nail quill by Mike Pocock that involves making it look more animalistic and… well… claw-like!
And the nail polishes (£13.50)…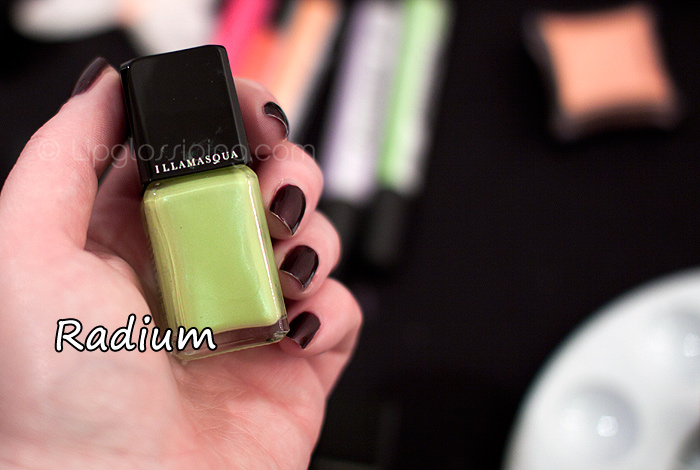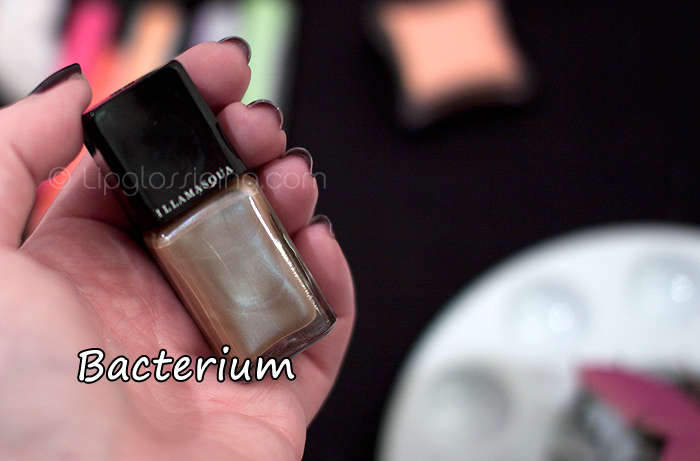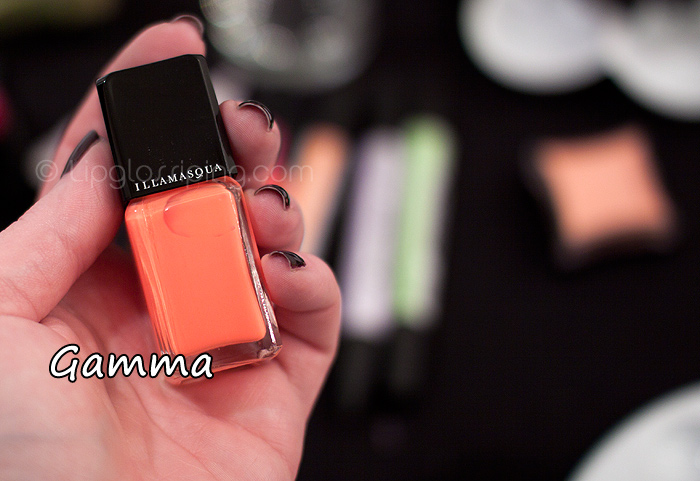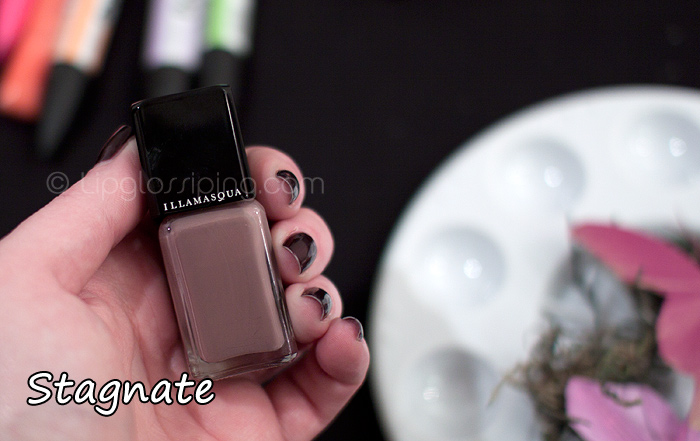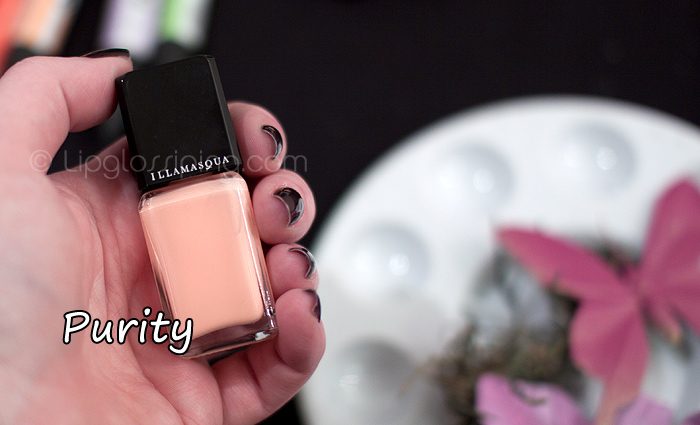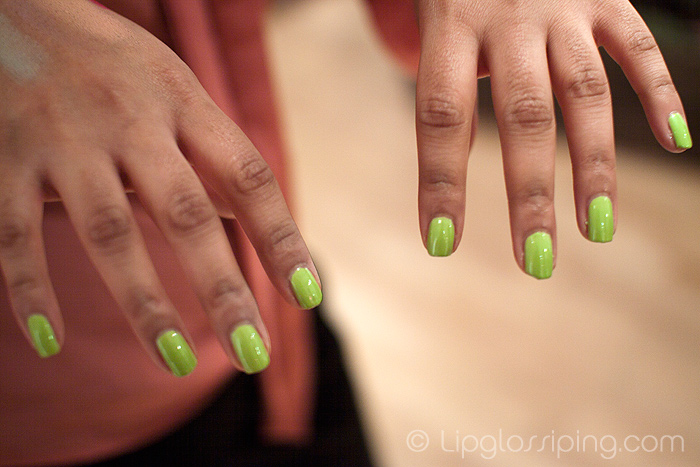 Big thanks to Janaka for being such an excellent hand model!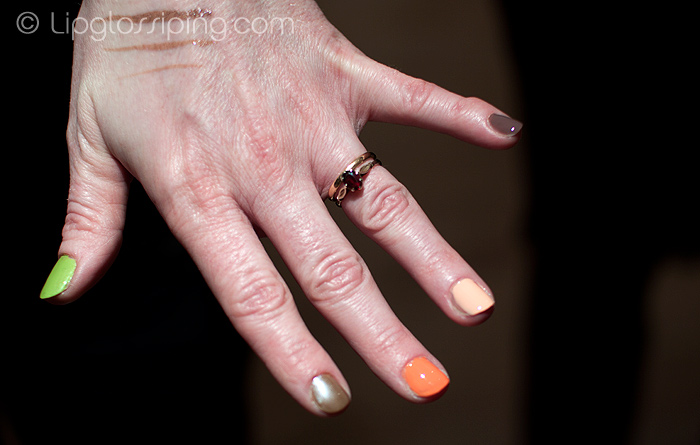 5 new polishes, 5 fingers!  Woot to Helen too for lending her fingers in the name of beauty!
.
Illamasqua Toxic Nature will be launching online from the 10th March and instore from the 17th March.
For the chance to win your favourites from the range, register at Illamasqua.com and join the waiting list for your desired Toxic Nature shades.  3 winners will be sent all of the items from this wishlist!
Is there anything there that tempts you?