My skin has been coping with winter far better these last few months than it has in previous years… that is, right up until about 5 days ago when the mercury plumetted and the heavens started to rain that 'orrible/lovely (delete as appropriate) white stuff down upon us.  Since then I've been battling dry patches that make the Sahara look like Centerparcs.
Not one to take this sort of nonsense lying down (unless it comes with a cup of tea and two chocolate digestives), I've raided my bathroom cabinet for some products that I hope, when combined, will prove to be my winter saviours.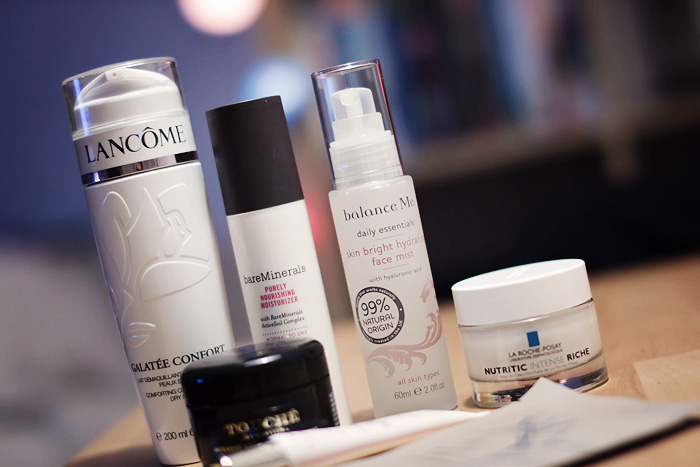 I've always suspected that I may overdo things a little when it comes to cleansing, I'm certainly no skincare guru (you need Mrs. Hirons for that) but cleansing is a proper little joy in my daily routine.  So much so that I'm not averse to the double-cleanse method, once to remove my makeup and then again, to clean my bare skin.  Of course, there may be nothing wrong with this and I know that many of you enjoy a similar ritual without issue… but perhaps, when my skin is at it's driest, it might be wise to cut back on the cleansing.  Just a little.

To this end, I've enlisted the help of Lancome's Galatée Confort Comforting Cleansing Milk, especially formulated for dry skin.  I used this when I first went waterless with my cleansing last year… something that I seemed to have great success with.  I'm not going completely waterless again but I will be using as dry-a-cloth as I can get away with to remove my cleanser.  And then leaving it at that.  I know my fingers will itch to dunk my face in the sink but I'll just have to strengthen my resolve.  The Lancome cleansing milk has a wonderfully creamy formula that defeats my makeup admirably without leaving any residue, a definited repurchase later in the year.  £21, lancome.co.uk
I'll be putting aside my serums for a few weeks as I reach for something a little richer, Bare Minerals Purely Nourishing Moisturizer for Normal to Dry skin*.  Free from parabens, synthetic fragrances, and artificial oils, this moisturiser ticks all my boxes for a lightweight (it's very lightweight) yet hydrating moisturiser that's perfect for use in the daytime.  It doesn't contain SPF which seems like a bit of an oversight but I generally wear a separate sun protection lotion anyway.  £27, bareminerals.co.uk
I'm still as much in love with toners now as I was back when I wrote a post for Carmine (remember them?) on how I use and wear toner.  It's a daily essential for me, although I know that many find them superfluous.  Balance Me is a great brand who seem to be going from strength-to-strength at the moment.  I recently received a sample of their Skin Bright Hydrating Face Mist* with hyaluronic acid, suitable for all skin types, and it's a gem.  It smells incredible, dries to a non-tacky finish and delivers an instant surge of hydration to my skin.  £20, balanceme.co.uk
Daytime taken care of, it's in the evening that I'll be focusing some extra attention on slathering my skin (though probably not my t-zone) in something a little more heavy duty.  I still use my Elemis Exotic Cream Moisturising Mask once a week (which I mentioned in my favourite products of 2012 post) but I'll be swapping out my regular night-time moisturiser for a new product from a brand that hasn't let me down so far.  A new introduction to the brand's lineup is La Roche Posay Nutritic Intense Rich*, a cream which I believe succeeds their original Nutritic Intense and promises to intensely reconstitute superior layers of the epidermis. Oh rly?  I know I could do with some intense reconstitution.  Or some intense anything to be fair.  Also available in the original formula in a convenient 50ml tube.  £13.15, escentual.com
When it comes to intense nourishment from a moisturiser-type product, I'm still firmly in the yay Selexir camp, you may remember my review from a little while ago… it's ah-mazing.  There's one problem with it though… I made true on my word and gave my press sample to my father.  He loves it.  But he hoards it like a mutha, as soon as I told him how much it cost to buy/repurchase, I watched the blood drain out of his face and I swear the man now only uses enough product to cover half a flea.  Frustrating.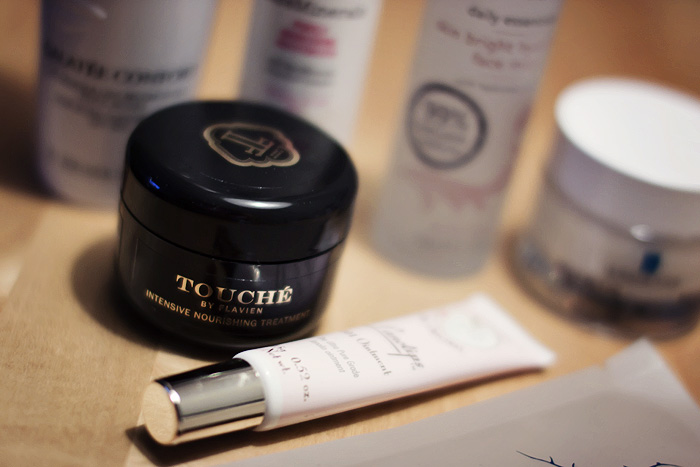 Seeing as I'm turning over a new skincare leaf, I thought that I might aswell indulge my over-processed hair with a little bit of pampering.  Touché By Flavien* is an intensive hair treatment containing: goji berry extract, olive fruit oil, hydrolyzed silk protein, rosemary oil, and shea butter and is designed to be used in place of conditioner.  This suits me well… because no matter how great my intentions, I always forget that I'm supposed to be treatment-masking my hair until the moment that I step into the shower and get it wet, at which point… well, it's a bit bloody late isn't it.  I have utmost respect for you ladies that sleep in hair oils, I call that being organised.  £17, urbanretreat.co.uk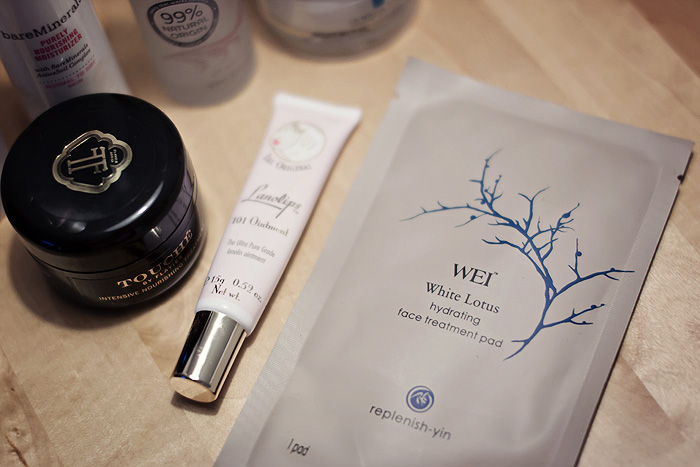 My lips are infact, the only real part of me that isn't suffering from this cold snap.  There'll be no surprises when I tell you that this down to a nightly dose of the lovely Lanolips 101 Ointment, there's no more to say… it's still a holy grail product and possibly the only one that gives me mini palpitations as I near the end of a tube!  £11.22, boots.com
My last cold-weather "resolution" (if you will) is to regularly indulge in one of those moisturising face sheet masks, partially because I'm just a bit curious about them, and partially because I'll have fun freaking my daughter out with them.  I've pulled this Wei White Lotus Hydrating Face Treatment Pad out of my things that came free with shit that I bought drawer, and it'll do for starters.  If anyone has any favourite sheet masks that they use, do let me know!  £??, thinkitsdiscontinued.com
How is your skin holding up since the snow put in an appearance?  Hope you're all keeping warm out there!
* press sample