Stay Pout… Stay Put… get it?
I didn't… It took Mr. L almost 3 minutes of explaining to make me realise that there was a play on words in effect here.  In the end… to save face, I told him to shut up and stop playing with my lipsticks.  He shut up.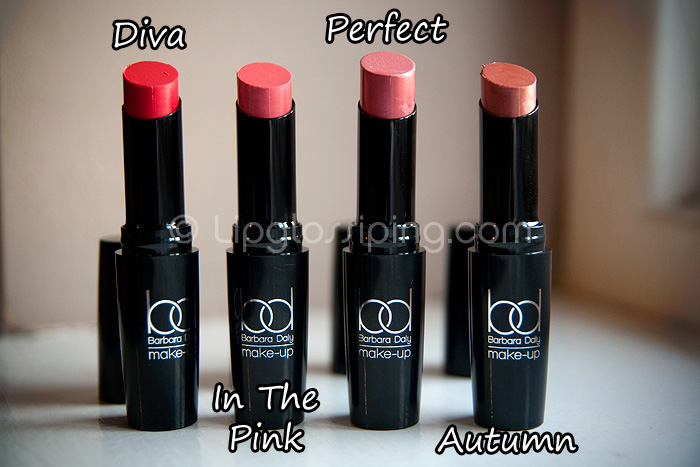 I received samples of the new Barbara Daly range last week and have been putting their claims of longevity to the test.  But first, let me show you a few shades…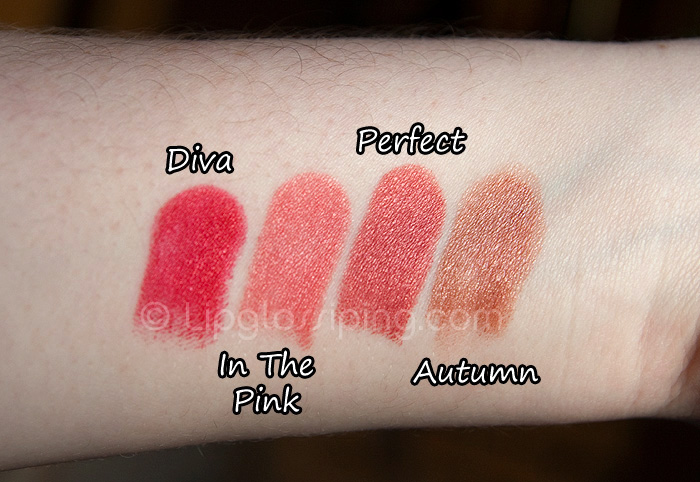 Diva is a slightly cool-toned red that I'm finding very wearable.  It's not OHMYGODYOU'REWEARINGREDLIPSTICK red.  More, OOHLALAYOUHASREDLIPS red.  Subtle nuances are really crucial.  On my lips, In The Pink is a warm-toned creamy medium pink.  Very nice.
Perfect is a dark nude… a light swipe gives a 'my lips but better' appearance.  Finally, Autumn is a medium brown toned shade which leans slightly more to rose than bronze.  It's a good shade if you fancy dipping your toes into the whole 'brown lipstick' thing which seems to be a bit of an Autumn trend.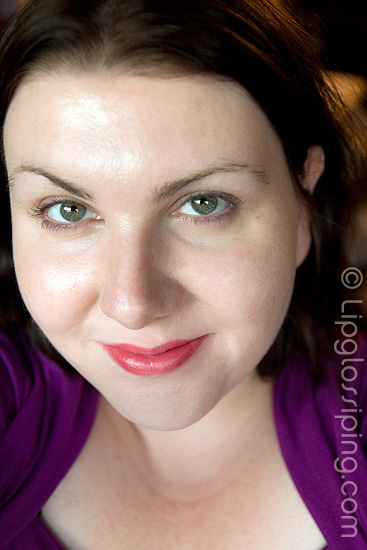 I know I look tired, that's 'cos I'm wearing no makeup from the lips up!  Got home yesterday, took it all off and then remembered that I hadn't lip swatched any of the shades!  Above, I'm wearing In The Pink and I'm surprised at how much deeper it looks on my lips than it does in the swatch.  I think it would be worth making use of those instore testers on the back of your hands ladies!
Longevity is pretty impressive… I munched my way through a bowl of ice cream and a cup of tea.  Despite leaving some lipstick stains on the spoon, I still had plenty of coverage on my lips.  The texture is a little varied throughout the shades I tried.  Diva is quite hard and drags when applying but Perfect is really very creamy indeed.  They smell pretty cheap, that old lady lipstick smell that makes you grateful for MAC's vanilla scented offerings.  Still… you can't smell them once they're applied.
As a long-lasting lipstick… these aren't hydrating and after a couple of hours will accentuate the furrows on your lips.  I've tried applying over a thin layer of balm and that makes all the difference to negating any dryness.
My final criticism of these is that they don't wear so evenly.  On most shades, it's not a problem… but wearing Diva began to leave me with a heavier outline of red after a few hours.  Easily remedied by smooshing my lips together to redistribute… but kinda uncool if someone else catches you before you get the chance to notice.  I'm gonna nickname this phenomenon, the RROD (Red Ring of Death)… Xbox fans take cover.  Having said that, the last time I wore my True Red Revlon Colorburst, I was so embarrassed to realise that half of it had transferred to my gnashers.  I had absolutely no transfer to my big bunny-like front teeth with any of these lipsticks.
Competitively priced at £5 each and available from Tesco, the Barbara Daly Stay Pout lipsticks should be available instore now.  My pick of the bunch is Perfect.