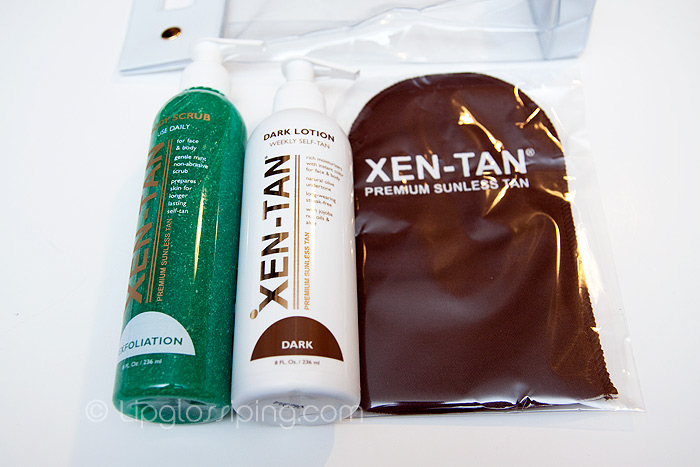 Brrrrr!  Halfway through the month of January and I'm lamenting the loss of Summer in a big way.  Anyone else in the UK completely fed up of it getting dark so early?  I miss the sun and so does my skin!
Not that I'm a natural tanner anyway, I sort of go a bit pink (roast beef stylee) and then white again… thank heavens for a little bit of tan fakery!
Which brings me on to today's giveaway prize…
Xen-Tan have stepped in and generously donated one of their Luxury Tanning Collections worth £39.99!
They Say:
This glow-giving tanning collection is perfect for a darker, richer colour with a flawless finish.
Our Luxury Tanning Collection is perfect for a darker, but natural colour, so for an added boost of beauty invest in this sumptuous Xen-Tan gift set, containing Dark Lotion (236ml) Body Scrub (236ml) and a Luxury Tanning Mitt – all the essentials to warm up a sunshine starved face and body this winter.
And if you're a bit worried about being too pasty for self-tanners, fear not…. I had a great experience with the natural golden-olive tones that Xen-Tan produces.
Leave a comment to enter.  Giveaway closes at 23:59GMT on 22nd January.
UK Only, sorry ladies.
If you're from outside the UK but don't want to miss your chance at winning "most dedicated" entrant mystery prize… you can still comment.  Just let me know that you're not eligible to win the daily prize because of your location!

Winners will be announced early next month.  Info and rulez can be found here.