Last weekend, Lipglossiping reader Charlotte (what a great name!) alerted me to the fact that Debenhams online were charging £35 each for the new Limited Edition Soft Touch Chanel Eyeshadows in Taupe Grisé and Vert Khaki.
Yeah, really….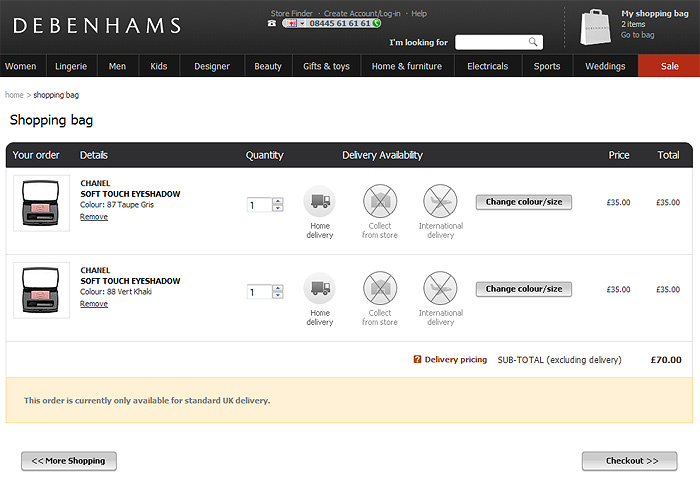 I informed Debenhams of this last Sunday evening (15th August) and was told that the misprice was indeed a technical error… 3 days later, on Wednesday evening… the error was fixed.
I've since asked Debenhams Beauty if customers would automatically be refunded if they had been overcharged.  Unfortunately, the answer is no.  I quote:
If you bought it at the higher price you need to call our Customer Services on 08445 616161 with your order number to sort out refund!
So there you have it.  If you've been stung by this technical error, hopefully you'll realise and get in contact with Debenhams who will then happily refund you.
Although it doesn't quite end there…
Charlotte claims that her local Debenhams counter in Ipswich also charged her £35 each for the eyeshadows, though I have no way of verifying this.  Perhaps they were following the online pricing?  I'm not sure… but it might be wise for Debenhams to get a memo out to their counters to ensure that customers aren't paying over the odds for the new releases.  STAT!
I mean sure… they're pretty, but they're not THAT pretty.
Have you paid over the odds for these new releases or seen your local counter charging more than £19.50 a piece?