If you follow me on Twitter, you'll know that since I started blogging about beauty 4 years ago, I've lost weight.  Quite a lot of weight.  You'll also know that I've lapsed over the past year, 2012 was all about some big life changes and although I sustained my loss for the first quarter… I slid like an eel on a bobsled for the remaining months, losing motivation and dwelling on thoughts of failure.
Whilst I couldn't start the year with a bigger cliche than this, there's something about a new year that makes it easier to hike up the optimism and truly believe in your own abilities to achieve something.  January 1st 2013 is my rock bottom with regards to weight loss… and the only way is up.  Or should I say down?!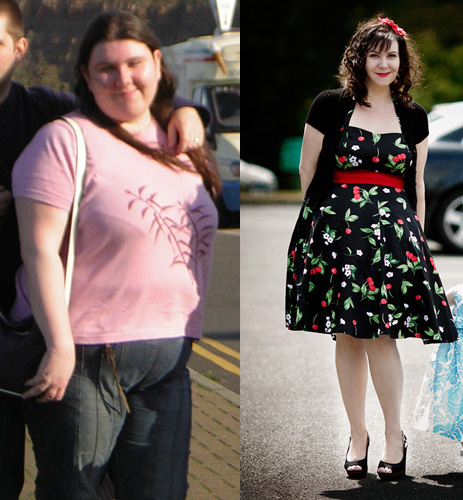 The photo on the left, not one I'm hugely proud of.  The photo on the right is me close to the lowest weight I've been since I was about 10 years old… I want that shape back, I want a wiggle in my walk again!
So, where does Weight Watchers come into this?  Well… when I finished the Cambridge Diet, I used it to maintain and begin losing again but cancelled my subscription over the Summer when I didn't have an internet connection.  I signed back up again in November but didn't actually follow the plan.  Turns out that you don't lose weight just by being a member…
My subscription from November is still active, so I'm hitting it hard.   I weighed myself this morning, I'm 13st 10lbs – that's 6st away from my heaviest and 2st away from my lightest.  I'm still in a good position to regain control – and that's all I want, not to let food control me as it did for so many years.
For complete disclosure, you should know that I've become a Weight Watchers Blog Ambassador which means that I'll have a shiny badge in my sidebar and if I refer more people to the program than anyone else, they'll make me a crown out of chocolate digestives (or something).  They've also given me three months free online access (which I'm not using because I can't work out how to "append" it to my current membership rather than sign up again), they'll also be sending me some of their own-brand goodies to try and setting me weekly blog challenges.  I'm not being paid for any posts or mentions about Weight Watchers.
I'll be instagramming my dinners and any related photos with the #wwfooddiary tag which I'll also share on Twitter.  I'll probably post some recipes that I've enjoyed and any treats that I've discovered that allow me guilt-free scoffing.  My first challenge is this week, so I'll be blogging that very shortly.  If you want to join in (not necessarily with the WW program), I'm part of a merry band of rubbish (and not so rubbish) dieters on Twitter, we're awesome and you can find us here.
To anyone else being a MASSIVE cliche this week, I salute you. xxx