Soap.  In all it's soapy glory.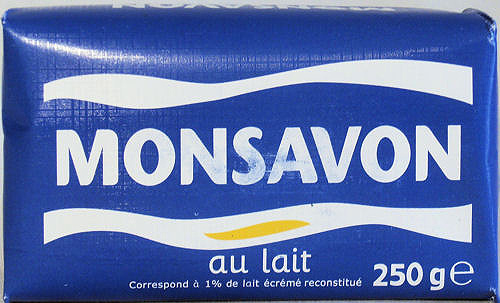 When my parents make their annual French pilgrimage, Monsavon au lait (made since 1925) is one of the items on the (long) list of shopping requests that I send with them.
Inexpensive (well under 2 Euros a bar) and easy to get hold of over there, Monsavon au lait is simply one of the few soaps that doesn't dry out my skin.  It's not flash and it's not glamourous… but it's a bathroom essential for me with a comforting, soft scent that lingers on my skin.
[stextbox id="custom" caption="Ingredients" ccolor="ffffff" bcolor="b0c4de" bgcolor="e6e6fa" cbgcolor="778899″]Sodium Tallowate (so not suitable for vegans) – Sodium Cocoate – Sodium Palm Kernelate – Aqua – Glycerin – Parfum – Coconut Acid – Sine Adipe Lac – Sodium Chloeide – Titanium Dioxide – Linalool – Lanolin – Coumarin – etrasofium EDTA – Citronellol – Tetrasodium Etironate.  Equivalent of 1% milk.[/stextbox]
Do you have any favourite soap bars?