The comparisons have to be made don't they?  At just £3.50 for the pale gold E.L.F Gotta Glow compared to £19.50 for NARS iconic Albatross highlighting powder… who isn't hoping for a remarkable dupe?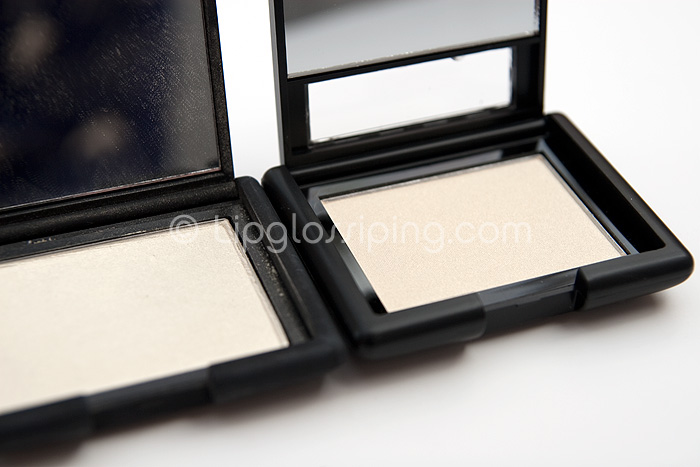 The NARS on the left.. E.L.F's Gotta Glow, on the right.
I'm not gonna talk about the differences in packaging.  They're there… NARS is annoying and icky sticky, E.L.F's is sleeker but hella cheaper looking.  Do you *really* care?  I don't.
But what about the product?
E.L.F's Gotta Glow is slightly more yellow toned in appearance and the gold shimmer is less refined looking in the pan… chunkier.  This is pretty much what I expected.  On close inspection, you can see a visual difference in quality.
The texture?  Again… this lives up to expectations.
NARS Albatross is smooth and very finely milled… there's no flaking when you brush the surface of the pan and no fall out upon application.  The E.L.F version can't claim the same.  It's powdery and there is fall out if you don't give your brush a tap off before applying.
But how about this?  Please look past the hairy arms… I have enough hair elsewhere on my body to frankly give a crap about hairy forearms.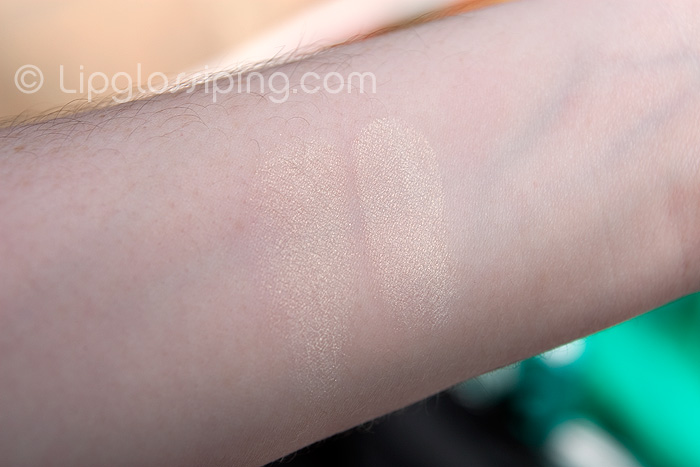 That's pretty simillar no?
Take a guess before reading on… which one costs £3.50 and which one costs £19.50?  I'd love for you to tell me if you got it right in the comments…
.
.
Ready to find out?
.
.
Sure?
.
.
Oh ok… Well… E.L.F's Gotta Glow is on the left and NARS Albatross is on the right.  I think that I can tell the difference between the swatches… the E.L.F one looks slightly less pigmented and a bit 'chunkier'.  But is that *really* a £16 difference?  Not when you take into consideration that once applied and blended… I truly struggle to tell the difference on my face at all.
Before I get really excited though… there is one point to note that although not an issue for my skintone, may make ALL the difference on someone else.  I see a slight ashiness with the E.L.F incarnation that I'm not seeing with the NARS original.  It's only noticeable when I swatch on my fingertip… but I'm thinking that on a darker skintone, the E.L.F Gotta Glow may leave a slight white cast along with the golden sheen.
Has anyone tried it with a darker skintone than mine?  How are you finding E.L.F's new Gotta Glow highlighting powder?
E.L.F Gotta Glow is available online and priced at £3.50 – a bargain if ever I saw one.