Back in my early twenties, Anna Sui was one of the first brands to ignite my passion for make-up.  I remember my first Anna Sui lipstick clearly, a deep burgundy/wine shade that, if I'm honest, I loved more for the packaging than the colour.  You see, Anna has always known how to enchant beauty lovers with her exquisitely-presented products.  Rich colours, a theme of roses, and an eye for beautiful design captures both the heart and the wallet in an indisputable "I simply MUST HAVE IT" kind of way.
Over the years, the brand's cosmetic "branch" has been in and out of production but each time the line has been reintroduced, a new generation of beauty geeks have fallen in love with its unrivaled femininity.
With that in mind, I'm not entirely sure that these two palettes* – currently on sale at Escentual – need much in the way of further introduction.  Look at them, they're bloomin' gorgeous!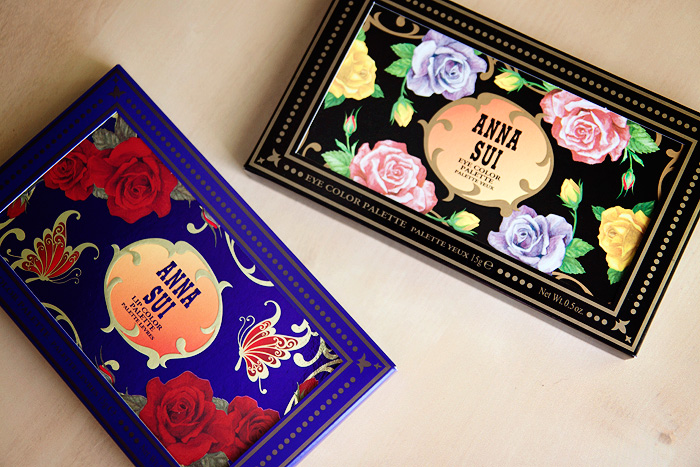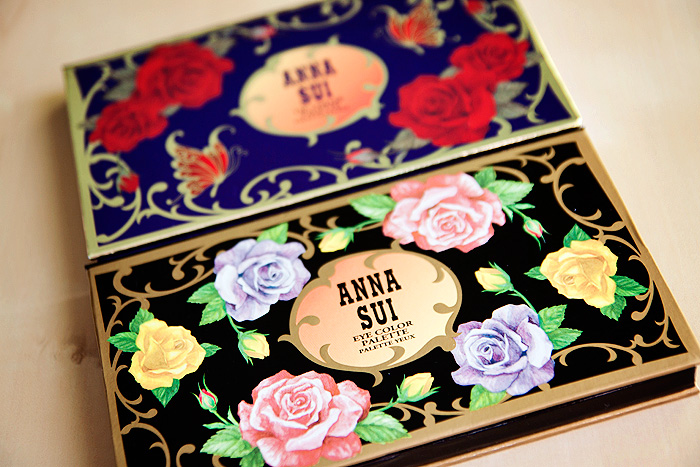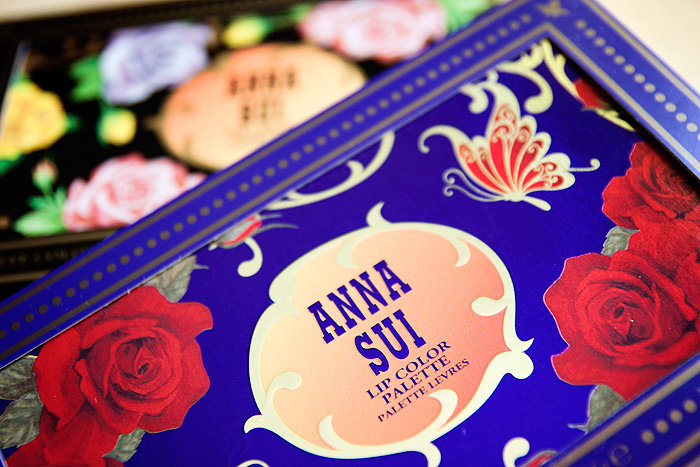 The Anna Sui Eye Color Palette features ten 1.5g pans of colour that range from the glitzy to the more demure.  The shades develop in intensity as you work your way through the palette starting with a frosty white and culminating in a super-sparkly black.
The texture on most of these is quite soft, easily blendable and prone to a little dustiness when loading a brush from the palette.  The pigmentation varies across the ten pans, I've tried to keep the swatches below as accurate as possible in terms of colour payoff from a single swipe with a fingertip.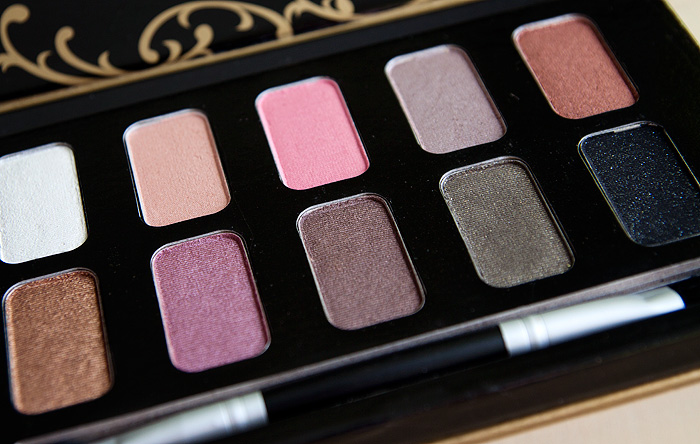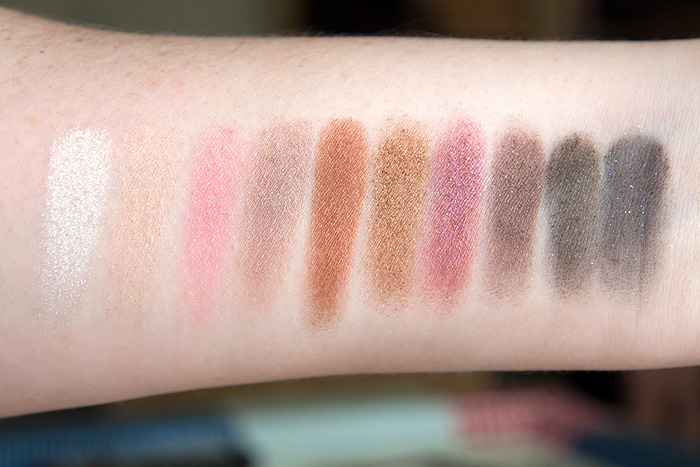 With a primer, the shades wear well but without a sticky base, the sheerer shades do fade quite quickly.  If I had to pick one thing, my favourite aspect of this palette is the delicate smattering of sparkle found in a few of the colours – it's understated, grown-up glitz that remains nicely on the lid, without any fall-out when combined with the aforementioned eye primer.
Now, onto my personal favourite… the Anna Sui Lip Color Palette!
I mean, who doesn't need ten different shades of lip colours in one portable package?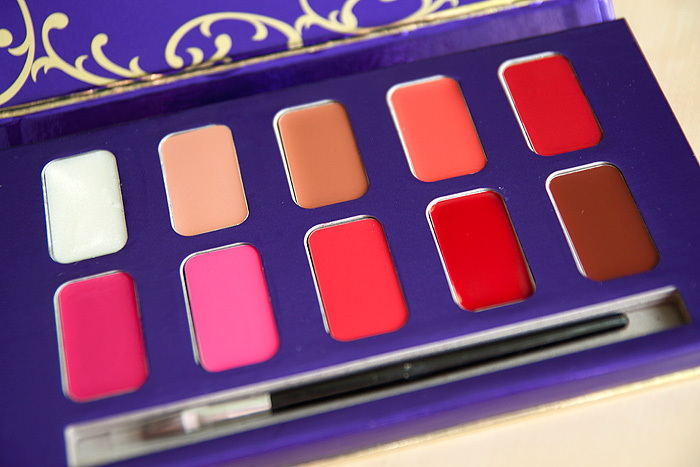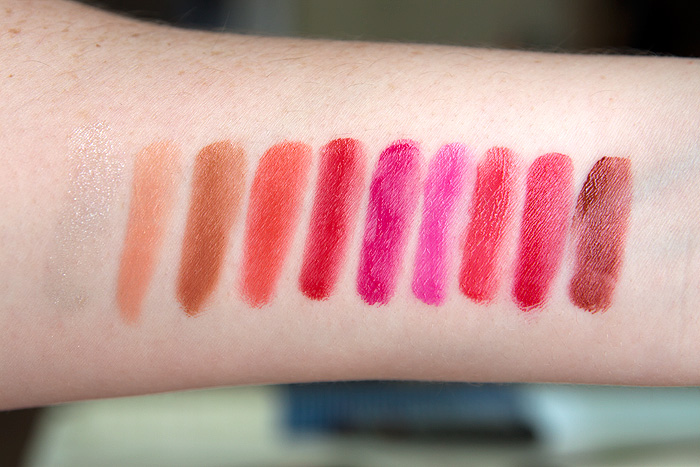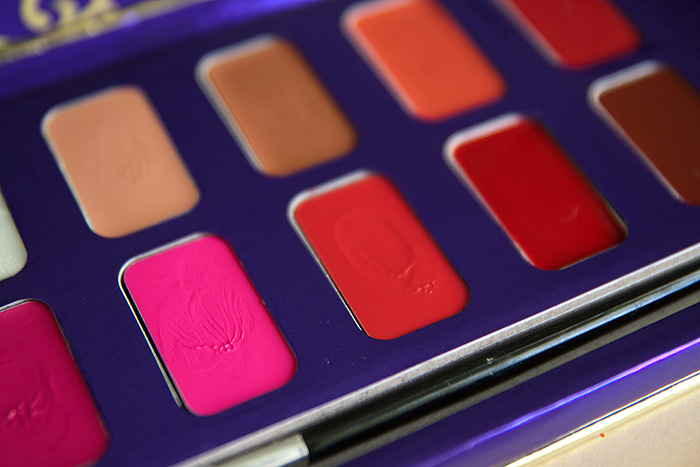 The ten shades punch well above their weight with a glossy, almost balm-like formula.  Don't mistake these for a traditional lipstick texture, I've included the photo above to display the "softness" of the formula, which leans more toward a solid lipgloss texture than a liquid lipstick texture.  That last sentence makes more sense in my head than it does on the screen, sorry!
Either way, the colour applied on the lips is fully recognisable from the shade in the palette – it transfers well with the kind of opacity that you'd expect from a well-pigmented gloss and lasts easily to mid-morning.
The Anna Sui Lip & Eye Color Palettes are currently on sale at escentual.com, priced at £14 each instead of the usual £28!  At this price, they represent a true bargain.
* press sample
if you liked this post, please don't forget to check out my subscriber options, here