Alright glitter munchers, how's 2013 treating you so far?  I'm coming to terms with taking down the decorations today (12th night and all that), to be honest… I started to take them down a couple of days ago after Louise told me that taking just a few down each day makes the process less soul-destroying…  Still, let's all take comfort from the knowledge that it's only 352 days until Christmas.
Last month (year), I treated myself to a new blusher… at least, I thought it was a blusher because I didn't pay any attention to anything that I saw or read about it until after I'd bought it.  NARS Satellite of Love was released as part of the Andy Warhol collection a couple of months ago… an odd collection in my opinion, with exceptionally expensive eyeshadow palettes but rather tempting nail polishes.  What did you make of it?
Anyway, the one item that caught my eye immediately… I assumed (on sight) was a blusher.  Infact it's a highlighter… or Highlighting Blush to give it its official name.
Rather than just review, I thought I'd compare it to my super-beloved highlighter from NARS, the only (powder) one that I really reach for, a product that can transform your look in seconds: NARS Albatross.  Albatross is a cult product in the NARS catalogue and it's easy to see why.  It imparts a smooth, champagne-gold shimmer that both lifts and illuminates the complexion without dusting your face in glitter or an odd pinky/white highlight.  It's a wonderful product to use at anytime, night or day – just use a light hand and a loosely packed brush for optimum effect.
NARS Satellite of Love is… different.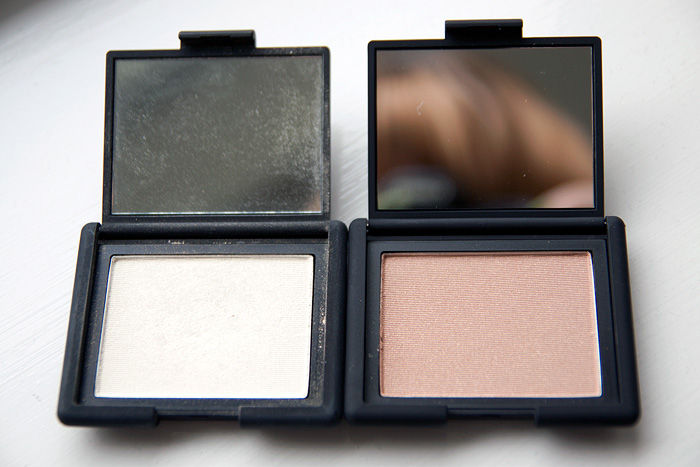 Now, don't be assuming that I don't like it, because I do… but it's a completely different animal, and that's probably for the best because what would be the point of it otherwise?  Satellite of Love is a warm-toned peach/nude/orange shade with gold glitter.  Gold glitter like Super Orgasm glitter, chunky knock-it-off-the-brush-before-that-shit-comes-near-my-face glitter.  Again, not necessarily a bad thing, I own and love Super Orgasm… but you just have to pay deference to its bling.
I treat super-glittery blushes in the same way that I treat McDonald's hamburgers.  The glitter – like the gherkin/pickle – is optional.  You're in complete control and the only time any kind of issue arises is when you take your eye off the ball and dive in without paying attention.  When it comes to NARS blushes/highlighters… all you need to do is swirl (gently) and then tap the handle of your brush against your forearm to rid yourself of the chunkiest pieces of glitter.  Infact, it's far less hassle than removing gherkins from burgers, and you don't get the nasty surprise of a second hidden pickle in your blusher*.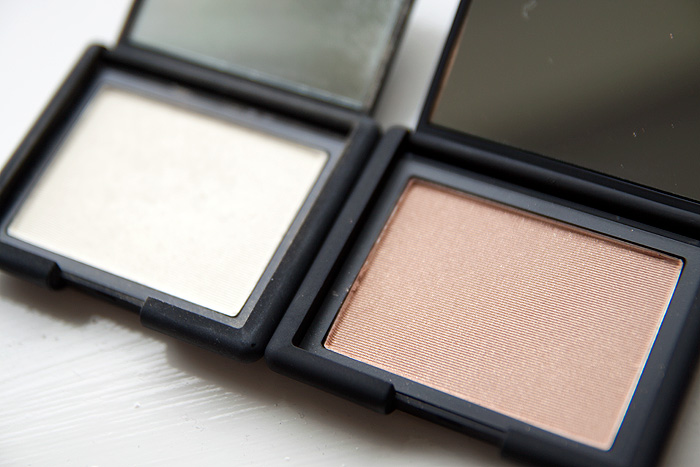 I am disappointed that Satellite of Love isn't as nude as I expected it to be, there's a lot of warmth in that there pan and whilst this is a minus for me… I can only imagine how beautiful this would look highlighting richer-toned girls who suit warmer blush.  Can you imagine?  With all that gold sparkle in the summertime (when the weather is fine)?  Lush.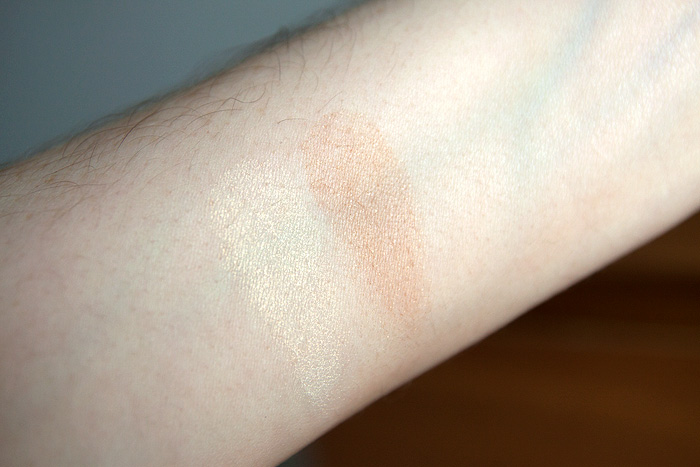 In the face swatch below, I'll apologise for the placement – I couldn't decide whether I wanted to wear it as a bronzer, blusher, or highlighter… so I just sort of put it in a really weird place on my cheeks.  I'll call it the brunzlighter placement.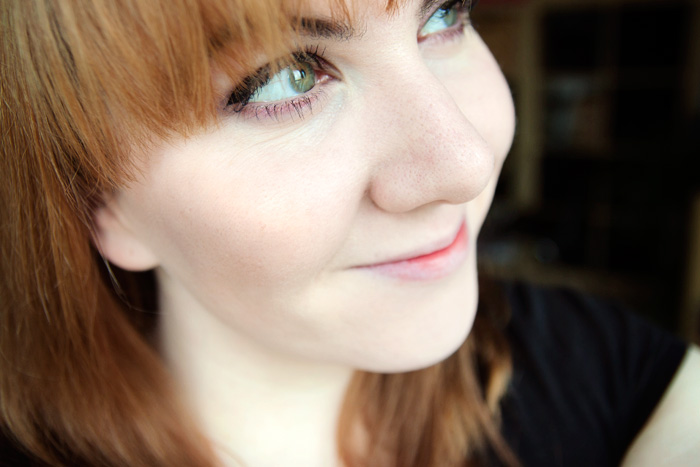 NARS Satellite of Love and NARS Albatross are available to buy online from narscosmetics.co.uk priced at £21.00 (and if you could pick me up NARS Dragon Girl VMLP while you're there? Cheers!)
Do you own either of these blush/highlighters?
* this is all bullshit, I actually LOVE the gherkins in burgers.  I'm the original give-me-all-your-gherkins girl.