No one celebrates the end of October more beautifully than the people of Mexico.
"Day of the Dead" or "Día de los Muertos" as it's known locally is a celebration of the lives of those who have passed on and allows the living to remember them in their own way.
The costumes and festivities involved in this celebration have inspired LUSH to release their Halloween goodies themed around the Mexican holiday.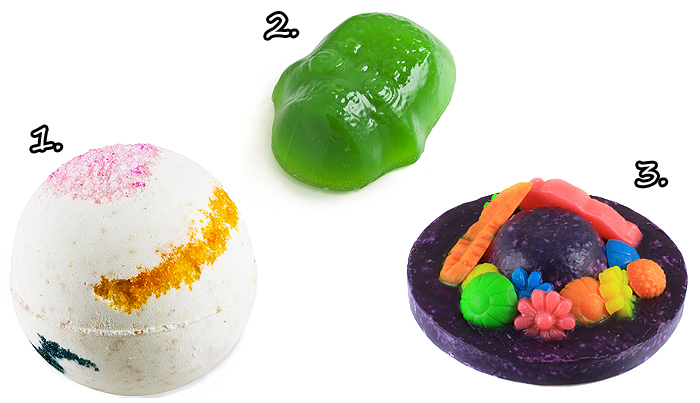 1. CALAVERA Bath Ballistic (£2.95)
Calavera means skull in Spanish, so drop this ballistic into your tub and watch as it explodes with bright, vibrant colour and dances around your tub.  The fragrance is a blend of lime oil and Mexican marigold petals – both of which play a huge part in traditional Mexican cooking and celebrations. One of our new version ballistics with bubble bar mixed in with it, it leaves a trail of skin softening bubbles as it dances about the water, interweaving different colours together in a celebration of the after life.
2. CALACAS shower jellies (£2.95)
Calacas is skeleton in Spanish, so these colourful jellies are designed to represent dancing skulls – another iconic image of the Day of the Dead celebrations. There are four to choose from: in red, green, yellow or orange and each one is scented with the same uplifting, invigorating scent of lime and neroli. These wibbly wobbly jellies are also infused with aloe vera gel, to soften and soothe the skin. Especially good frozen, they make for a great bracing, sharp shock in the morning – great if you've overdone it with the tequila the night before!
3. LADY CATRINA soap (£2.95 for 100g)
A spectacular hat-shaped soap decorated with bright, neon flowers. Lady Catrina was an etching by Jose Guadalupe Posada that he made in the early Twentieth Century to parody that the rich and fashionable, despite their pretensions to importance, are just as susceptible to death as anyone else. Since then, Lady Catrina has become an iconic image for the Day of the Dead celebrations … And she wore big, colourful hats! The same fragrance as Calavera ballistic, it's fresh, zesty and uplifting.
.
Anything among the new Day of the Dead themed bathroom goodies that capture your attention?
I'm not a fan of LUSH shower jellies (too tricky to chase with soapy hands!!) and I have far too many bars of LUSH soap to get through as it is… but I'll definitely be indulging in a Calavera Bath Ballistic – I love that the new ones bubble!