Gifts with purchases are welcome throughout the year… they really are.  But never are they more welcome than at this time of the year when we have to part with our cash like it or not! (one for you, two for me)
And I've got a reet good'un here.
Ohhhh Elemis…
I can't even pronounce your name in my head without getting a bit sexy about it…. flicking the 'L' and gently hissing the 'S'.
You are my elicit internet lover.  I find myself daydreaming of alone time with you… my arms submerged up to the elbows in Fairy's finest whilst you drain my bank account faster than Burak from Bodrum.  I am your Shirley Valentine and my husband must never discover the extent of our relationship.
But God you give good product.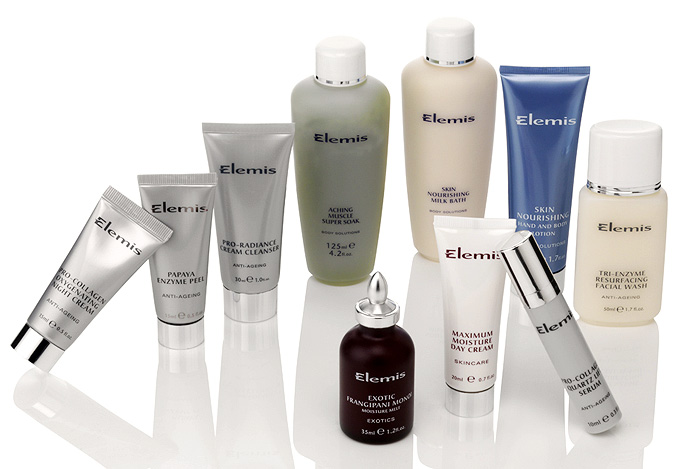 And this is a very good offer but you need to be QUICK!
Right… here's the offer…
[stextbox id="custom" bcolor="b0c4de" bgcolor="e6e6fa"]Head down to your Elemis Debenhams counter to take part in this exclusive COMPLIMENTARY offer, 5 special size products worth up to an incredible £97 with any two or more Elemis purchases.  Available now until the 21st November 2010. To ensure each product is tailored to your skin type, they are prescribed by Elemis trained experts who will give you your own personal consultation, assessing which product is best suited to you. [/stextbox]
The offer includes a selection of hero products from across the Elemis range:
· Pro-Radiance Cream Cleanser 30ml
· Maximum Moisture Day Cream 20ml
· Pro-Collagen Oxygenating Night Cream 15ml
· Papaya Enzyme Peel 15ml
· Tri-Enzyme Facial Wash 50ml
· Skin Nourishing Milk Bath 125ml
· Exotic Frangipani Monoi Moisture Melt 35ml
· Aching Muscle Super Soak 125ml
· Skin Nourishing Hand and Body Lotion 50ml
· Pro-Collagen Quartz Lift Serum 10ml
The offer is available at Debenhams London Oxford Street, London Westfield, Belfast, Chester, Newcastle, Meadowhall, Birmingham, Glasgow and Brighton.
None of those are near me (waves from the South/South West) which sadly means that I'm screwed… but my marriage is intact.  Oh, the irony in that sentence.