…and she really, really does.
I rarely get really excited about haircare – it's happened 3 times so far this year.  First, with Pantene's new Aqualight which I'd still be using now if my sensitive scalp hadn't kicked up a fuss about it.  Secondly with my mysterious high street deep conditioner (don't get too excited, it's only mysterious 'cos I haven't written the review yet) and thirdly, with this fabulous offering from Liz Earle.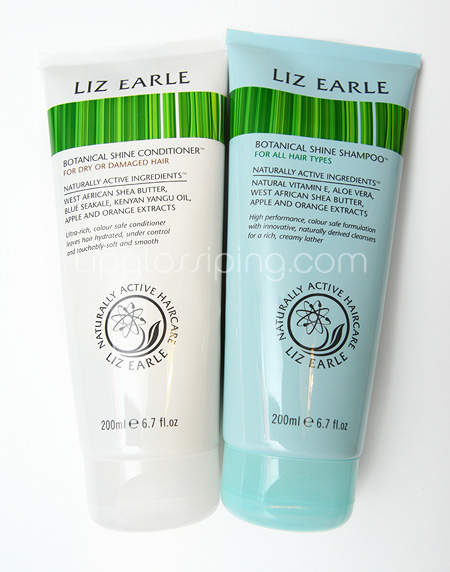 If you're a regular beauty blog reader, I know that you will have read at least 10 other reviews on these products seeing as they've done the 'blog rounds' in recent months and I wish I could bring something new and exciting to the table.  But really, all I can do is offer up another rave on how lovely these products are.
Whilst I may not be sold on the powers of the original Liz Earle Cleanse & Polish (I prefer my Cleansing Oil routines), I have always been impressed with the philosophy behind it of finding a gentle but effective product to suit all skintones.  The same philosophy has been applied to the Liz Earle Botanical Shine Shampoo (only for hairtypes) and for mine?  It works like a dream.
On a completely superficial level, I adore the scent.  I think it's easy to underestimate just how big an influence scent plays in our bathing products.  In my bathroom, it's right up there with performance… my haircare needs to smell divine, or I'm just not interested.  This smells… divine.  It's understated, fruity and most importantly… clean-smelling and non-artificial.  It leaves my locks delicately scented without being overpowering.
The texture of the shampoo is almost slightly gel-like and the quantity shown above is about the amount I use to wash my hair.  Adding just a small amount of water, I lather the mixture up between my hands before applying to the roots of my hair.  Considering this is a SLS/SLES shampoo, I'm impressed with the amount of lather I can achieve.  My hair rinses clean in under a minute and actually feels clean (though not squeaky).  I only need one wash… none of that rinse and repeat stuff.  It cleanses my hair effectively and leaves my scalp happy and calm.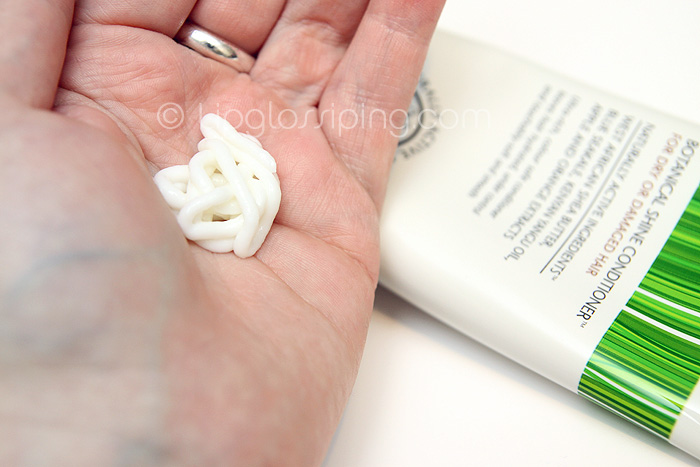 I was also sent the conditioner for dry or damaged hair (one of the three varieties available) and it's a very thick, almost masque-like opaque cream.  Rich with shea butter and yangu oil (known for it's inherent uv protection), the conditioner offers a deeply moisturising experience.  I tend to keep this away from my roots and concentrate instead on the ends and main hair shaft.  It lacks the tell-tale silicone slip that if I'm honest… I still miss but does prevent my hair from taking on a straw-like appearance once dry.
The scent of the conditioner is heavier than the shampoo and to my nose, I smell licorice which I'm putting down to the Rose-Scented Geranium essential oil… a scent that has always reminded me more of anise and licorice than roses!  Love it.
Both shampoo and conditioner come in two sizes (50ml and 200ml) and are priced at £4/£7.50 respectively.  Despite a full month's use… I've only used half a bottle of the shampoo and will absolutely be repurchasing.  The conditioner tube is nearly empty and I'm not quite in love with it enough to repurchase.
Liz Earle's new haircare ranges can be purchased online.  I'm not sure if they're available from John Lewis, which would be my preferred source (I know the candles/bath oils aren't) – I'll check and get back to you on that one.