So, I'm on to Day 2… I haven't counted my lipsticks so I'm not sure how far this is going to take me and I'm praying that all the photos don't just look identical otherwise it's gonna get old, quickly.
Mr. L was a little less fazed today.  I didn't get my usual morning compliment on my makeup that he knows he has to give unless he wants lots of vegetables for dinner…. so I made him cauliflower cheese for tea.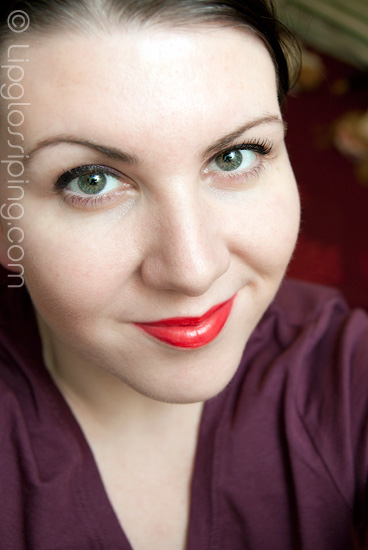 MAC Cockney is fairly sheer and can be worn by the less RED confident among us (which is why I own it).  I bought it when I went to MAC on the hunt for THE RED lipstick that I would be able to wear.  It wasn't on my list of reds to check at the time.  My list consisted of only Russian Red and Ruby Woo… I'm not very MAC savvy to be honest.
I found this one lurking amongst the shades and when I swiped it on my hand I was really pleased with the glossy texture.  Far more wearable than those more 'serious' reds.  In the tube, Cockney has a beautiful red shimmer/glitter that reminds me of China Glaze Ruby Pumps… but this doesn't really translate to the lips.
I'm gonna come back and update each of my Red Lip posts with a close up of the lip colours and a hand swatch as I think this is probably useful and I'm not sure why I overlooked it in the first place.
So…. how did I find MAC Cockney?  Well.. it was both easier and more difficult to wear.  Easier in terms of subtlety, it's just not quite so pronounced in it's brazen-ness.  Sure it's red… but it wears down quite quickly to a slightly more subdued shade.  This could either be a positive OR a negative depending on your P.O.V.
The negative?  Longevity… a little less than the NYX from Day 1 which was surprising but I think mostly down to my application as I didn't feel the need to blot this because I was intent on layering to build up the intensity.
MAC describe this lipstick as a Sheer yellow red with multi-dimensional pearl (Lustre) – I don't really know what that means… (the yellow bit)… but I'm guessing that it must be warmer than neutral then right?
Thanks for all your tips and recommendations yesterday, I'm definitely looking into getting Chanel Dragon and probably Rimmel Diva Red and OCC NSFW too… you also might notice that I attempted some bronzer (still not enough!) and eyebrow powder (not too much!)
Do you own MAC Cockney?
***

If anyone wants to join me on my red lip crusade, please email me a photo of your lovely selves rocking your favourite red lip – I'd love to post a collage with your photos!
If you're up for this, send me an email with the following info (not forgetting the photo!):
Your name/blog name (if relevant):
Lip shade name:
MAC Foundation Shade (if known):
Link to blog (if relevant):
.
Please keep your photos coming in – perhaps we can inspire each other to carry on rocking the reds over Christmas!