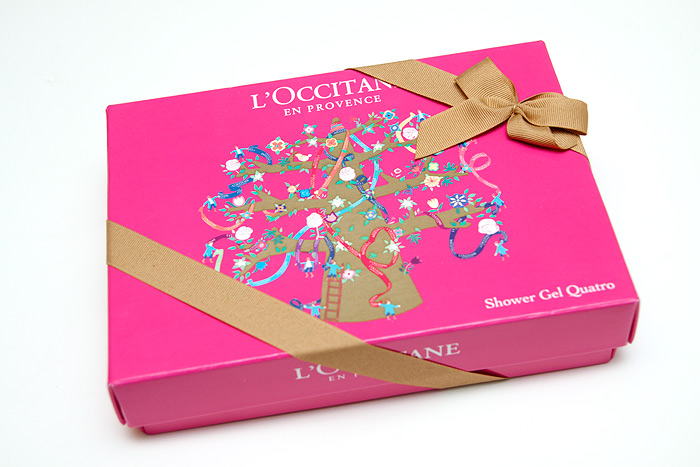 Ever since I finally confirmed how to pronounce the brand name properly, ("lox- ee- tahn" incase you were unsure too!) I can't stop name dropping it!  Do you do that?  I'm all like "oooh get me… French accent".  Now I just need to work out the 'beauté' in Le Metier… My D in A-Level French wants me to say "boat-ay" but people look at me like I'm a bit slow when I don't make the "yew" sound… anyone?
I'm digressing just a wee bit aren't I?
Anyway, look!!!  It's like the battle of the beautifully packaged prizes!!  First, Liz Earle and now Provençal brand L'Occitane… that hot pink is swoon-worthy!
So what's inside?!
L'Occitane (told you I couldn't stop saying it…) say:
Delight your senses with four delicious shower gels. This collection includes:
75ml Peony Shower Gel
75ml Fleur Chérie Shower Gel
75ml Cherry Blossom Shower Gel
75ml Rose 4 Reines Shower Gel.
Wanna win it?
Leave a comment to enter.  Giveaway closes at 23:59GMT on 29th January.
UK Only.
My lovely international ladies, I'm sorry but the rest of the daily prizes will be available only within the UK.  I don't want  you to keep returning to enter only to be disappointed that you can't.
If you're from outside the UK but don't want to miss your chance at winning "most dedicated" entrant mystery prize… you can still comment.  Just let me know that you're not eligible to win the daily prize because of your location!

Winners will be announced early next month.  Info and rulez can be found here.