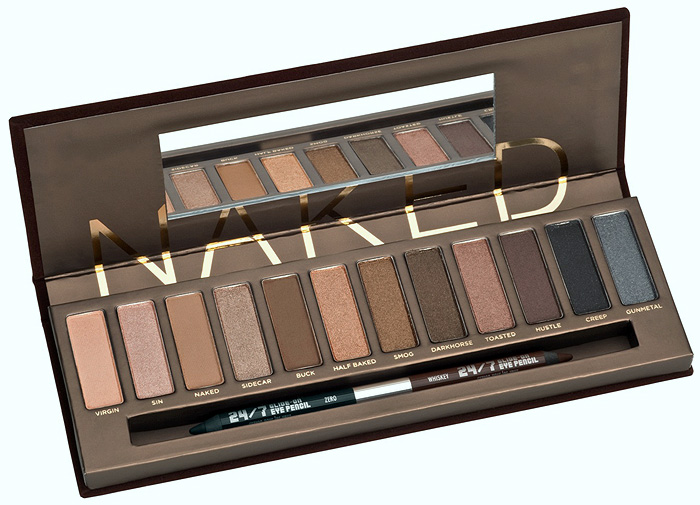 We're approaching the climax of this year's New Year Giveaway, UK ladies… you don't wanna miss these last few days.  Seriously.
Don't say I don't know what you ladies want!
Probably the hottest item of makeup to be released in 2010, Urban Decay's Naked Palette offers beauty connoiseurs everything they need for a neutral eye in one, single portable palette and Urban Decay have generously donated one of these must-haves to me to give away to one of YOU!
They Say:
These neutrals won't leave you naked. THIS is how Urban Decay does neutral: Far from boring, the Naked Palette includes 5 NEW shades (with names like Buck, Darkhorse, and Virgin) in addition to seven of the brand's most addictive best-selling eyeshadows. This is a shadow palette that everyone will want, everyone can use, and everyone will buy. Experiment with office-appropriate neutrals, summertime bronzy looks, or sultry smokiness (achieve golden, brownie, or grey-hued shade combos). Plus, you get an exclusive double-ended version of the award-winning 24/7 Glide-On Eye Pencil in Zero (black) and Whisky (a warm brown shade without sparkle) and a mini genie bottle of Eyeshadow Primer Potion. With all this at your fingertips…you'll hardly need clothes at all.
I'm not afraid to say it… I'm flippin' jealous.
JEALOUS!
Wanna win it?
Leave a comment to enter.  Giveaway closes at 23:59GMT on 30th January.
UK Only.
My lovely international ladies, I'm sorry but the rest of the daily prizes will be available only within the UK.  I don't want  you to keep returning to enter only to be disappointed that you can't.
If you're from outside the UK but don't want to miss your chance at winning "most dedicated" entrant mystery prize… you can still comment.  Just let me know that you're not eligible to win the daily prize because of your location!

Winners will be announced early next month.  Info and rulez can be found here.