I was a very nervous girl leaving the house in this YSL Rouge Volupte Red Taboo lipstick…
It's a beautiful cool-toned red with just a hint of raspberry but it's a Rouge Volupte.  It threatened to slip like me on ice skates and I feared that it was just as likely to land me on my bum.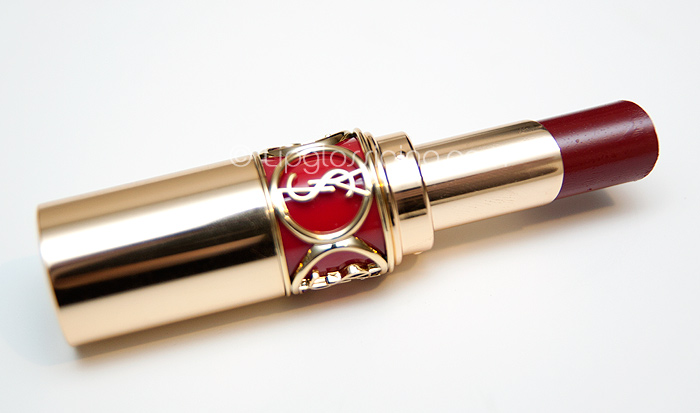 You either love or hate the YSL Rouge Volupte range.  Creamy, non-drying, deeply pigmented and scented like a fruit salad.  These are pretty nice properties in a nude or mylipsbutbetter shade.  In a red?  A red that needs to stay put?  Uh Oh.
First things first… this lipstick needs a lip liner, it's a braver woman than I who attempts to wear this bare-backed.  Application is effortless (nearly)… I applied straight from the bullet to the centre of my lips before pulling the colour outward with a lip brush.  Then I waited for dry-down.  And I waited… and I waited.  Then I checked my watch, panicked and wondered if I should blot and decided on the "bugger it, that'll have to do" option instead.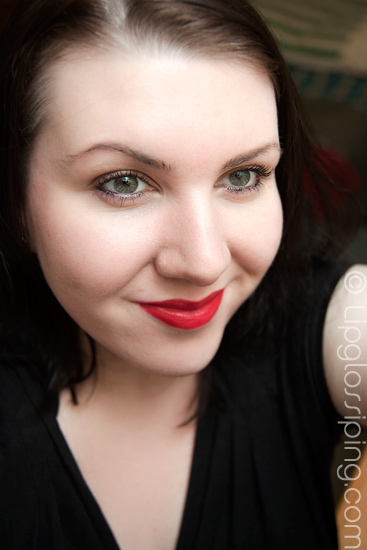 A word to the wise (from the utterly stupid)… don't attempt to eat, drink, lick your lips or indeed breathe whilst wearing this beautiful shade.  It WILL transfer faster than that email you clicked 'send' on by accident.
I get about 2/3 hours wear from Red Taboo before needing to stage a lipstick intervention.  On the flipside, because it is so creamy… I can dab a little more on from the bullet and get away with smooshing my lips together.  Obviously, that doesn't give me the cleanest line in the world… but if you're on the go – you can get away with it.
CheapSmells.com sent me this lipstick for my red lip series so I'd like to point you in the direction of where you can pick it up on their website here.  This particular shade is selling for £15.90 (a saving of 24% off the RRP).