A couple of years back, I stayed at the Les Trois Rois hotel in Basel, the penthouse suite no-less and there's a video of me (Mr. L keeps threatening to YouTube it), running around the suite (it's not pretty – I was 6 months pregnant), all breathless and getting hugely excited (as only a peasant would) over the fruit displays, cinema screen TV and private rooftop jacuzzi.
But the thing that got me squealing most of all in the video were the 5 bathrooms, each filled with full-size Molton Brown products.  Infact, so decadent was it that I didn't steal a single bottle to take home – it just felt too naughty.  I still curse that angel sitting on my shoulder – I could have at least decanted a bit from each bottle right?  Clearly, I'm only devious with the benefit of hindsight.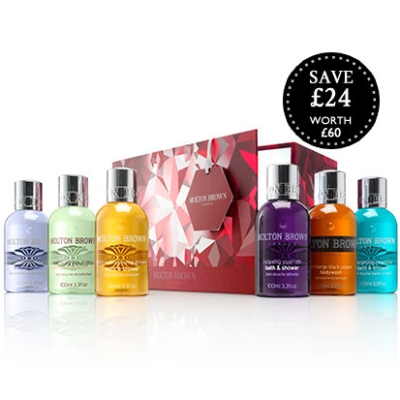 Which is why I would be rather pleased were I to receive this set of Molton Brown shower gels for Christmas.  Take that stupid angel!
The Spectrum Set contains 6 x 100ml bath & shower gels which include the scents: energising seamoss; relaxing yuan zhi; travel-reviving cempaka; re-charge black pepper; warming eucalyptus and invigorating suma ginseng.
Priced at £36 and available to buy online from moltonbrown.co.uk
Do you steal hotel toiletries?