I always love reading about what other people are coveting but seeing as I rounded off this week with a sneaky Guerlain Meteorites purchase, these will have to remain firmly in my lust list for the time being…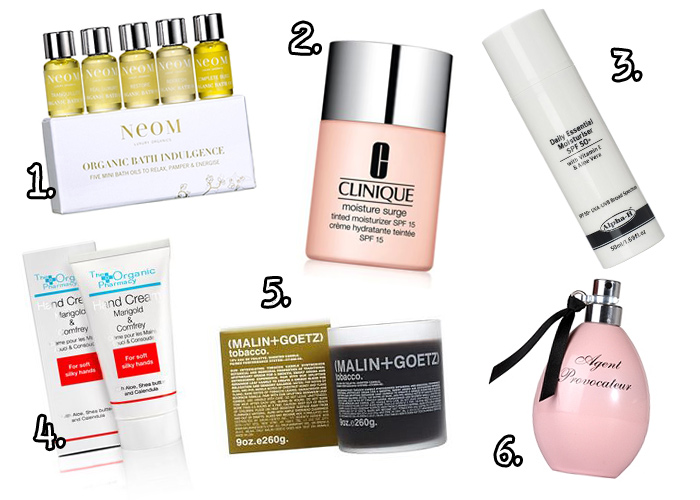 1. NEOM Luxury Organics Mini Bath Oil Set – £15
I think this little set is amazing value for money, you can get around 10 baths from 5 vials which works out at only £1.50 a bath.  I'll be surprised with myself if I can make it through the next week without moving these from my lust list into my verymuchwentandboughtit list.
2. Clinique Moisture Surge Tinted Moisturiser SPF25 – £21
Exclusively available at Selfridges and Brown Thomas until mid-April, I'm desperate to try the new Clinique Tinted Moisturiser.  I'm a total tinted-moisturiser addict and simply can't bear the feeling of heavyweight foundation in the Summer.  I know we're not quite there yet with the weather but I'm all about the forward-thinking! (and the shopping).
3. Alpha-H Daily Essential Moisturiser SPF50 – £21.82
I've been getting acquainted with a few Alpha-H samples after a recent blog event and a couple of items have really caught my attention.  One of them is the Alpha-H Daily Essential Moisturiser that provides light moisturisation combined with heavy-duty SPF.  Because I already favour specific moisturisers, I just want a full-on SPF for the Summer that isn't going to interfere with other products.  This is probably the one I'll be purchasing in a full-size version.
4. The Organic Pharmacy Marigold & Comfrey Hand & Nail Cream – £16.50
Still on a bit of a quest to replace my Bliss Blood Orange and White Pepper Hand Cream, this rich yet light offering from The Organic Pharmacy is top contender!  I stole a squeeze last time I was intore and it smells beautiful, keeps moisturisation levels up and absorbs like a dream.  What more can you really ask for?
5. Malin + Goetz Tobacco Candle – £37.00
When I see something described as an entheogenic experience, quite frankly… I want in.
Although at £37.00 it may be a little while before I take the plunge, especially as Mr. L just doesn't 'get' candles.  Infact, the last time I bought a pricey (and it wasn't even THAT pricey) candle… he waved a £20 note around infront of the flame going "well if you can do it…".  Philistine.
Screw the iPad, I might buy him this one for Father's Day.
6. Agent Provocateur 30ml EDP – £21.75
From one entheogenic experience to another… more… sensual scent.  Agent Provocateur brings the sexy, sexy back.  It also reminds me that I need to raid Rae's perfume stash as this was another recommended to me by her quite, QUITE exquisite nose.
Screw Father's Day… isn't it Mother's Day soon hmm?
.
So there's my weekend lust list, what's hitting the top of yours today?