I made these because Leila refuses all vegetables… I don't see them as a viable, long-term way of increasing her veg count… I just get sick pleasures from knowing that she's eating quarter of a carrot per muffin.  And loving it.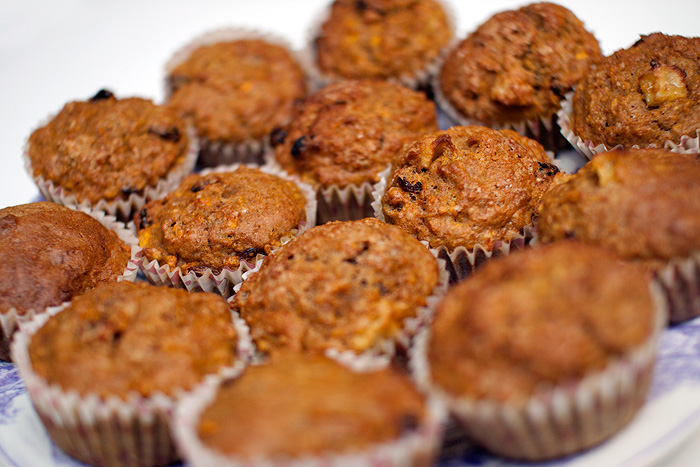 Because I *was* trying to make them a little healthier… my recipe goes something like this (sorry it's in cups but I wouldn't be without my trusty measuring cups nowadays – I hate weighing things!):
1 cup sultanas (they stay juicier than raisins)
2 cups plain flour (if you want to be healthier, substitute 1 cup for wholewheat)
1 1/2 tsp baking powder
1 tsp bicarbonate of soda
tiny pinch of salt
2 tsps ground cinnamon
1 tsp mixed spice
4 eggs
1/4 cup vegetable oil
3/4 cup apple sauce (the normal kind you get in a jar for pork roasts!)
3/4 cup brown sugar (next time I'm gonna try Agave Nectar)
3 cups shredded carrots (about 6 medium whole carrots)
1.  Preheat oven to 170 degrees celsius and line a tin with paper muffin liners.
2.  In a large bowl, sift together flour, baking powder, baking soda, salt and cinnamon.
3.  In a separate bowl, combine the eggs, oil and brown sugar; beat well.  Combine both wet and dry mixtures and mix briefly just to combine, don't overmix.
4.  Fold in the carrots (I had previously pulverised them in the food processor) and sultanas before spooning the mixture into the muffin cases.
5.  Bake in a preheated oven for 20 to 30 minutes.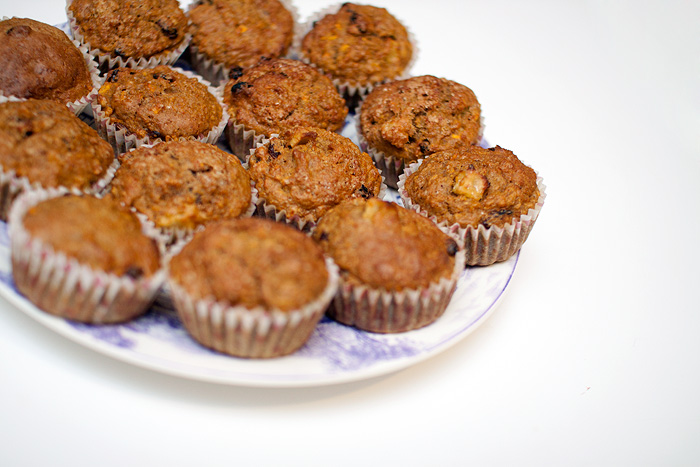 You can ice/frost them if you want but this will obviously KILL the healthy stance!  They're not the sweetest treat but they're filling and taste pretty much like carrot cake without the frosting.  Leila eats one along with her yoghurt in the morning.
Once cooled, I pop them in a tupperware box and store in the freezer.  To defrost, I just take one out and zap it in the microwave for 30 seconds.  Perfect!  These would be great to take out of the freezer and pop in your work lunchbox too… defrosted by lunchtime and not horribly unhealthy – whoop!