Featuring 9 skincare products with prices starting from just £8, Elemis are looking to plug a gap in the market and bring their reputation for great skincare to a younger audience.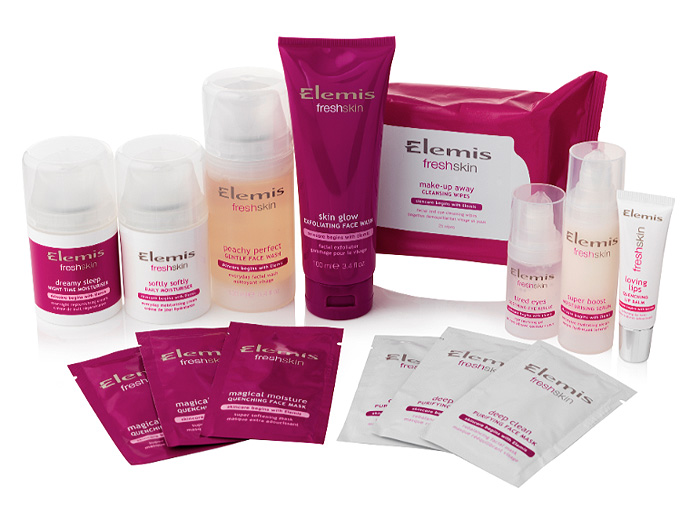 Noella Gabriel, Director of Product & Treatment Development at Elemis describes the range as … "a girl's first serious skincare regime using high performance ingredients with lightweight textures and beautiful essential oils."
Products in the range include cleansing wipes, separate day and evening moisturisers, two types of face wash, eye cream, lip balm, face masks and a serum which appears to be missing from the website at the moment.
Make Up Away Cleansing Wipes (25) – £8
Peachy Perfect Gentle Face Wash 100ml – £12
Skin Glow Exfoliating Face Wash 100ml – £12
Softly Softly Daily Moisturiser 50ml – £20
Dreamy Sleep Night-Time Moisturiser 50ml – £22
Tired Eyes Soothing Eye Rescue 15ml – £15
Loving Lips Quenching Lip Balm 10ml – £8
Face Mask Duo deep clean and magical moisture 6 x 7ml – £15
Gemx is kindly going to be test-driving the products on her (more youthful!) skin for a month before giving us her thoughts on the formulations of the new range and how they work for her.
My first impressions are mostly positive with a few doubts thrown in…
I think it's a shame that Elemis chose to target it so directly to a female audience, I would have preferred to see something more unisex.  Secondly, thinking back to how far my pennies stretched when I was at uni… there are a few products in the lineup that wouldn't have impressed.  £8 for 25 wipes?  £15 for 6 face masks?  I'm not saying they're not worth it (I haven't tried them!) but at that price, I don't think I would have been inclined to either.  A simple question of economics would have prevented me!
On the flip-side?  I think that £12 and £20(ish) for core skincare items (face wash, moisturisers) is pretty good going from a brand that, let's remember, is synonymous with some of the most luxe skincare products on the market.
You can buy the range online now from TimeToSpa.co.uk (UK) and TimeToSpa.com (North/South America)
It's an interesting one, what do you think?