As one of many Pro-Collagen Marine Cream devotees, I'm always happy to discover an opportunity to purchase my beloved anti-ageing moisturiser in a tub big enough to drown myself in.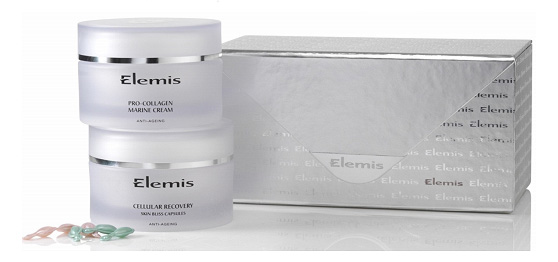 Due for a strictly limited release this June, the Elemis Anti-Ageing Super Duo combines two of Elemis' most sought after skincare offerings…
Pro-Collagen Marine Cream – 100ml (usual price £127)
Cellular Recovery Skin Bliss Capsules – 60 caps (usual price £59)
The Cellular Recovery Skin Bliss Capsules are a new one on me.  I have to say, I usually overlook anything that comes in little pods like that… I'm quite old-fashioned about my moisturisers being cream based!  However, the capsules contain pure Moringa Oil and promise to renew skin elasticity and counteract the external effects of our environment thanks to a healthy dose of anti-oxidants.
The set doesn't come cheap (but we knew it wouldn't right?) at £128 but does offer a saving of over £59 were you to buy these two products separately.
It will be available online at timetospa.co.uk or at Elemis spas, salons and selected department stores nationwide.
Quick, sell your grandmothers!