I'm introducing a new segment to the blog called The Cutting Room Floor which will include various hair-related releases, snippets and bits and bobs that have caught my eye.
I'm definitely no hair expert and am forever throwing various products at my barnet in an attempt to undo the damage that regular colouring wreaks upon it but like most, I dream of soft, silky locks that reflect mirror shine *wistful sigh*.
This month I've been thinking about…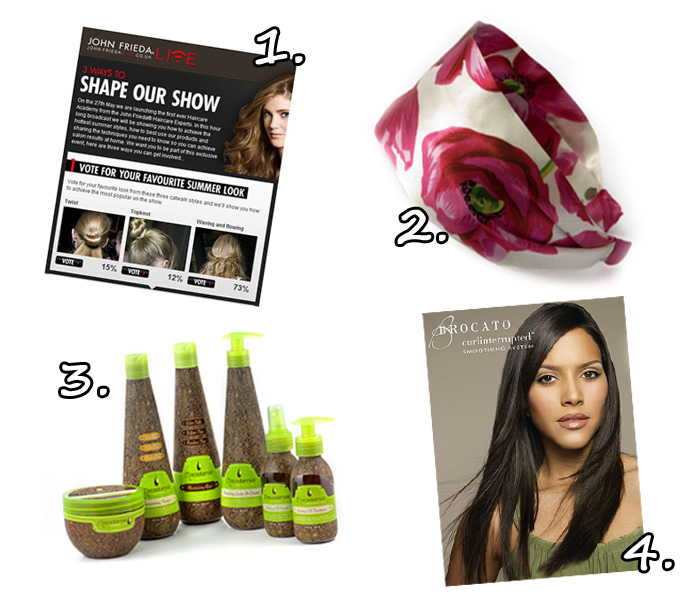 1. The John Frieda Live Hair Academy is the brand's first online 'show' and will be streamed on May 27th at 1pm.  The hour long segment will be showing you how to achieve the hottest summer hair styles, how to best use the John Frieda products and sharing the techniques you need to know so you can achieve salon results at home.
They're looking for participants including models and contributors who have specific hair-related questions they can answer live on the show! Want to get involved? All the details are on the John Frieda facebook page.
2. Stone Bridge Hair Accessories have caught my eye with this beautiful handmade Poppies Silk Scarf Headband.  The bold print screams Summer and I love the idea of "cheating" the silk scarf look with an easy-to-wear headband alternative.  A quick browse around their site leaves me wanting to play with a hundred different updos!
3. The eye-catching Macadamia Natural Oil range contains a blend of sought-after Argan and Macadamia Oils and is available in a 'healing' treatment, shampoo, conditioner and repair masque.  My dry hair loves treatment oils and visibly improves with regular use so I'm tempted to give this natural range a whirl.  Have you tried it yet?
4. Brocato's CurlInterrupted Keratin Smoothing System is the the first non-toxic hair smoothing system, completely free from Formaldehyde, Thio and Sodium Hydroxide and with the added benefit of only a 24hr wait before you can wash and style your hair as normal (compared to the usual 72hrs).
I was put off keratin straightening treatments last year when reports of health concerns surrounding the possible release of unsafe levels of formaldehyde went into overload but it's good to see there are healthier options available!  For further details call 08705 561 929.
.
How's your hair today?  Mine is in desperate need of a bucket hat!